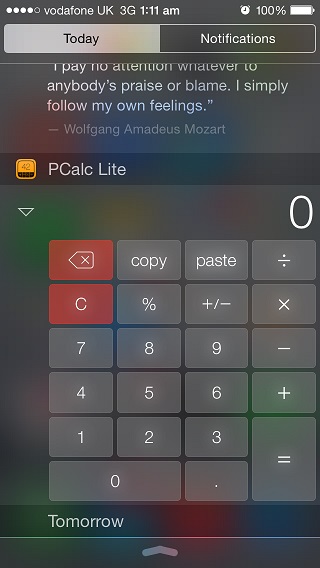 With the release of OS X Yosemite Mac users now enjoy a handy calculator widget in their Notification Center, which is not only useful but is also quite good looking. Sadly iOS 8 does not allow users to add a similar Calculator widget for the stock application. However there's a third-party app called PCalc Lite that does the job pretty elegantly, allowing you to have an OS X Yosemite like Notification Center calendar on your iPhone, iPad or iPod touch.
The PCalc Lite widget for iOS 8 NC not only provides basic calculation functions but you also get useful buttons like copy and paste. The app does not need to be running in order for you to be able to use the widget and you can even use it when your device is locked. What makes this widget better than opening the Calculator app is that you can perform calculations without leaving the app you are currently using as you can pull down the NC, do the calculation and swipe up to continue using the same application.
To get the Calculator all you have to do is download the free PCalc Lite app from the App Store. Once you have downloaded it pull down the Notification Center and hit the 'Edit' button.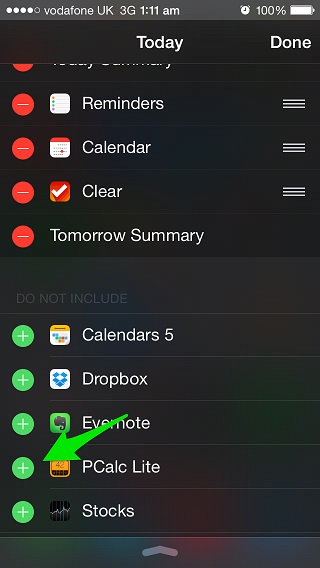 On the next screen under the 'Do Not Include' list look for PCalc Lite and hit the green '+' button found next to it. Once added you can rearrange the widget by using the hamburger button to put the widget where you want it to be in the Notification Center. It is a good idea to place it at a lower position so you can information from other apps properly.