Did you know Apple Watch can remind you to wash your hands if you haven't done so already every time you return to your home? Read on to find out how you can enable this super handy safety feature.
It is now common knowledge that handwashing for 20 seconds with soap helps in washing away COVID-19 germs. Apple realized this and added a useful handwashing timer to the Apple Watch, which allows the Watch to detect when the user is washing his or her hands and display a 20 second timer to help them in washing their hands for complete 20 seconds.
While you can enable or disable handwashing timer on your Apple Watch, the Watch can also send you helpful notifications reminding you to wash your hands after you have arrived home.
Apple Watch can detect that you have arrived at home and if you haven't washed your hands within a few minutes of returning home, it can remind you to do so. This can help you in potentially washing away COVID-19 and other kinds of harmful germs and keep yourself and everyone else in your household safe.
How to enable Handwashing Reminders on Apple Watch
In order to start getting handwashing reminders on your Apple Watch, you have to enable the feature first. You can do so by following the simple steps below.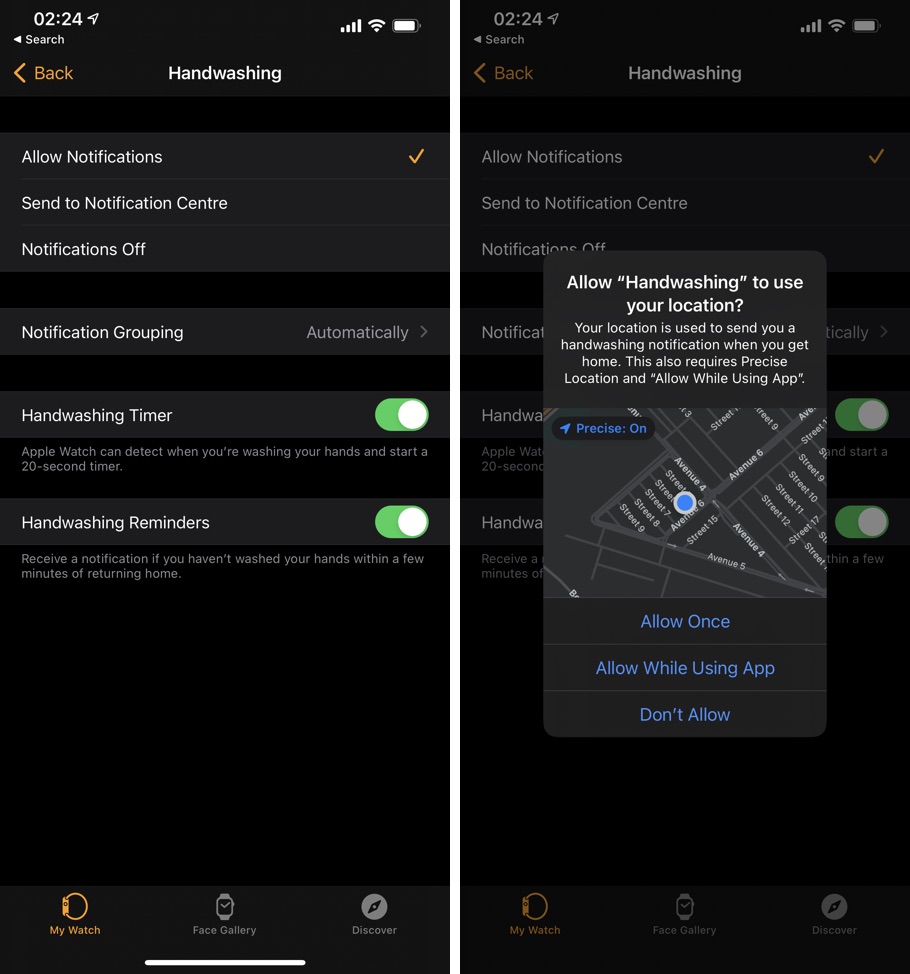 On your iPhone open the Watch app and tap on the My Watch tab.
Scroll down and tap on the 'Handwashing' option.
From the next screen enable the toggle for Handwashing Reminders.
Confirm that you want to share your precise location with the Handwashing feature by tapping on the Allow While Using App option.
That's it, now every time you arrive at your home, your Apple Watch will send you a reminder to wash your hands in case you haven't done so already within a few minutes of arriving home. You won't get a notification if you wash your hands as soon as arriving home.
You can disable handwashing reminders on Apple Watch by following the same steps above but turning off the Handwashing Reminders toggle.
There you go folks, this is how you can enable or disable handwashing reminders on your Apple Watch.
If you have any questions regarding this guide, then share your thoughts in the comments below.
Disclosure: iOSHacker may receive a commission if you purchase products through our affiliate links. For more visit our privacy policy page.