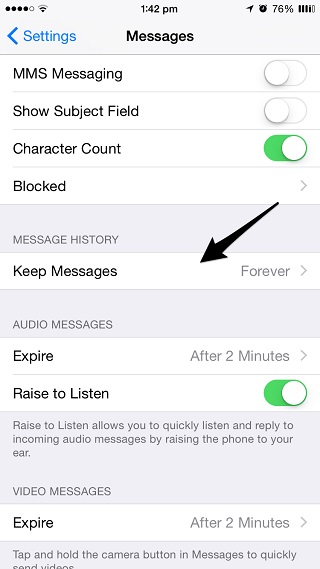 People who send or receive a lot of text messages, photos and videos using the stock Messages app would know that there messages remain on the device until they are deleted manually. While this is good as you may have to access your history at some point in time, this also means a lot of your iPhone or iPad's disk space is consumed unnecessarily. If your message history contains significant amount of images or videos then it is quite possible that GBs of iPhone internal storage will be held by them, simply being unavailable to you.
You can delete the messages manually but that's a lot of maintenance work, so it is recommended that you use the new iOS 8 feature that automatically gets rid of old messages and attachments after a certain amount of time. You can set the option to delete data after 30 days or 1 year depending on your preference.
Before you jump on to use this option please note that once you turn message history deletion on, your messages will be permanently deleted from your device after the specified amount of time. If that's not a concern for you then move on to learn how to turn this option on.
On your iOS 8 powered iPhone, iPad or iPod touch head to Settings app and look for 'Messages' option.
On the Messages page locate 'Message History' option and tap on it.
By default 'Forever' would be selected. Change it to 30 days or 1 year. If you don't have any use of messages history then it is recommended that you select 30 days for faster deletion.
Once you select any option, if you have messages older than period you have selected the iPhone will prompt you to confirm if you want to delete your current history. Tap on 'Delete' button to continue.
That's it! Now your message history will be cleaned after every 30 days or a year depending on the option you selected. This will keep the messages app fast and free up space on your device. This is also good for privacy since no one else would be able to read your old conversations if they get hold of your iPhone or iPad.
Of course the space that is freed depends on each user's personal usage. Personally, when I turned the 30 days option on I was able to free up around 150MB of storage space.
Disclosure: iOSHacker may receive a commission if you purchase products through our affiliate links. For more visit our privacy policy page.