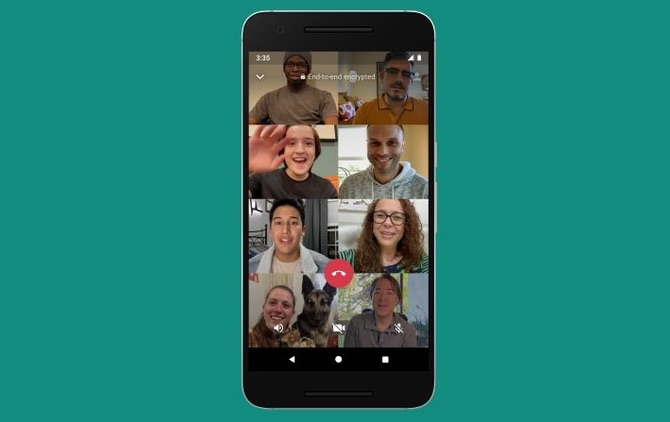 In this article we will show you step by step how to make WhatsApp group video calls with up to 8 participants. Read on for detailed instructions on how to use the new features.
Realizing the importance of group video calling these days, WhatsApp has pushed an update to its app that doubles the number of users that can concurrently join a video call. Previously WhatsApp users could only group video call with 3 other users, however with WhatsApp 2.20.50 or later 8 users can connect at the same time.
A great thing about WhatsApp group video calling feature is that all calls are encrypted, so no matter if you are making a group voice or video call you can rest assured all your exchanges are protected with encryption.
Making a group video call with up to 8 participants is quite easy. First of all make sure all users who are going to be on the call have updated their apps to WhatsApp version 2.20.50 or later, which is now available through the App Store.
Once everyone has updated their app to the latest available version, you can initiate a group FaceTime call in two ways.
Method 1: Making A WhatsApp group video call from a chat group
If you already have a WhatsApp chat group with all 8 users added to it, then you can quickly initiate a group video call by simply tapping on the Video call button. Similarly you can tap on the phone call button to initiate a group audio call.
Method 2: Making a WhatsApp group video call from Contacts list
If you don't have a WhatsApp group with all the participants, then you can also initiate the call from the Contacts list screen. To do so follow the simple steps below.
Launch WhatsApp app and tap on the Calls button.
Now tap on the call button located on top left side of the screen.
Then tap on 'New Group Call' option.
Now add up to 7 people that you want to include in your call.
Once you are done adding participants tap on the video call button to initiate the call.
So there you go folks, this is how you can easily make WhatsApp video calls with up to 8 participants on your iPhone. Again, all users need to be on version 2.20.50 for the call to take place, otherwise you won't be able to initiate the call.
If you have any questions regarding WhatsApp group video calling feature, then let us know in the comments below.
Also read: How To Make Group FaceTime Calls On Mac
Disclosure: iOSHacker may receive a commission if you purchase products through our affiliate links. For more visit our privacy policy page.