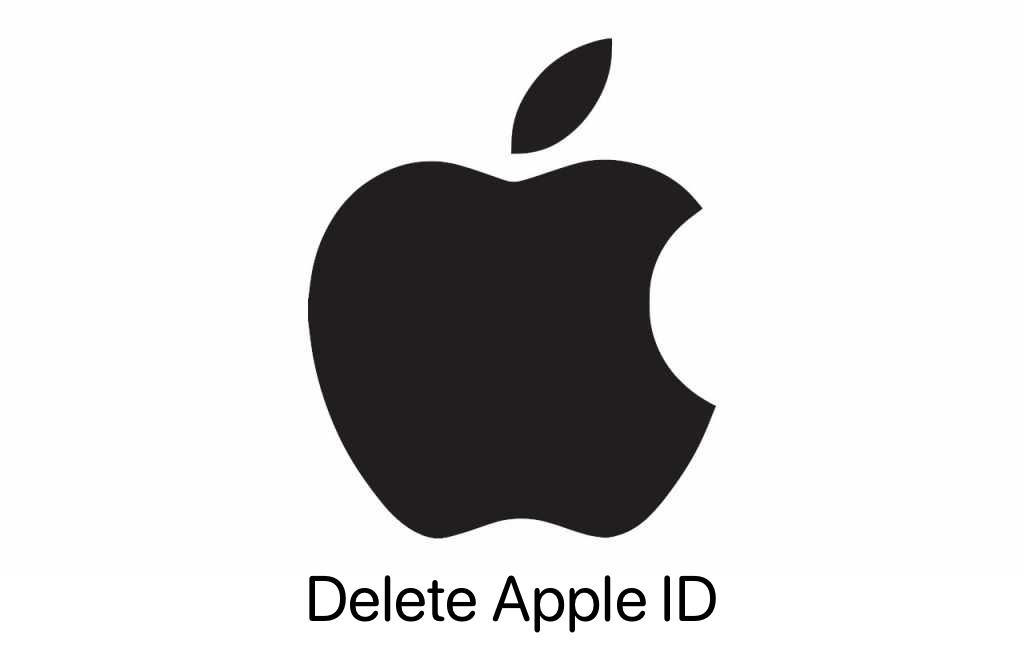 Do you want to learn how you can permanently delete Apple account? Then you are in the right place, as that is exactly what we are going to show you in this detailed step by step guide.
One might want to permanently delete an Apple ID for multiple reasons. May be you no longer use Apple devices and want to get rid of the account, or perhaps you have multiple accounts and want to close one of them. No matter what your reason may be, these steps will help you in deleting Apple ID.
Before you proceed to permanently delete Apple account make sure you are aware of the consequences.
When you delete an Apple ID you will permanently lose access to all of Apple services, subscriptions and purchases that were made with that account.
In addition to that all of your data that was stored on iCloud including photos, videos, documents, contacts etc will be deleted for good.
If you use iMessage, FaceTime and Mail with your Apple account, then be aware that you will no longer be able to receive messages on this account.
If you purchased apps, books, music, movies, TV shows etc with this account, then you will end up losing access to them all permanently.
Apple services that includes iCloud, Apple Pay, iMessage, FaceTime, Apple Books, App Store and more will become inaccessible on this account.
Note: Before you proceed to permanently delete Apple ID make sure you sign out from this account on all of Apple devices.
Want to create a free US Apple ID? Try out guide.
How to permanently delete Apple ID
Now that you know the consequences of permanently deleting Apple account, here are the steps that will help you in completing this task in 2022.
1. On any web browser of your choice open Apple's Data & Privacy website.
2. Log in with Apple account that you want to delete permanently.
3. On the next page click on 'Request to delete your account' option located under 'Delete your account'.
4. You will be told about what happens when you delete your account. Read all the points and then choose a reason for why you are permanently deleting Apple account.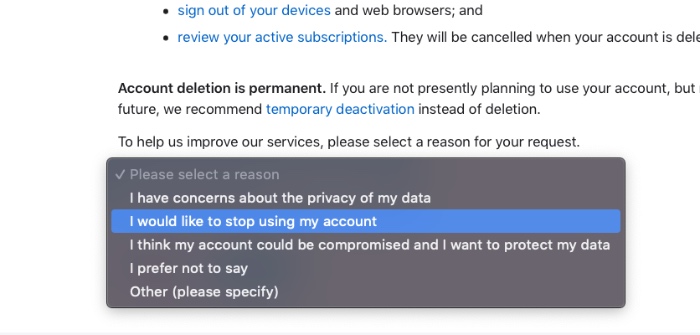 5. Agree to term and conditions and Continue.
6. You will now be told important things that happen when your Apple account is deleted. Click on Continue to proceed.
7. On the next page choose how you would like to receive information about your account and click on Continue.
8. Next you will be shown your access code that will be used by Apple Support to identify you if you need to contact them regarding your account. Copy it or note it down somewhere.
9. Now you will be asked to enter the access code that was displayed to you on the previous page. Enter it and hit Continue.
10. Finally you will be asked to confirm your account's deletion. Click on 'Delete account' button to finally delete your account.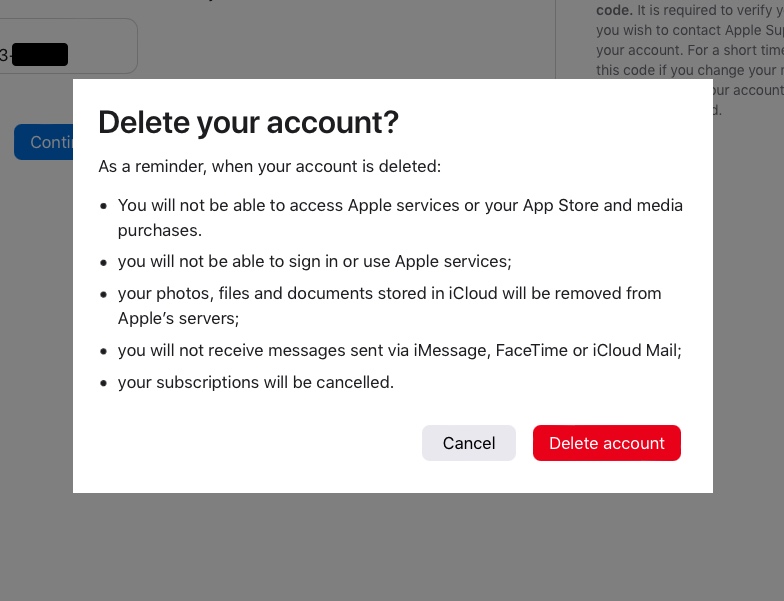 That's it, now that your Apple account is permanently deleted you will not be able to use it to take advantage of Apple's services including but not limited to App Store, iCloud, Apple Music, iMessage, FaceTime and more.