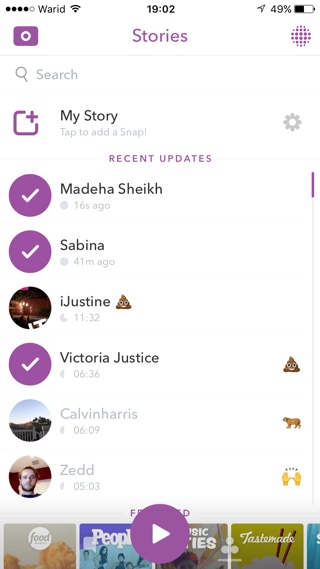 If you are a Snapchat user, then you would know that when you are watching stories from friends and people you are following on the social app, they play in an order. The most recent story will appear on the top of the list and when you tap on it, it will play and will be followed by the very next story from the next user in line. The stories keep playing continuously until you have seen all the recent updates from people you have added in your friends list. While this was helpful it wasn't always the best solution as there are times when you only want to see stories from a specific group of people and not from everyone you are following.
To solve that Snapchat has recently added the Playlist feature, which enables users to select stories from certain users from the 'Recent Updates' section by tapping on the user's story preview image. When you select a story a purple circle with a tick mark appears on it. Once users have selected the stories they want to watch, they can simply tap on the purple Play button that will appear at the bottom of the screen.
When you do this only stories from the selected users will be played in a playlist. Once the playlist is completed you will return to the main Snapchat screen.
The Playlist is certainly a useful feature especially for those who are following a lot of people and don't want to watch everyone's story or manually go from one story to another again and again.
Disclosure: iOSHacker may receive a commission if you purchase products through our affiliate links. For more visit our privacy policy page.