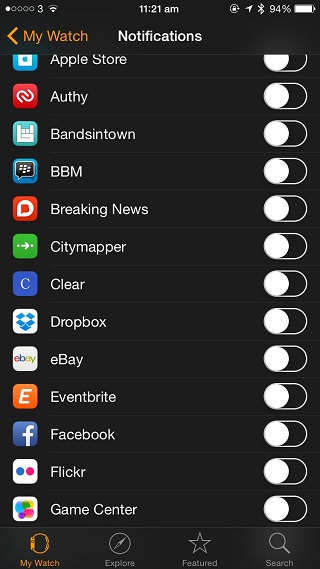 One of the main functions of the Apple Watch is to keep you on top of what's happening in your digital world. For that the device sends the notifications from your iPhone to your wrist accompanied with haptic feedback and sounds. This can get annoying if you have notifications enabled for all apps. Imagine getting notification alerts for every Twitter mention, Instagram like, Facebook comment etc. on your wrist while you are trying to concentrate on something important. Luckily, it is very easy to disable notifications for certain apps installed on your Apple Watch.
The good thing is you won't have to turn off the alerts completely as you may still want to get alerts for incoming messages and other stuff that matters to you more. So to prevent certain apps from sending notification to your Apple Watch all you have to do is fire up the Watch app on your iPhone. On the Watch app tap on the 'My Watch' button from the button bar and then head to the 'Notifications' option. Scroll down to find the list of apps you have installed for your Apple Watch.
Next to the app's name you will find a toggle, simply turn it off for application you don't want to receive notifications from. You can even go a step further and customize the way different apps send you notifications based on your preferences by tapping on them.