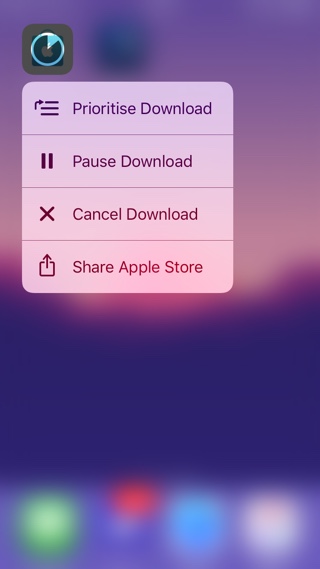 When you are downloading multiple apps from the App Store, it can be annoying to wait for the app you want to use right away. Depending on the current Internet speed, number of apps and size of apps being downloaded the downloading could take a while. Thankfully iOS allows an easy way to prioritize the downloads, so the app you want to use first or is in smaller in size can be downloaded first. The prioritize option appears on the 3D Touch menu, which means that sadly it is only available on new iPhone models including iPhone 7, iPhone 7 Plus, iPhone 6s and iPhone 6s Plus.
If you happen to have these iPhone models, then simply force tap on currently downloading app and from the menu tap on the 'Prioritize Download' option. When you do so this app will jump the queue and will be downloaded first or at a priority.
From the same menu you can also pause downloads by tapping on the 'Pause Download' button. The pause option is super useful when you want to switch to mobile internet and don't want the download to continue.
The 'Cancel Download' option also found on the 3D Touch menu makes it easier for users to cancel an app download. On non-3D Touch devices you have to enter the wiggle mode and tap on the 'x' button in order to cancel the download, so the 3D Touch shortcut on newer iPhones saves a lot of time and effort.
Disclosure: iOSHacker may receive a commission if you purchase products through our affiliate links. For more visit our privacy policy page.