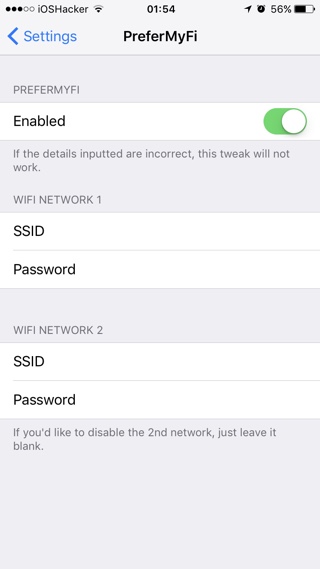 People who have more than one WiFi networks at their home or office constantly find themselves switching between them. For example, I have access to two WiFi networks at my home both of which are connected to my iPhone. So whenever I turn the WiFi toggle on, the device randomly connects to either one of them. The problem is one WiFi network is slower than the other, so even though I want my device to be able to connect to both of them I would prefer if it would connect to WiFi 1 whenever it can.
The new PreferMyFi 2 tweak does exactly that by allowing users to set their preferred WiFi network as a priority. The tweak makes sure that the device first connects to the preferred WiFi network, and if it is down and not working, then automatically switch to the second preference. To set up the tweak you have to enter the SSID and password of your WiFi networks inside the tweak's Settings panel. Enter the first preference in WiFi Network 1 while the second preference in WiFi Network 2.
Once the tweak's set up is complete it will automatically switch between WiFi 1 and WiFi 2 without requiring any effort from you. When entering WiFi information make sure you are entering the right data otherwise the tweak will not work.
The PreferMyFi 2 tweak for jailbroken iOS devices works with iOS 10 and can be downloaded from Cydia for free.