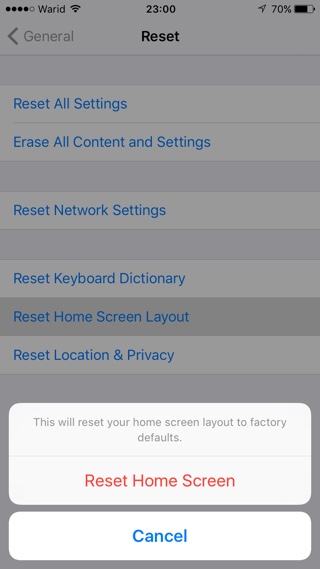 Everyone likes to customize their homescreen according to their needs. Some prefer to keep all the stock apps they use the most on the main screen and third-party apps on second or third pages others keep their most used applications on the first page. If you ever want to get the default iOS homescreen layout, the one that is set when you boot your device for the first time or when you reset iOS, then we have got the perfect tip for you. Deep inside iOS settings you can reset homescreen layout of your iPhone, iPad or iPod touch. Read on to learn about how to quickly reset homescreen layout.
Resetting the Homescreen Layout on iOS
On your iPhone, iPad or iPod touch open the Settings app.
Step 1: Tap on General > Reset.
Step 2: From the Reset page tap on 'Reset Homescreen Layout' button.
Step 3: Now from the menu tap on the 'Reset Homescreen button'.
Step 4: Once you do so your iOS device's homescreen icon layout will be changed and will be set to factory defaults. This of course is not permanent and you can change the formation of icons again the way you like.
Did you enjoy this tip? If yes, then do let us know in the comments section below.