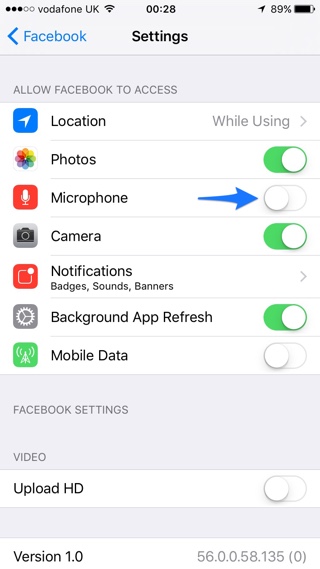 Just when you thought Facebook's lack of regard for user privacy can't get any worse, the world's largest social networking site strikes back with a bang. Now it is reported that the social network listens to user's conversations through their iPhone's microphone in order to find out what they are talking about or listening to. According to the company it uses the audio gathered through its mobile app to suggest users about what to post on their account, however the same data might also be in use for showing relevant advertisements warns Kelli Burns from University of South Florida. This has been denied by Facebook but if you want to be on the safe side and want to ensure your privacy is not breached, you can follow the steps below to stop Facebook from listening to your conversations.
Stop Facebook App From Listening to your Conversations
You can turn off Facebook app's ability to use your iPhone's microphone to listen to your conversations using the simple steps below.
Open the Settings app and head to the Facebook Settings page.
From the 'Facebook' settings page tap on the 'Settings' option that you can find right below the Facebook app logo.
Finally under 'Allow Facebook to Access' heading look the for Microphone option and turn the toggle next to it to off.
Doing so will stop Facebook's access to your iPhone's microphone. Since you have turned off the settings from iOS settings, the social network won't be able to change the setting even if they wanted to. Facebook uses microphone to determine what you are listening to and suggests what you should post on your account. This is not a new feature and has been around since 2014, although it is only available in the US. [Independent]
Disclosure: iOSHacker may receive a commission if you purchase products through our affiliate links. For more visit our privacy policy page.