In this guide we will show you how to identify a counterfeit or fake Lightning cable. We will show you the things you should look for that will help you in identifying if a cable is fake or real.
Using a genuine Apple cable or an Apple certified cable is the best way to recharge or manage data on your iPhone or iPad whereas using a counterfeit lightning cable can bring harm to you and your iOS device.
A fake or counterfeit data cable can cause unwanted issues with your device, which includes your iPhone or iPad getting damaged, the connector getting very hot or not fit into your device, the cable catching fire or even putting you at the risk of getting electrocuted.
Counterfeit or fake lightning cables are also known to give errors on iPhone and charge the device at slower speeds when compared with genuine Apple cables.
How to find out if a Lightning cable is counterfeit or fake
If you're looking to identify if a Lightning cable is fake or real, then looking for the details given below can help you tell if an Apple Lightning cable is fake or counterfeit.
Here's what to look for to find out if an Apple cable is genuine or counterfeit…
Must read: Ever Wondered Why the Fourth Pin on Your Lightning Cable Turns Black? We Found the Answer
Check writing on the cable
The first and most important thing you should look for when you want to determine if a cable is real or fake by checking if the cable has "Designed by Apple in California" text. The cables can also have the following text, all of which are signs the cable could be genuine:
Design by Apple in California Assembled in China
Design by Apple in California Assembled in Vietnam
Design by Apple in California Indústria Brasileira
In many instances counterfeit cables that have the text above might have spelling mistakes or other errors that you can catch quite easily if you pay attention.
Look carefully for minor mistakes and even the color of the text. On Apple's genuine cables the text is written in very light grey and can even be difficult to find in low light.
Another thing to look for is that on genuine Lightning cable the text is written about 7 inches from the USB connector. If you find a cable that features text which is significantly more or less than 7-inches away from the USB connector, then it is most likely a counterfeit.
Look For Serial Number
Another very important thing that you should look for is the serial number for the cable. The serial number follows the Designed by Apple text and is a 12-digit combination of numbers and letters.
Look for Irregularities in the Lightning Connector
The Lightning connector that goes inside the iPhone can greatly help you in identifying a counterfeit iPhone cable provided you know what to look for.
On Apple's genuine Lightning cables the Lightning connector is made up of a single piece and looks smooth. It also features rounded, smooth and gold or silver colored contacts.
On a fake cable you might find that the Lightning connect is made up of more than one pieces. It's finish could also look rough and inconsistent. In addition to this the cable might have squared contacts with and a uneven surface.
Look for the size of the Lightning connector's boot
Another thing that you should look for when trying to identify if an iPhone cable is real or fake is to look for the width and length of the lightning connector boot (the white part).
On original Apple cables the boot is 7.7mm Width x 12mm length.
If you find the width and height of the boot different, then you probably have a counterfeit Apple cable in your hands.
Color of faceplate insert
On a genuine Apple Lightning cable the color of the faceplate insert is grey/metallic. Whereas on a fake cable it is usually white or black. Looking at the faceplate insert can tell you if the cable is original or counterfeit.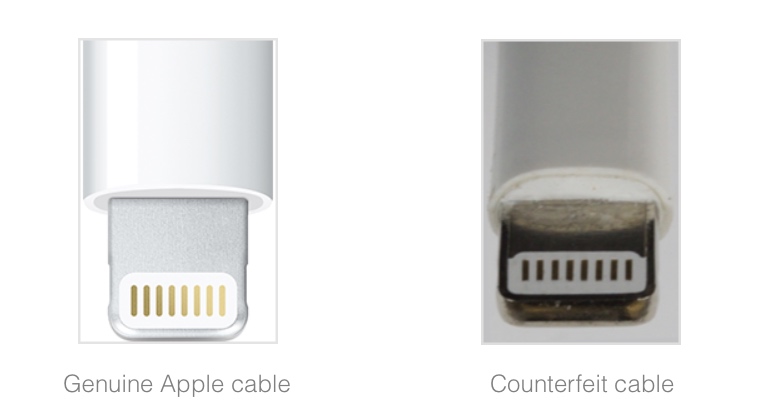 On USB-A to Lightning cables
If the cable you want to check has a USB-A connector, then looking at the following details can also help you identify if it is real or fake.
1. On Original cables the interlocks on USB shell are trapezoidal and they are equally spaced from edge.
2. On fake cables the USB shell interlocks might have right angles and inconsistently spaced.
On original Apple cables the USB contacts are gold-plated, whereas on counterfeit cables they are usually silver plated.
3. The surface of the insulator for USB connector is flat and uniform while on fake cables it might have notches and indents.
4. On genuine Lightning cables the USB surface is smooth and consistent while the surface of the USB shell is flat. On fake cable the USB surface might be grainy.
This is how you can identify a fake iPhone cable. By looking for details mentioned in this guide you can tell if the iPhone or iPad cable is a counterfeit or a genuine Apple cable.
If you ever have doubts about whether you are using or buying a genuine or counterfeit cable, looking for these details in the cable can help you in making the right decision.
Always buy Lightning cables from official stores
To eliminate the doubt completely it is good practice to always buy Lightning cables from Apple's online store or its buy genuine Lightning cable from its Amazon store where it sells its genuine cables.
You can also consider buy MFi certified cable from well known manufacturers such as Anker, Belkin, Mophie and more.
If you have any questions regarding this guide, then let us know in the comments section below,