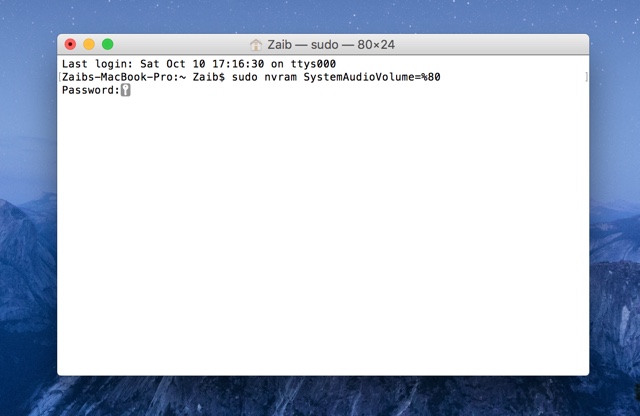 Every Mac has a distinctive sound that is played as soon as you turn on your machine. The sound is there to indicate that your Mac has properly booted. Most users don't mind the chime, however there are many who would want to turn it off. Unfortunately OS X does not offer a simple setting that you can turn off in order to turn off Mac's startup sound. So to get rid of it you have to enter a command in the Terminal application. In this post we will show you how to turn off the startup sound on Mac using Terminal. We will also show you how you can turn it back on.
Turning off startup sound on Mac
1 ) On your Mac launch the 'Terminal' app, that you can find in Applications > Utilities folder. You can also search for it in spotlight.
2 ) On Terminal type "sudo nvram SystemAudioVolume=%80" and hit enter.
3 ) You will be asked for the administrator password, enter it. Do note that when you are typing the password, you won't see any change on the Terminal apart from the key icon. Don't worry and type the whole password, after which you should hit enter.
That's it! Now shutdown your Mac and start it again, and you will notice there's not sound playing at startup.
Turning on startup sound on Mac
If you want to get the startup sound back after turning it off, then doing so is simple as well. Just open Terminal app and type "sudo nvram -d SystemAudioVolume". This will turn the default startup sound back on.
This method works on all versions of OS X, and is fully tested on El Capitan.
It is recommended that you don't off the startup sound, as it not only tells you that Mac has booted successfully, but it also lets the user know when there's a problem. At which case a special beep code can let you know what the problem is causing the Mac to have a failed boot up.
Disclosure: iOSHacker may receive a commission if you purchase products through our affiliate links. For more visit our privacy policy page.