Although there's no jailbreak available for the latest version of iOS, the jailbreak developer community is alive and well. Over the past few days we have seen tons of new tweaks getting released in the Cydia store, allowing those who are still using iOS 8.4 to customize their devices in unique and exciting ways. In this post we have featured the new Animator, BBQuickReply, BatteryIcon, Mimoji, PhotoSelect8, ShowMeMore, TimeWiz, WhatWereYouThinkingYT and YTOldNav. Read on to learn what these hacks do.
Animator
The recently updated Animator tweak allows users to animate their homesceen icons. You can apply animation to all icons and choose from 7 different styles. The tweak also has an option for users to apply a mix of styles to their icons, so each icon animates differently. Animator is available in Cydia for $1.99.
BBQuickReply
BBQuickReply brings the QuickReply functionality to BBM for iOS app. After installing this tweak you can reply to BBM messages directly from the notification banner just like you can do with Messages app. You can download BBQuickReply on your iOS 8 powered device by adding 'http://apt.imokhles.com' to your Cydia sources. It is still in beta.
BatteryIcon

BatteryIcon tweak adds a live icon to your homescreen, which shows the remaining battery indicator to the user in the form of the icon. BatteryIcon also makes it easier for users to access the 'Battery Usage' section of the Settings app, as you can get to it by tapping on the icon. In addition to showing live indicator, the battery icon also changes its color based on current battery level and when the device is charging. You can download the tweak for free from Cydia.
Mimoji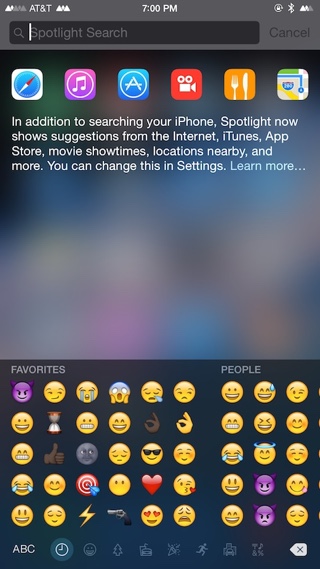 The new Mimoji tweak allows users to add their most used emojis to a dedicated 'Favorites' section, so they can find them instantly. Unlike the 'Frequently Used' section found on the stock iOS keyboard, Mimoji allows users to add select emojis, that are not removed or replaced. The tweak also lets you set a universal skin tone for emojis and more. You can download Mimoji tweak for $0.99.
PhotoSelect8
PhotoSelect8 tweak allows users to quickly select images when in selection mode by swiping on photo thumbnails. This makes the life of users easier, as they don't have to repeatedly tap on images and can simply swipe to select them. PhotoSelect8 tweak is available for free under 'http://repo.ioscreatix.com'. Add the url to your sources to download this tweak for free.
ShowMeMore
When you want to share an image with your friend through iMessage, you tap on the 'Camera' icon to select the photo. When you scroll through the thumbnails you quickly find out that you have to open the 'Photo Library' to select an older image, as the scrolling window only lets you select last few images on your camera roll. ShowMeMore fixes that by letting you scroll through all of your photos without opening the Photo Library page. It is available for free.
TimeWiz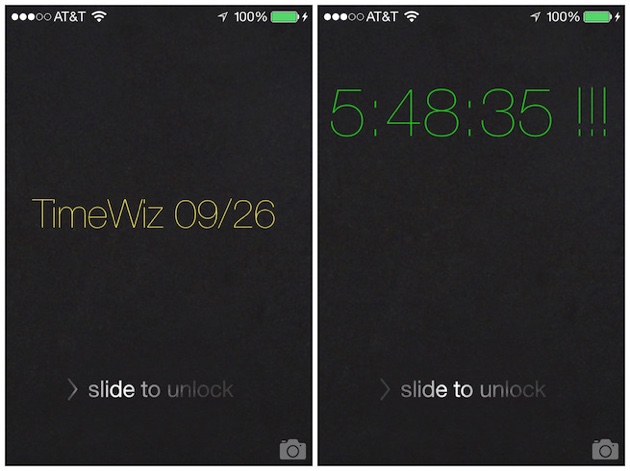 With TimeWiz tweak you can customize the way time appears on the lockscreen and other parts of iOS. Using this tweak you can change the color, format, add another clock with different timezone and move it around the lockscreen by dragging it. You can download TimeWiz from Cydia for $1.49.
WhatWereYouThinkingYT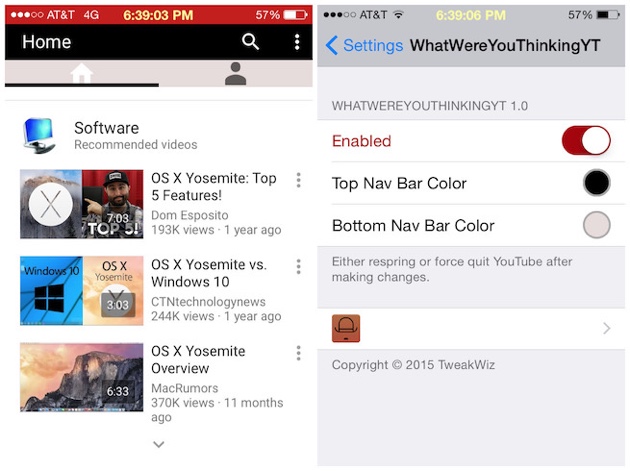 Youtube recently updated their official app for iOS, which now features a thick and bright red colored bar at the top. Many users don't like the new look, and if you are one of them then WhatWereYouThinkingYT brings the perfect remedy for you. The tweak allows users to reduce the thickness of the top bar, as well as change its color. You can change the color of top and bottom nav bars. WhatWereYouThinkingYT tweak is available in Cydia for free.
And if you completely hate the new look of Youtube app, then you can also get the old Nav bar back by installing the YTOldNav tweak by adding 'http://repo.ioscreatix.com' to your Cydia sources. It is available for free.
Disclosure: iOSHacker may receive a commission if you purchase products through our affiliate links. For more visit our privacy policy page.