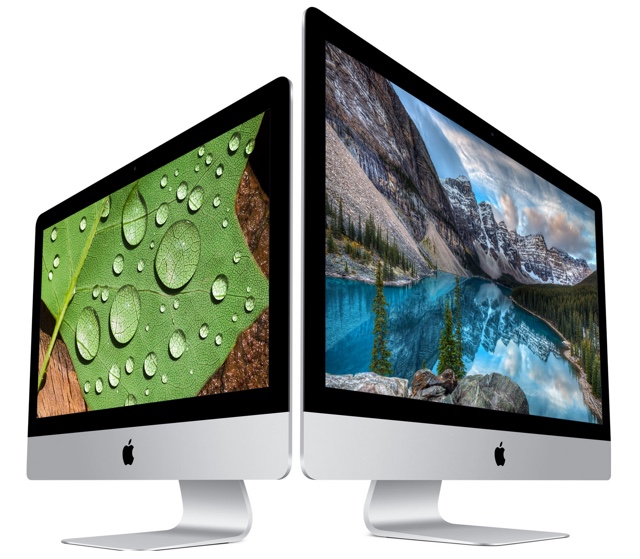 Apple has just launched the new iMac 27-inch models, all of which now feature a beautiful 5K Retina Display. The upgrade brings all big iMacs in-line with the 3.1GHz 21.5-inch Mac, which is the first 21.5-inch iMac to feature the 4K high resolution screen. Unlike the smaller model, which also has non-Retina display models available for purchase, all 27-inch iMacs now come with Retina Display. In addition to the screen upgrade, the new iMacs also feature faster processors, better graphics capabilities, 2 Thunderbolt ports and improved wider color gamet.
The 21.5-inch iMac has also received spec upgrade and now features 5th-generation Intel Iris Pro graphics and better P3 Color gamut that offers 25 percent larger color space, giving user a more detailed output image. On the other hand the new iMac 27-inch models feature 6th generation AMD Radeon R9 M380 graphics processor with 2GB of GDDR5 memory on the base model. This of course varies from one configuration to another.
Notably the 27-inch Retina iMacs feature a 5K display with a resolution of 5120 x 2880, compared to the 4K display of the 21.5-inch model that offers 4096 x 2304 pixels.
Those of you who are fans of Apple's Fusion Drive would be pleased to know that the company has made it more affordable for buyers to choose a Fusion Drive that pairs with 1TB hard drive of their Mac. It comes with 24GB of flash memory for the base models. If you upgrade you can also get 128GB of flash storage with 2TB and 3TB HDD configurations.
The iMac with 4K Retina Display base model, with 3.1GHz processor is available for $1499. The new iMac 27-inch models with 5K Retina Display and 3.2GHz processor cost $1799 for the base model.