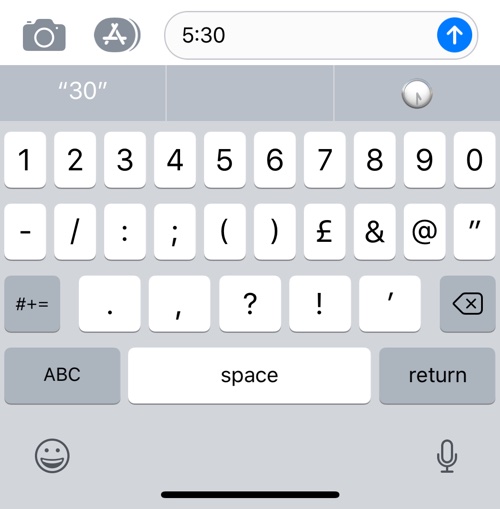 Here's something I didn't know you could do on iOS device. When you are chatting with someone on iMessage or any other app and want to quickly send them the time, you can simply type the time you are talking about, and iOS will show you the typed time in emoji.
Here's how it works, you want to tell someone that you will meet them at 5:30, however instead of sending them the boring typed digital time, you can send them an analog emoji. When you have typed the time simply look at the Predictive Bar on the keyboard, which will be showing you the emoji with the same exact time.
Just tap on the emoji and it will be inserted in the text field, hit the send button to send it over. iOS corresponds the typed time to see if it matches an available emoji, if it does it recommends it to the user. Typing 5:33 will not show any emoji option.
Predictive Bar is only showing the emojis that are part of iOS keyboard. While you can show it for all full hours and half hours, sadly you can't use them for quarters or any other time. This limitation is due to the fact that the emoji keyboard does not have emoji for quarter hours, however having emoji for full and half hours should be enough for most situations.
Full hours:
????????????
Half hours:
????????????
Disclosure: iOSHacker may receive a commission if you purchase products through our affiliate links. For more visit our privacy policy page.