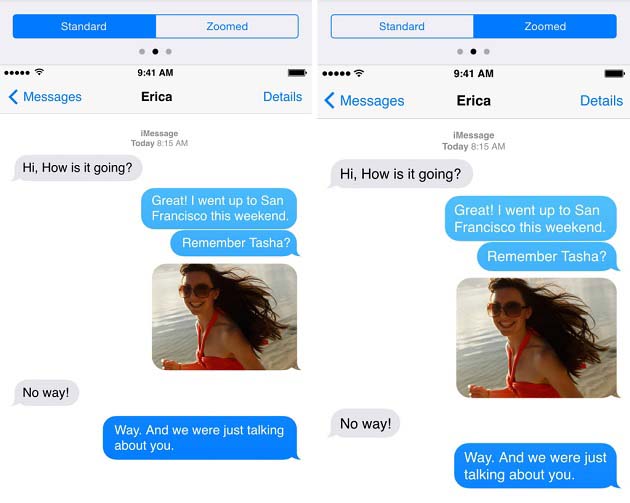 The new iPhone 6 and iPhone 6 Plus both come with new capabilities. One of the new features found exclusively on these two new devices is called 'Display Zoom'. Since the new models pack larger displays and more pixels than the older models Apple has added the Display Zoom feature to give users the ability to make things appear larger. This means you can make the icons, text, buttons and UI elements appear bigger or smaller depending on your personal preference.
You can find the Display Zoom option in Settings app accessible at Settings > Display & Brightness > Display Zoom. On the settings page you will find two options buttons 'Standard' and 'Zoomed'. The Standard option as you may have already guessed is the default option that displays everything in normal size. However, the 'Zoomed' option zooms in on many things so you can have a larger version of them. If you select the zoomed option then you will see less content on screen, which will be easier to read. The homescreen icons will also be enlarged and appear closer to each other.
The Zoomed option significantly affects Messages app, Mail app, Safari and other text based apps and is suitable for people who like to have a larger font size for text. If you don't care about having more content on the screen then this is the option you should select on your device.
For the rest Standard option can show more on the screen taking full advantage of the extra real estate iPhone 6 and iPhone 6 Plus bring.
Would you sacrifice the ability to see more content on the screen for having larger text? Let us know in the comments below.