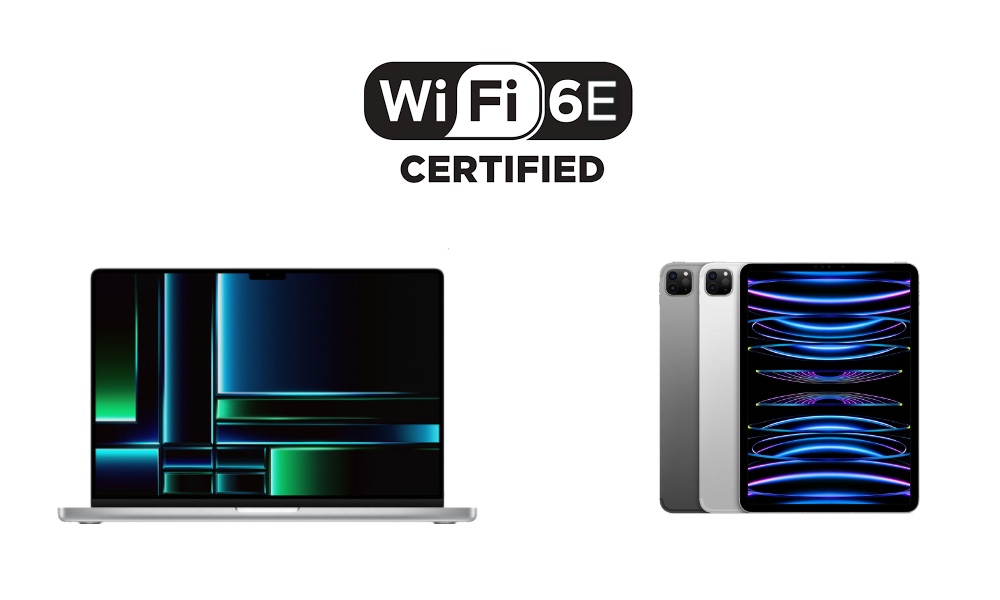 Apple has pioneered Wi-Fi technology throughout its history, and its devices have always had the latest Wi-Fi features. Apple has launched its first device the iPad Pro M2 which supports Wi-Fi 6E, the latest wireless standard. With this new technology, data transfer speeds and coverage are faster and more extensive than ever before. Similarly newer MacBooks and Mac mini also support Wi-Fi 6E.
If you already heard about Wi-Fi 6E but don't know what it is and how it works, you have landed on the right page.
Without further ado, let's understand what Wi-Fi 6E is and how it works.
What is Wi-Fi 6E?
Wi-Fi 6E is the recently released version of Wi-Fi 6, which is also known as 802.11ax. At present, our Wi-Fi operates on two frequency bands, 2.4 GHz and 5 GHz.
The new 6 GHz band, which enables 1,200 megahertz of unlicensed spectrum, is the first technology that supports the new Wi-Fi 6E standard. This reduces latency and ensures that data is transmitted more quickly, resulting in a smoother and more responsive internet experience.
You can play online video games and stream videos with better performance on Wi-Fi 6E networks.
With Wi-Fi 6E, you can also protect your devices with WPA3, a secure protocol that adds higher levels of protection from hacks and breaches compared to previous Wi-Fi standards.
Before we guide you on how to use Wi-Fi 6E on Mac and iPad, let's first discuss:
Requirements to Use Wi-Fi 6E
If you want to connect to a Wi-Fi 6E network, you will need one of the following Apple devices:
MacBook Pro (14-inch, 2023) or MacBook Pro (16-inch, 2023)
Mac mini (2023)
iPad Pro 11-inch (4th generation) or iPad Pro 12.9-inch (6th generation)
Currently, only these Apple models support Wi-Fi 6E. However, newer models that are going to get released in the coming months will also come with Wi-Fi 6E support.
How to Use Wi-Fi 6E on iPads and Macs
In addition to having an Apple device that supports Wi-Fi 6E, you must have the following:
Wi-Fi 6E must be set up.
For a Wi-Fi 6E network, you must have both 2.4GHz and 5GHz bands enabled on your Wi-Fi router or access point, preferably using one network name (SSID). Otherwise, your iPad Pro M2 will identify the network as "limited compatibility."
The device will connect to the 5GHz network if you choose OK, preventing you from enjoying Wi-Fi 6E. You will then be asked if you want to connect to the 5GHz network so that you can enhance compatibility.
Choosing Not Now keeps your device on the Wi-Fi 6E network, but your experience with some activities might be different from what you expected.
Wi-Fi router administrators can edit the band names via their configuration page or app so that all bands have the same name. Once connected, your device will be fully compatible with the Wi-Fi 6E network. Detailed instructions on how to name networks and other settings can be found in the recommended settings for Wi-Fi routers and access points.
How To Turn Off Wi-Fi 6E Mode on Your Device
If you have any other issues with Wi-Fi 6E networks that use a single network name as recommended, you can disable Wi-Fi 6E mode for those networks. This will prevent your device from using the 6GHz band on that network. Other networks will also be able to use Wi-Fi 6E without difficulty.
On Mac
Step 1. From the Apple menu, select System Settings, and then click Wi-Fi.
Step 2. Next to your Wi-Fi 6E network name, click the Details button.
Step 3. Choose Off from the pop-up menu next to Wi-Fi 6E Mode.
On iPad
Step 1. Navigate to Settings > Wi-Fi.
Step 2. Choose the Wi-Fi 6E network you're connected to.
Step 3. Go to Wi-Fi 6E Mode, and lastly tap Off.
Wrapping up…
This is how you can enjoy a faster internet connection, seamless data transfer, and fast streaming.
Do you anticipate using Wi-Fi 6E on your Apple devices? Share your thoughts with us in the comments below!