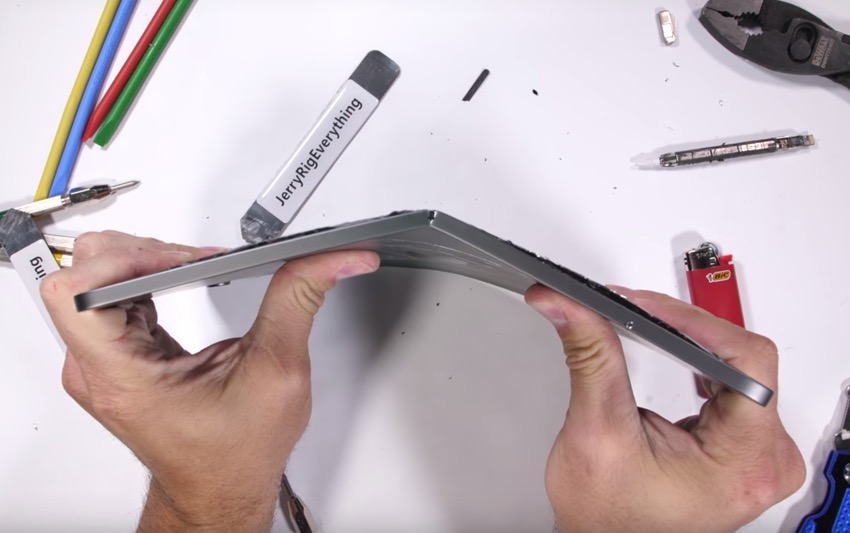 iPad Pro is a large device made up of aluminium, which means it is very prone to getting bent if enough force is applied from both sides. If you have ever wondered how much force is required to bend the newly released iPad Pros, then you can stop wondering as YouTuber JerryRigEverything has provided us with answers.
In his video the YouTuber performed various 'durability' tests on the new 11-inch iPad Pro including scratch tests on its aluminium back, glass and sapphire crystal camera cover. Perhaps more interesting he also performed a stress test to see how much force is required to bend the iPad Pro. Sadly it turns out not a lot.
In the video we can see the iPad Pro gets bent when the YouTuber holds the device from both ends and applies pressure in order to bend it. Seemingly it didn't take too much effort for the iPad Pro to completely bend and become unusable, at least not as much as we would have thought.
In the video JerryRigEverything highlights the lack of structural integrity and that the placement of mic and wireless charging dock for Apple Pencil 2 may have contributed in weakening the structure of the tablet.
The weak structural integrity isn't unique to the newer iPad Pros though as previous generation iPads are also prone to bending because of their large size. If you have an iPad it is a good idea to protect your investment by using a protective case and avoid putting the iPad in backpacks with soft backs and places where someone could accidentally sit on them.