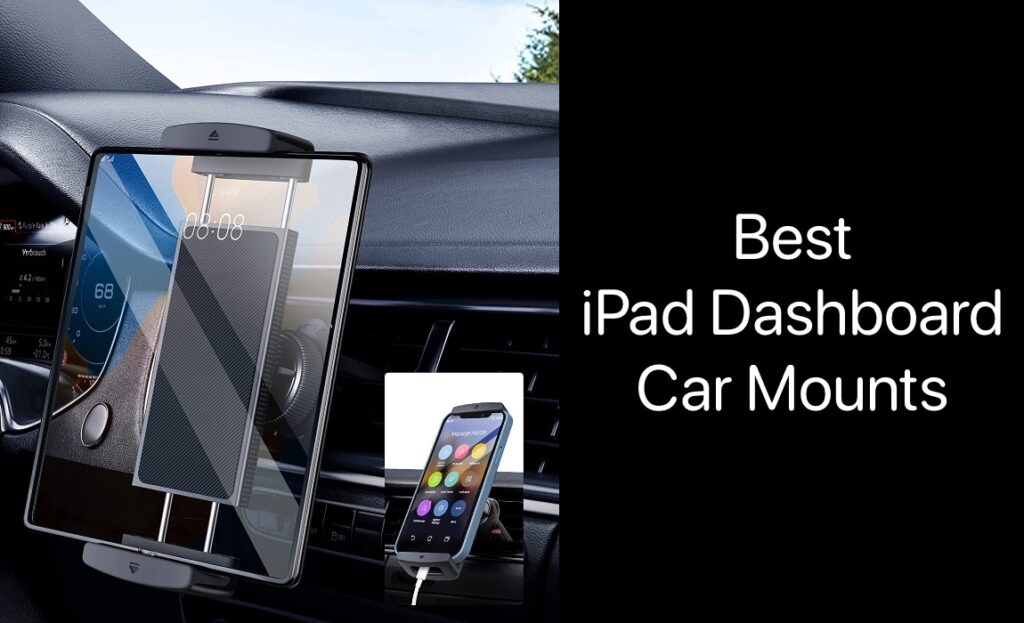 In this article, we will discuss the best iPad dash car mounts, exploring the top contenders in the market based on stability, ease of installation, adjustability, and compatibility with different iPad models. 
Road trips sound incredibly fun and adventurous but let's face it, the excitement can wear off pretty quickly. And if you're crossing long distances in a limited time frame, road trips can go from entertaining and thrilling to a complete disaster in a matter of minutes.
Sure, road trips have the potential to bring immense joy and create cherished memories that stay with us forever. That's true – but only when done right.
Even if you're not on a road trip, daily car rides can be hell on wheels especially if you're riding with kids.
Skip over the annoying cries of "Are we there yet?" echoing in the car by amping up your in-car entertainment and installing an iPad car mount on the dashboard.
These iPad dash mounts will transform your car into an entertaining space for passengers of all ages.
1. eSamcore Dashboard Tablet Holder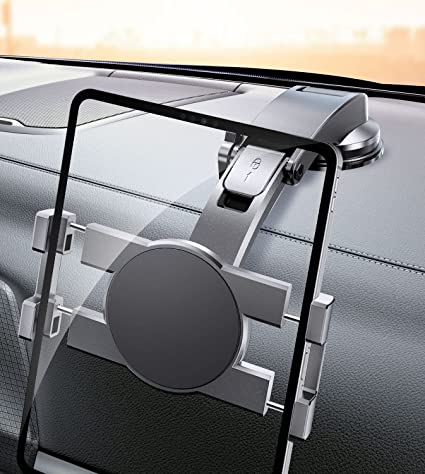 eSamcore offers a robust and compact iPad Holder designed with precision, making it one of the best iPad dash car mounts.
The eSamcore dashboard iPad holder features an upgraded mount arm, allowing you to adjust it up and down at 140° without obstructing your view. Passengers can also switch between portrait and landscape views with its 360° rotating ball joint.
The suction cup features a reliable 3-step lock technique, ensuring a strong hold and stability. Moreover, the washable and reusable suction cup, combined with the durable 3M adhesive, guarantees a reliable attachment to the dashboard.
Buy the eSamcore Dashboard Tablet Holder for $16.99 from Amazon.
2. Xishwon Dashboard & Windshield Tablet Mount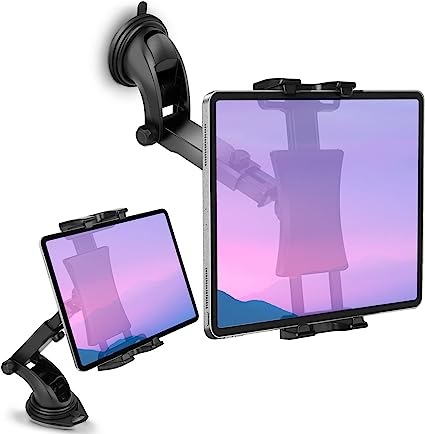 The Xishwon iPad mini holder for car dashboards offers a wide range of compatibility, accommodating smartphones and tablets ranging from 4.7″ to 12.9″.
With its 360° rotation clamp and telescopic arm, it provides optimal viewing angles, allowing you to position your tablet horizontally or vertically without obstructing the view.
The super-strong vacuum suction cup with a sticky gel layer and one-step locking system ensures maximum stability. While the reusable and washable design maintains its grip over time, making it one of the best iPad dash car mounts.
Moreover. the soft sponge pad protects from scratches and collisions, and the hassle-free charging design ensures easy access to charging ports.
Built with durable and high-temperature-resistant TPU and PVC materials, the Xishwon Car Dashboard Tablet Mount offers solid construction and comes with a lifetime warranty.
Buy the Car Dashboard Tablet Mount for $15.99 from Amazon.
3. APPS2Car CD Slot Car Mount (2 in 1)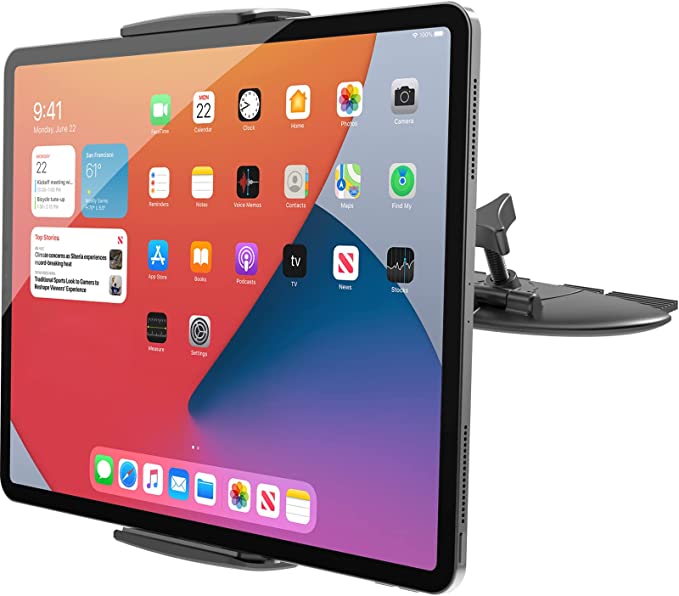 If you belong to the majority who no longer rely on CDs, then the CD slot in your car is essentially unused. Why not repurpose it and mount a tablet there?
While it may seem unconventional, the Apps2Car CD slot tablet holder actually offers several advantages. It doesn't obstruct any vents, and the full 360-degree rotation and swivel allow you to enjoy optimal viewing angles for your iPad, perfect for using Google Maps and navigation apps.
The Apps2Car CD Slot iPad dash mount securely holds tablets up to approximately 10 inches in size. With a secure screw-locked base, this mount offers reliability with tool-free installation. The rubber pad prevents scratches, and it's compatible with most car front-loading CD players.
Buy the APPS2Car Universal Car Mount (2 in 1) for $19.99 from Amazon.
4. APPS2Car Tablet Car Mount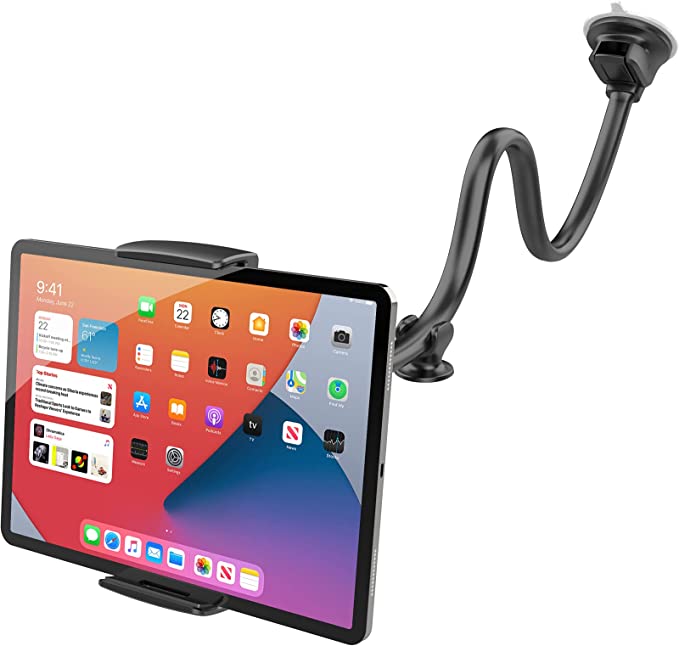 Unlike the one mentioned above, this one comes with a Long Arm Gooseneck Extension, making it the best iPad dashboard car mount for your windshield.
The APPS2Car Tablet Car Mount boasts an extended arm made of rubberized aluminum, providing a reach of up to 13 inches for convenient operation. Its two-step lock suction cup features a gel pad that adheres to various flat surfaces such as windows, windshields, tables, walls, and dashboards.
The reusable suction cup can be washed for long-lasting use. With its complete 360° rotation, easy viewing is ensured. Moreover, the secure grip utilizes a revolutionary spring-lock system and an adjustable loading button.
This mount is compatible with most iPads ranging from 7″ to 12.4″, and it also includes a cable hole design for easy device charging.
Buy the APPS2Car Tablet Car Mount for $19.99 from Amazon.
6. Xuenair iPad Mini Car Mount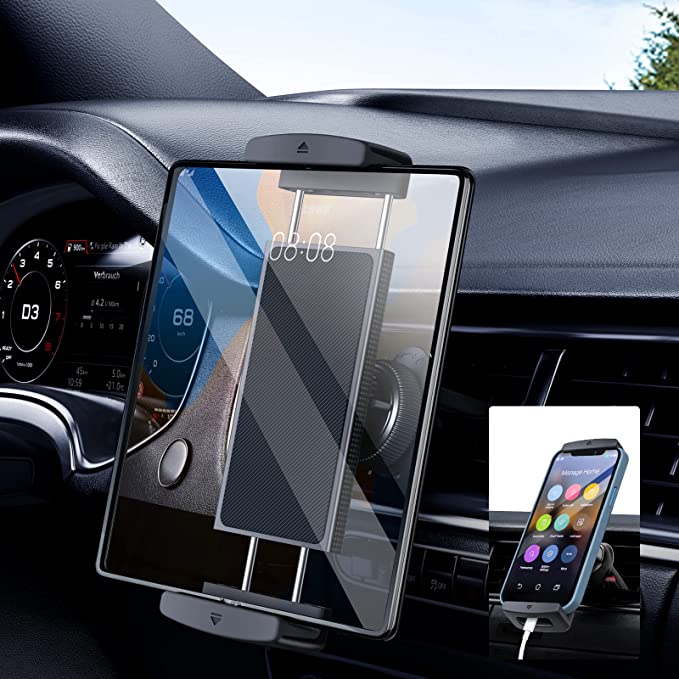 Enhance your driving experience with one of the best iPad dash car mounts.
The Xuenair iPad mini car mount is compatible with a wide range of tablets, ranging from 7 to 12.9 inches in size, ensuring it can accommodate most devices. Constructed with durable materials, it provides long-lasting reliability.
The iPad Mini car mount utilizes a 17mm diameter industry-standard ball head, allowing for a 360° adjustable viewing angle. While the air vent attachment offers a convenient and easily accessible location for your tablet.
More importantly, it securely grips your device, keeping it stable even during bumpy rides. Thanks to the hawk's beak barb design, it provides a secure and non-slip grip on the air conditioning blades. Once locked in place, it ensures a stable hold and eliminates the risk of falling off.
Buy the Xuenair iPad Mini Car Mount for $20.57 from Amazon.
7. Cuxwill Tablet Car Mount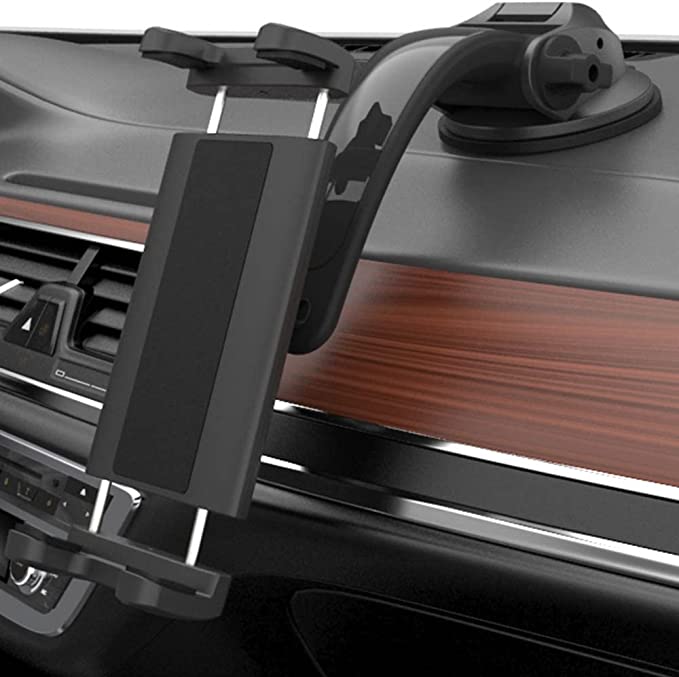 The Cuxwill Tablet Car Mount makes it to the list of the best iPad dash car mounts for offering a range of features and qualities that enhance its functionality and durability.
It utilizes a strong adhesive suction with a 3-layer viscous gel and a 1-step locking mechanism, ensuring a secure hold on smooth surfaces without leaving any residue. Moreover, the curved arm design with a high-density silicone pad ensures enhanced stability and a clear line of sight, promoting safe driving.
To withstand extreme weather conditions and bumpy roads, the mount is designed with a temperature resistance from -4°F to 194°F. As for the viewing angles, the ball joint allows for flexible angle adjustments.
Lastly, the mount also incorporates multiple protective measures, including a rotate-lock suction cup, soft silicone surface, cable hole, and easy cleaning capability.
Buy the Cuxwill Tablet Car Mount for $28.99 from Amazon.
Safety + Entertainment
An iPad car mount can be a game-changer, whether you require in-car entertainment for long journeys, daily commuting, or simply need convenient navigation.
This carefully curated list features the 7 best iPad dashboard car mounts, known for their durability, longevity, and affordability, with a wide range of prices to cater to your budget. Thus, simplifying the process of selecting only the finest options available.
Purchase any of these best iPad dash car mounts for your car to ensure hands-free usage and prioritize the safety of not just the device, but everyone in the car as well.