The iPhone weather app is quite unreliable. If it's not displaying the wrong location, it's probably displaying a large yellow sun as you're watching it rain outside your window. Perhaps it's just bottom on Apple's redesign list. Although nothing is quite as changeable as the weather, having a solid weather app on your iPhone that you can trust will make the world of difference.
There are countless advancements being made in the way of weather forecasting: new satellites are being launched for more in-depth readings of cloud data, and big data is being paired with supercomputers to help improve forecasting in extreme weather conditions. With such advancements, comes progress in the area of weather apps. Although there are countless weather sites and weather app widgets are now commonplace on most websites, especially with holistic web design packages that make this possible, we all want our weather apps to appear as widgets on our iPhone home screen. With that in mind, for those tiring of the stock Apple weather app, here's a list of some of the top weather iPhone apps.
AccuWeather Forecast Report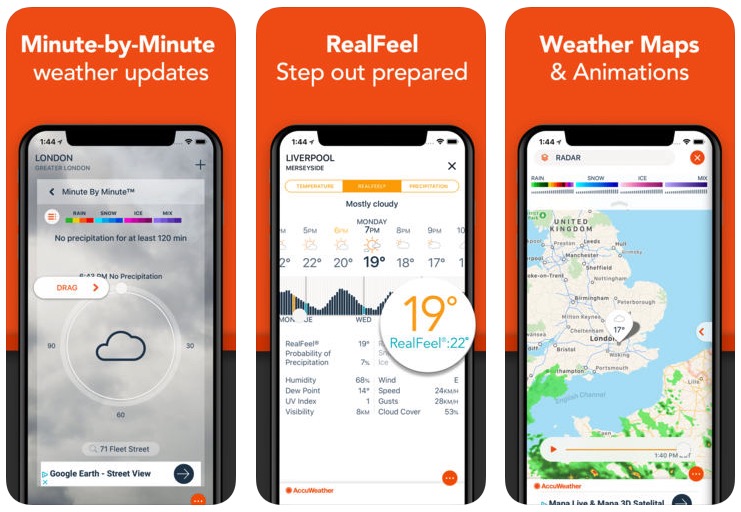 Known for its extremely accurate temperature predictions, AccuWeather is a free weather app that has been one of the most popular options for a number of years. It provides a "right now", hourly and a 5-day forecast, with appropriate images to match and an animated radar and satellite imagery. Download AccuWeather: Forecast Report.
Dark Sky Weather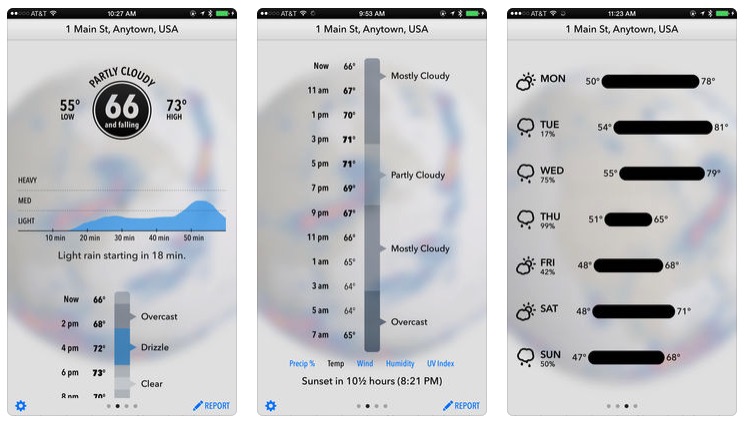 Dark Sky takes a slightly different approach than most apps: the paid-for app aggregates weather data from various sources, rather than one meteorological report. This means that it usually draws an accurate weather report. It's "next hour" feature is particularly useful – especially in rainy weather. This app also has a notification function that warns you of any oncoming snow, rain or wind. Download Dark Sky Weather.
Fresh Air – Hyperlocal Weather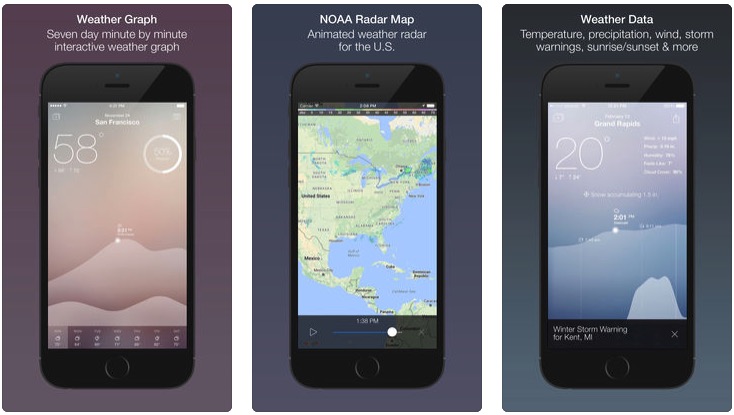 Fresh Air is a simple alternative to many of the overly complicated weather apps. The one-page display shows everything you need at a glance: the temperature, feels like, wind, precipitation, humidity, etc. This beautifully designed app displays seven days of minute-by-minute weather in a beautifully minimalistic graph. Download Fresh Air – Hyperlocal Weather.
CARROT Weather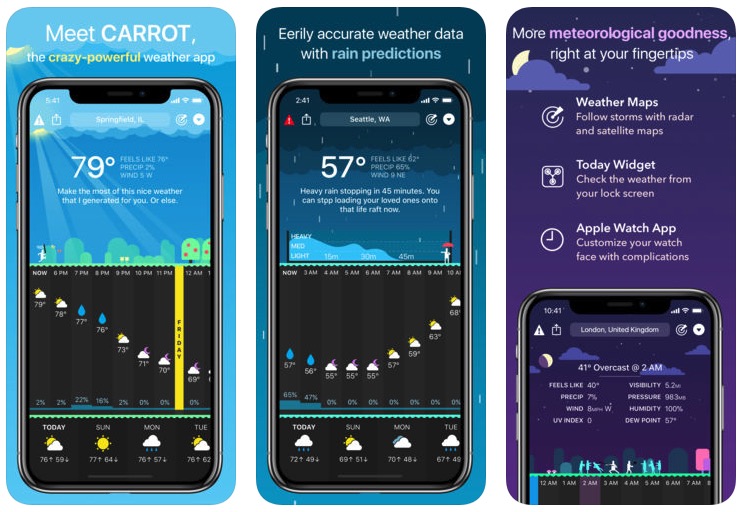 The CARROT Weather app provides a weather forecast with a twist. With quirky animation and witty dialogue, the app can be customized however you like. Its fun design is intuitive and easy-to-use. It also offers a customizable widget, allowing you to choose what forecast elements you see on your home screen. Its bonus feature is the time machine tool, which enables you to view the weather for any location up to 70 years in the past. Download Carrot Weather app.