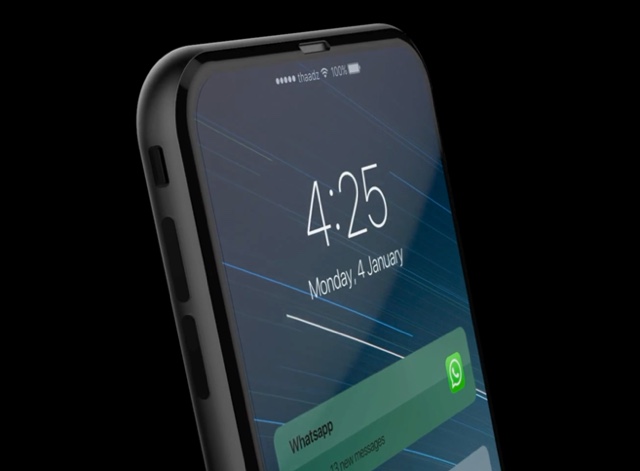 Recently a rumor regarding the upcoming 'iPhone 8' came to the surface, which suggests that Apple's next flagship smartphone that will be released alongside iPhone 7s and 7s Plus will be priced at a starting price of $1000. The rumor sounds outlandish at first, mostly due to the fact that the device is said to be priced at a whooping $1000. That price point seems a bit too much for a smartphone especially when you compare it with the $649 price tag of an entry level iPhone 7. However the rumor also goes deep laying out what the device will look like on a spec sheet.
According to Fast Company Apple's 10th Anniversary iPhone 8 will be a premium device that will feature a base storage of 128GB, a 5.8-inch OLED display, Wireless charging, All glass design, edge-to-edge display with the Home Button built into the screen, 3D sensor technology for Augmented Reality features and the ability to fly like a drone (or may be not). The specs mentioned here seem to have come straight out of an Apple fanboy's wishlist and the device seems suspiciously similar to the iPhone 8 concept video we shared a few days ago. If the specifications mentioned in the rumor turn out to be true, it would certainly be interesting to see how the flagship iPhone 8 will differ from iPhone 7s and iPhone 7s Plus, which will then just be marginal boring upgrades, as one would expect from 's' models. Would the s models feature any of the cool features of the iPhone 8 while maintaining the same design as the iPhone 6/6s or will they receive a facelift, which seems unlikely. Will they have an edge to edge display or even wireless charging? Perhaps not.
With iPhone 7 Plus Apple has laid out its strategy of keeping certain features exclusive to the larger model. iPhone 7 Plus has dual cameras that provide depth effect, better zoom, more battery life and 3GB of RAM. Compared to this iPhone 7 only has a single lens, 2GB of RAM and a significantly lower battery life. With iPhone 8 rumored to be sized at 5.8-inches Apple is only going to make the feature gap even wider forcing users who prefer smaller form factor to get the larger device.
If we ignore the feature difference between the future iPhones and focus on the price, then we can come to some interesting conclusions. Right now the iPhone 7 Plus with 128GB storage has a price tag of $869, which is less than $130 of the rumored $999 price point. Now with those extra $130 you are getting a larger screen size and all the awesome features mentioned above. If you are paying for the device in monthly installments spread through 24 months, then monthly payment comes a little over $5 extra per month. Not so bad considering you are getting the best iPhone on the market. (Image Credit)
So the main question is, would you buy it? Let us know in the poll below.
Will You Buy An iPhone 8 With A $1000 Price Tag And Premium Features?
Yes, in a heartbeat (42%, 41 Votes)
I will stick to my iPhone 7/6s/6 (34%, 33 Votes)
Screw iPhone 8, I still love my iPhone 5s/SE (12%, 12 Votes)
No, But I will consider buying iPhone 7s/7s Plus model (11%, 11 Votes)
Total Voters: 97

Loading ...
Disclosure: iOSHacker may receive a commission if you purchase products through our affiliate links. For more visit our privacy policy page.