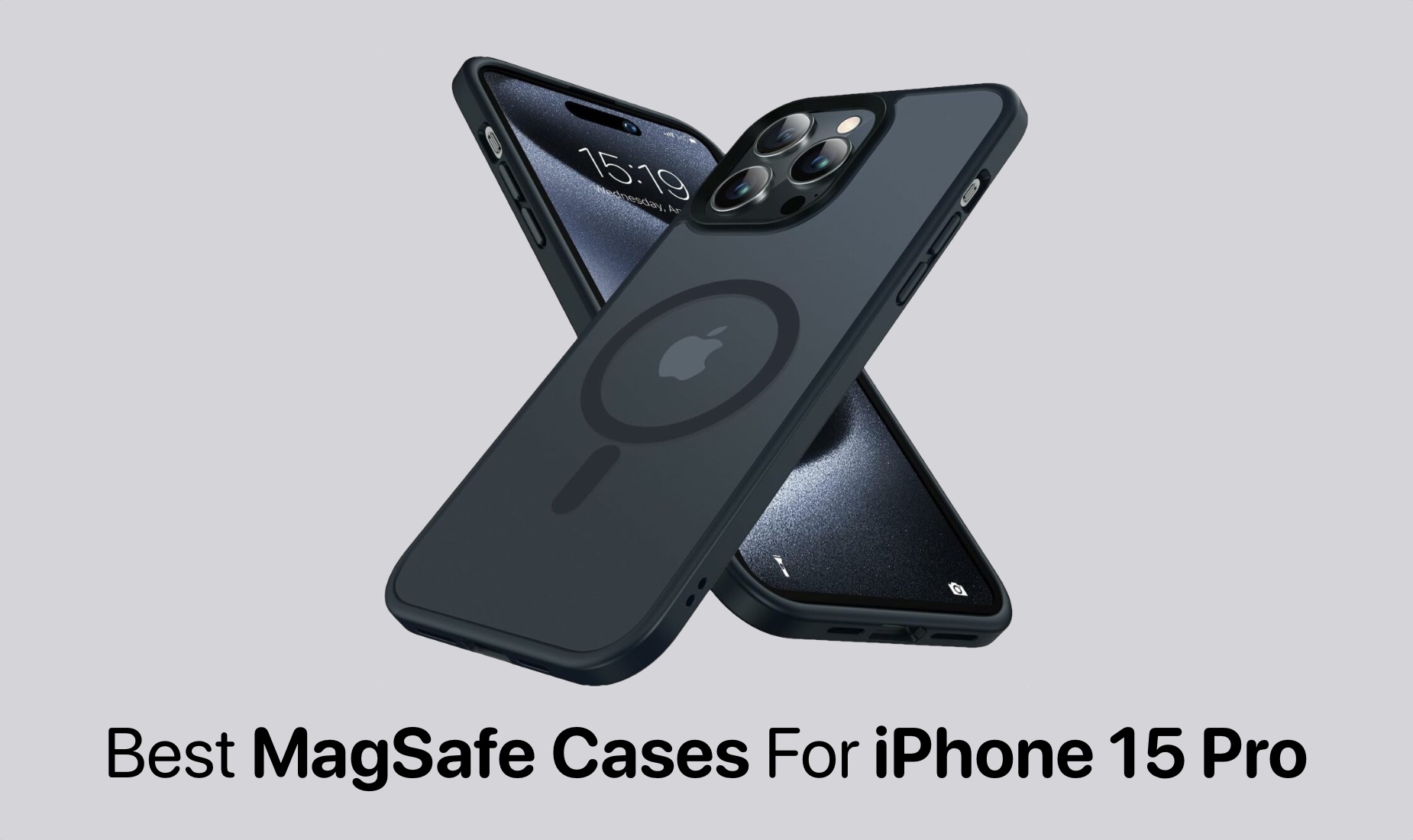 Ready to take your iPhone 15 Pro experience up a notch in 2023? Well, we've got a burning question for you: What's the first thing you do when you get your shiny new iPhone 15 Pro? If your answer is "slap on a cool MagSafe case," then you're in the right place!
With the ever-growing selection of MagSafe cases flooding the market, it can be a real head-scratcher to find the perfect one for your precious device. But worry not because we've done the legwork for you.
In this article, we're going to dive into the wonderful world of the best MagSafe cases for iPhone 15 Pro to protect and style up your new shiny device. So, buckle up, and let's get to it!
1. Apple iPhone 15 Pro FineWoven Case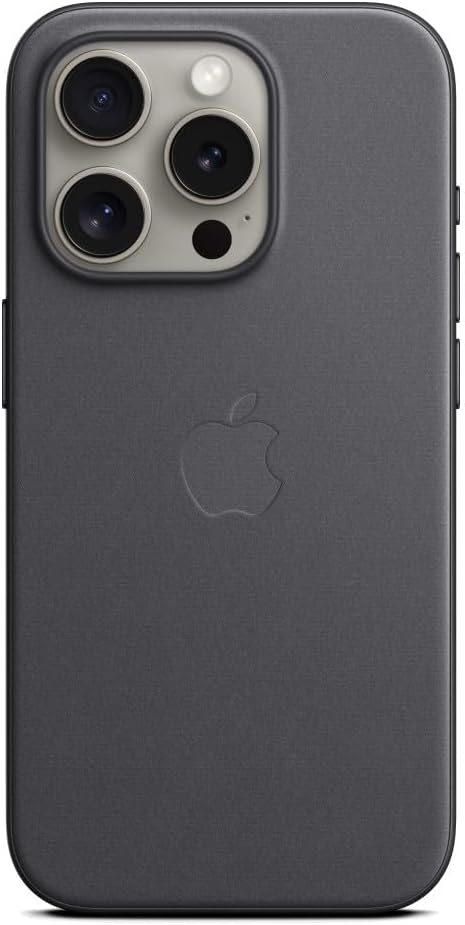 Crafted from resilient micro twill, it boasts a luxuriously soft texture reminiscent of suede. But there's more to it than just its tactile appeal. The FineWoven material is not only a treat for your senses but also a boon for the environment, as it's composed of 68 percent post-consumer recycled content and significantly reduces carbon emissions when compared to traditional leather.
When you snap this case onto your iPhone, it fits snugly without adding any unnecessary bulk. What's more, it features built-in magnets that seamlessly align with the iPhone 15 Pro, ensuring a magical attachment experience and faster wireless charging every single time. Charging is a breeze – simply leave the case on your iPhone and attach your MagSafe charger, or place it on your Qi-certified charger.
Buy Apple iPhone 15 Pro FineWoven Case for $59 here.
2. Mgnaooi Magnetic Case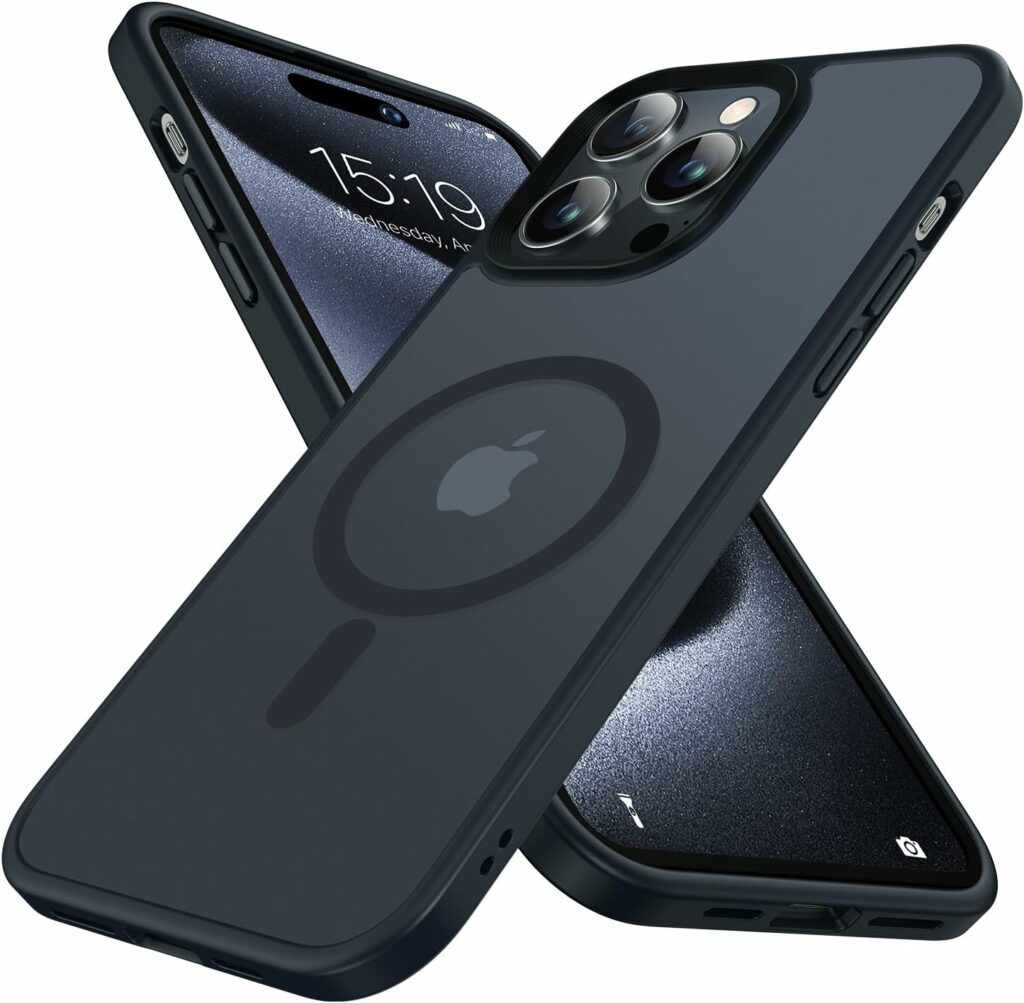 Specifically tailored for the iPhone 15 Pro, this phone case is designed to seamlessly work with both Magsafe chargers and other Qi Wireless chargers without interfering with your signal. Its built-in strong magnet ensures that your iPhone 15 Pro stays securely attached, no matter how you twist and turn it, thanks to its exceptional adsorption capacity. This perfectly aligned magnetic attraction not only keeps your phone in place but also makes wireless charging faster and more stable than ever before.
For mobile gamers, this magnetic connection provides a magical attach-and-detach charging experience, enhancing your gameplay without interruption.
Furthermore, safety is a top priority with the MGNAOOI-compatible iPhone 15 Pro Case, as it guarantees your phone's protection even in the most challenging situations. With the ability to withstand drops from heights of up to 10 feet over 5,000 times, your iPhone 15 Pro remains safeguarded.
Buy Mgnaooi Magnetic Case for $16.99 here.
3. Mkeke Magnetic Designed for iPhone 15 Pro Case Clear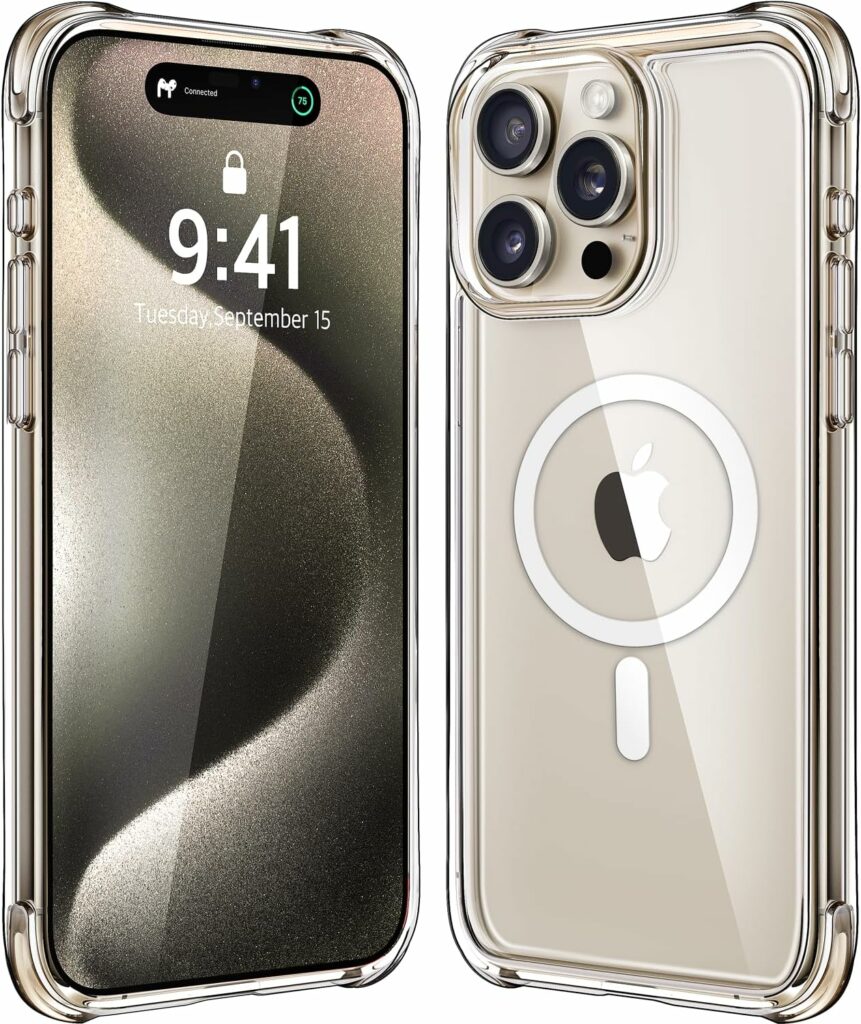 Mkeke case takes your iPhone experience to the next level with its enhanced magnetic connection featuring a built-in N52 magnet ring, ensuring perfect auto-alignment. Plus, it's fully compatible with MagSafe accessories like wireless chargers, magnetic car holders, battery banks, wallets, and more, thanks to its powerful 2600GS magnetic force that securely holds everything in place.
Crafted from high-quality TPU antioxidant material, this one of the best iPhone 15 Pro MagSafe cases is a stain and sweat-resistant champ that maintains its crystal-clear transparency over time, showcasing your phone's vibrant colors.
Worried about drops and scratches? Don't be! Mkeke case for the iPhone 15 Pro has passed rigorous drop tests. It features built-in corner airbags and raised bezels that lift your phone off flat surfaces, providing all-around protection. Plus, the smart camera bezel design ensures a secure connection with wireless chargers and stands, even while you're on the go.
Buy Mkeke Magnetic Designed for iPhone 15 Pro Case Clear for $18.99 here.
4. ESR for iPhone 15 Pro Case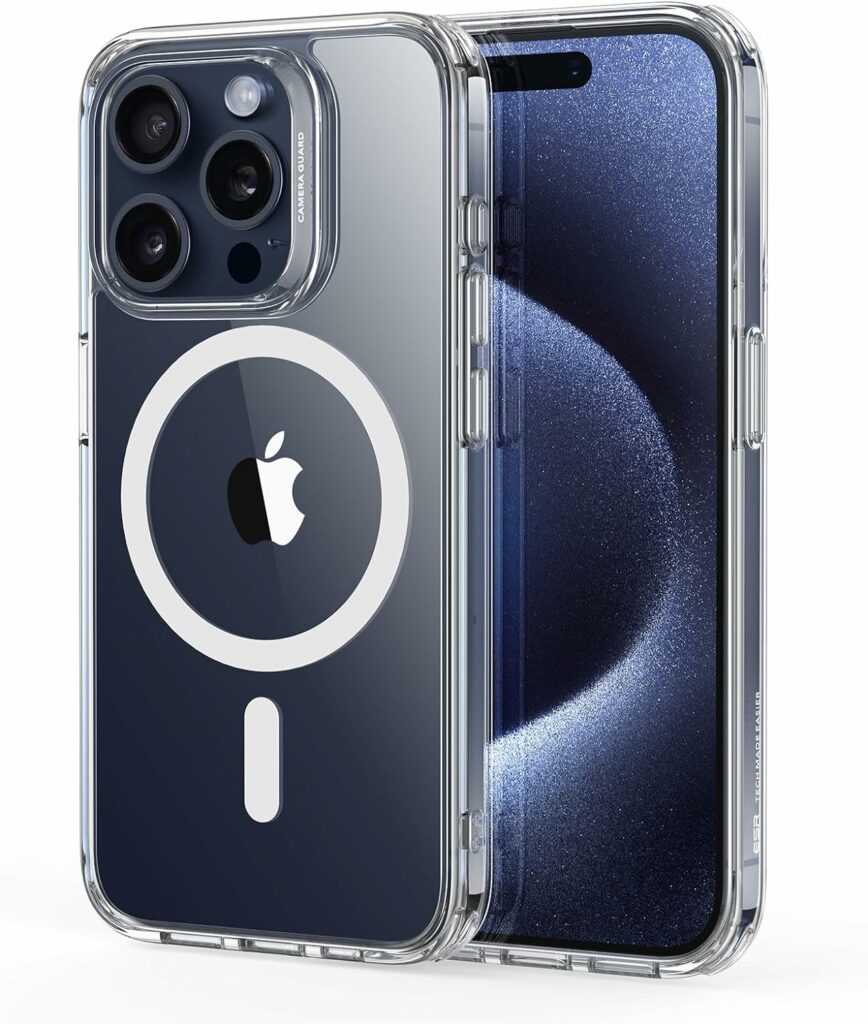 Exclusively designed for the iPhone 15 Pro, this case maintains full functionality with precise speaker and port cutouts and easy-press buttons.
Thanks to its powerful built-in magnets, you can experience faster and more convenient wireless charging, and your MagSafe accessories will securely lock in place with a strong 1,500 g holding force.
With raised edges for the screen and a Camera Guard lens frame, you'll get enhanced scratch protection where it matters most. Plus, the scratch-resistant, crystal-clear acrylic back lets you proudly display your iPhone 15 Pro's style in stunning clarity that lasts.
Buy ESR for iPhone 15 Pro Case for $19.99 here.
5. Aulofe Strong Magnetic for iPhone 15 Pro Case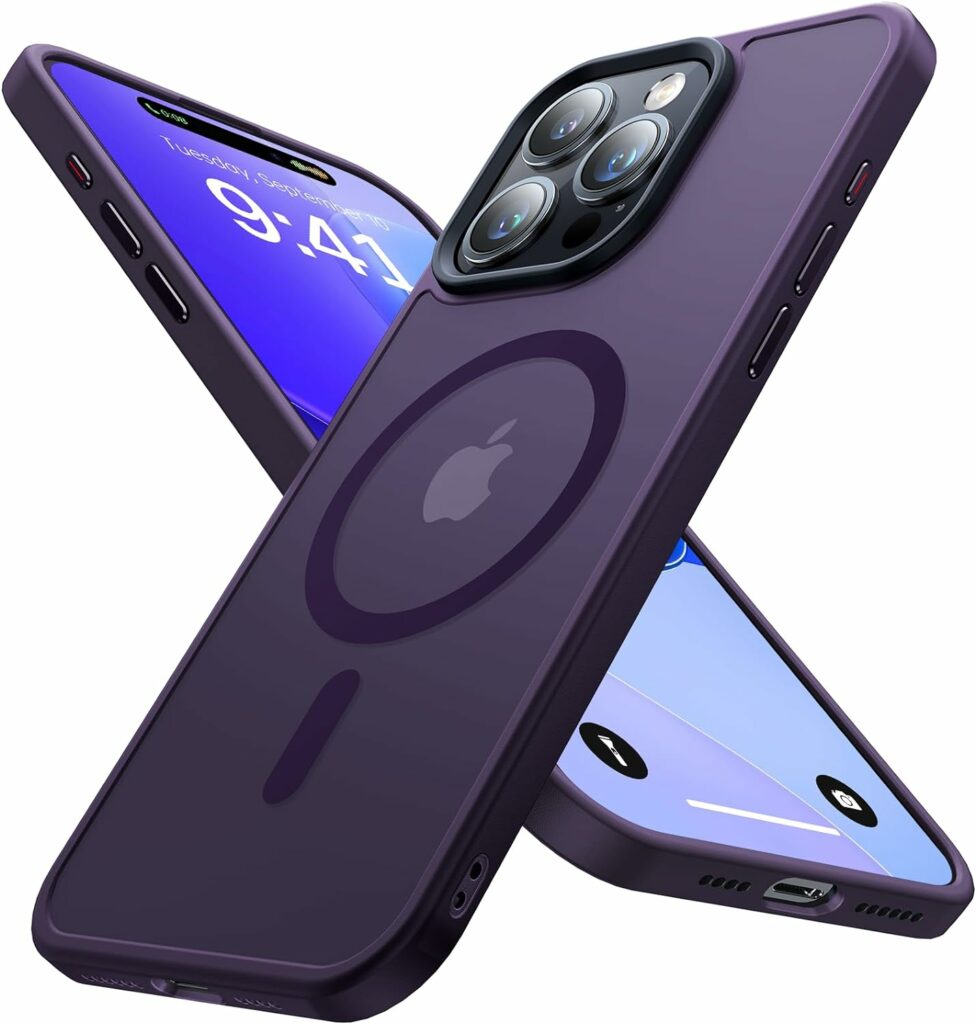 This bad boy works seamlessly with MagSafe accessories and clings to your phone like it's magnetized to it (well, it actually is!). Plus, it charges your phone lightning-fast at up to 40W, practically sipping on power. And guess what? It's super gentle on your battery, giving it a longer life.
The iPhone 15 Pro case is a real head-turner. The edges are wrapped in soft silicone, making it feel as smooth as a baby's bottom when you hold it. The back panel, with its matte finish, looks slick and is virtually impervious to smudges and scratches.
Worried about those accidental bumps and scrapes? Fear not! This case has got your back (and front). It sports a 2.5 mm raised camera lip and a 1.5 mm raised screen lip, complete with built-in camera airbags. This means your phone stays pristine, both in looks and functionality.
Buy Aulofe Strong Magnetic for iPhone 15 Pro Case for $21.99 here.
6. CASEKOO Designed for iPhone 15 Pro Case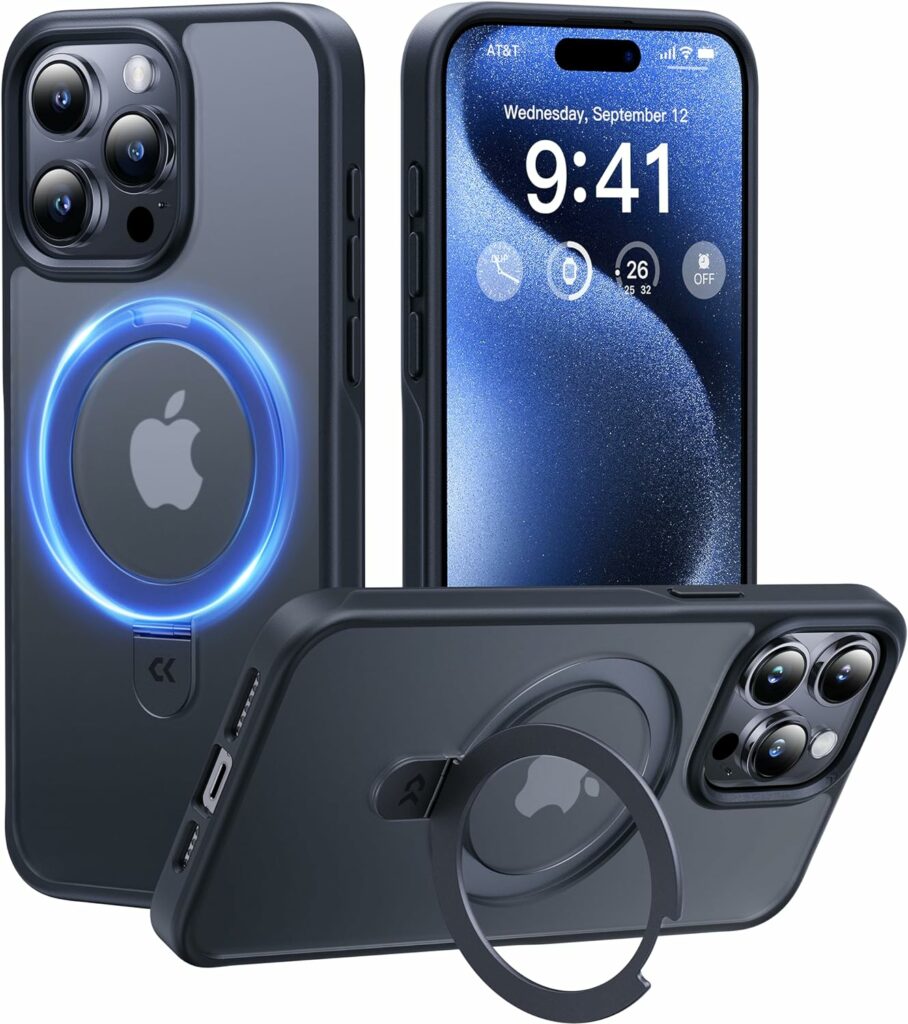 CASEKOO iPhone 15 Pro case has this super cool invisible stand that's patented and totally unique. Plus, it's made of lightweight yet tough aerospace aluminum alloy, taking the whole phone case game up a notch. You can set it up in portrait or landscape mode, and you can adjust the angle from 40° to 120° – so you get to enjoy your content exactly the way you like it.
This MagicStand Case plays nice with all your MagSafe goodies and even third-party Qi-certified wireless chargers. It's got 48 magnets packed in there, thanks to CASEKOO's MagPrime array tech, making it twice as magnetic as the official stuff. And here's the kicker – you won't lose any power during wireless charging, which means faster, safer charging that'll get you back in action in no time!
But that's not all – the CASEKOO iPhone 15 Pro case also rocks a premium matte semi-transparent cover that feels oh-so-silky. And those nifty non-slip grips on the sides? They're there to keep your phone from going for a slip 'n slide. Plus, thanks to the anti-fingerprint tech, you can wave goodbye to smudges with just a gentle wipe – it's like they were never there!
Buy CASEKOO Designed for iPhone 15 Pro Case for $34.99 here.
7. JETech Magnetic Case for iPhone 15 Pro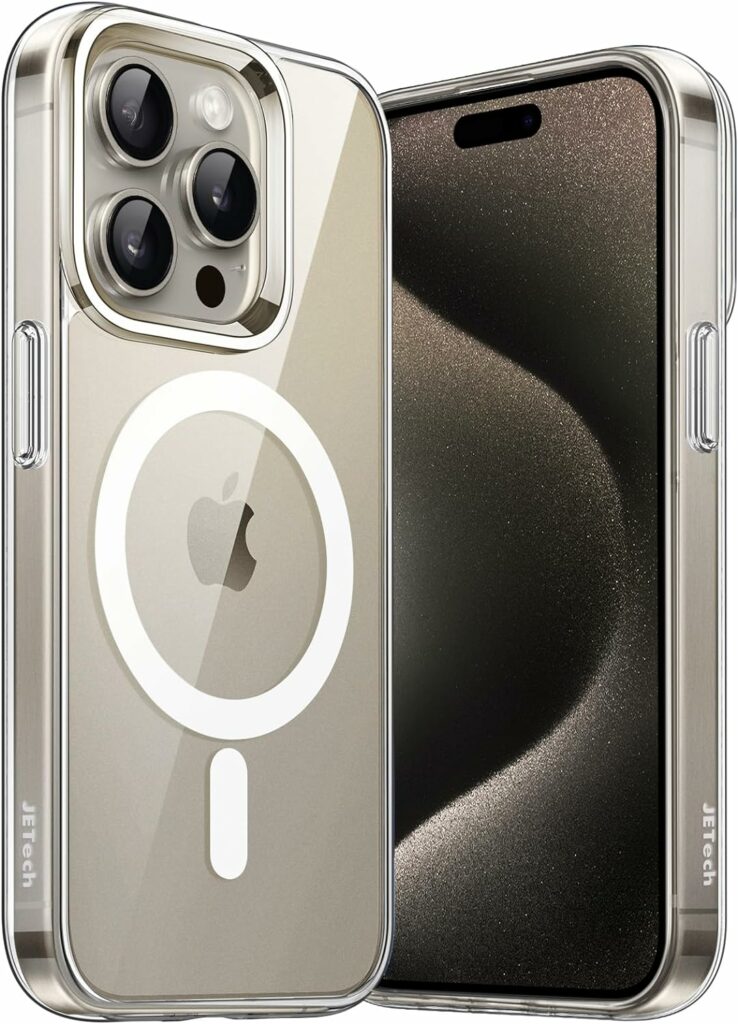 This sleek case is tailor-made for your iPhone 15 Pro 6.1-inch and packs a punch with 38 built-in magnets, making it a perfect match for all your MagSafe accessories. Thanks to these precisely aligned magnets, wireless charging becomes a breeze – simply keep the case on your phone and snap on your charger (yes, it's MagSafe compatible), or pop it on your trusty Qi-certified charger.
Crafted from a flexible TPU frame and a sturdy crystal-clear PC back, this case lets your phone's original beauty shine through while offering top-notch defense against scratches, shocks, and drops. Plus, it stays slim and light, maintaining that pocket-friendly profile.
This one of the best iPhone 15 Pro cases 2023 has got your camera and screen covered, too, with a 0.5 mm raised lip around the camera and a 1.4 mm raised lip around the screen for added protection. Plus, those cleverly designed corners effectively soak up any unexpected shocks.
Buy JETech Magnetic Case for iPhone 15 Pro for $12.99 here.
8. Speck iPhone 15 Pro Case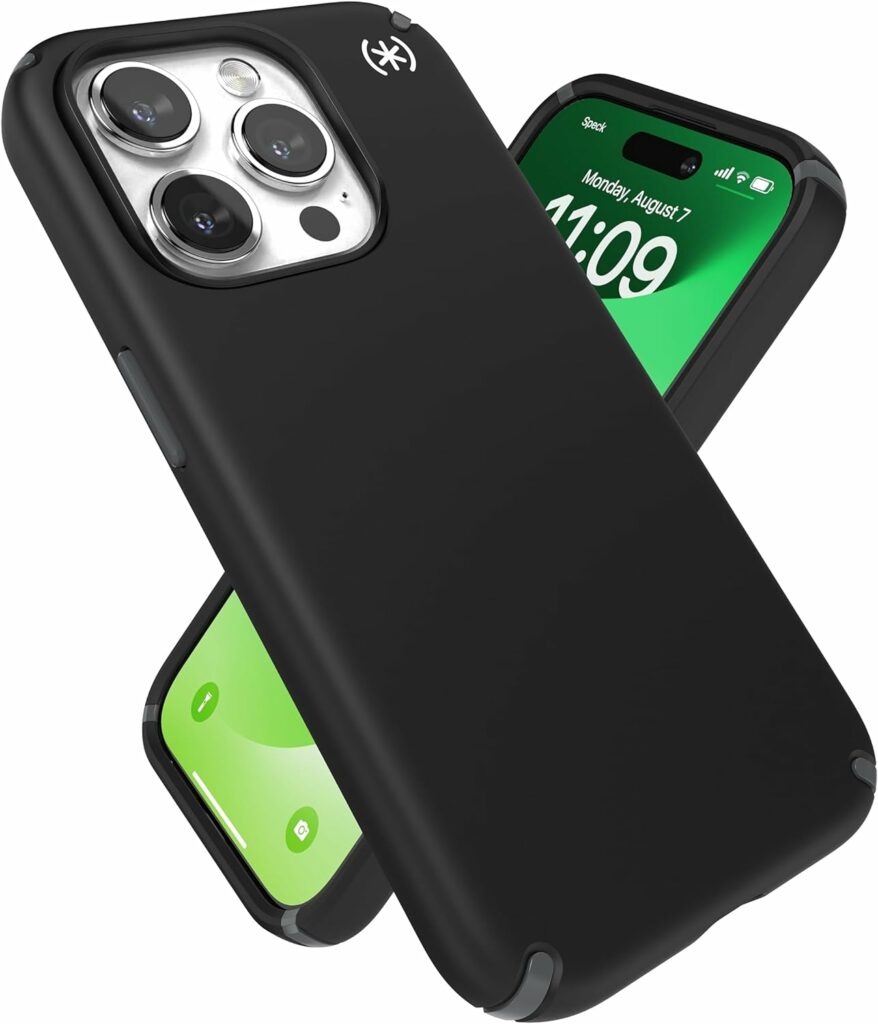 Designed exclusively for your 6.1-inch phone, this snug-fitting case comes with perfectly aligned cutouts for the speakers and charger, along with ultra-responsive buttons for smoother clicking and volume adjustments. It even boasts a raised camera ring for added lens protection.
This specialized iPhone 15 Pro case is tailor-made for MagSafe, featuring precise magnets for seamless wireless charging. It's sleek and featherlight, ensuring effortless pocket storage and easy one-handed use.
Crafted with your daily life in mind, the Speck Presidio2 phone case incorporates Armor Cloud Technology, which acts like an airbag, cushioning your phone upon impact to absorb shock and resist any damage. Additionally, it sports a raised bezel to shield your screen from scratches and cracks in case your phone takes a tumble face-first.
Buy Speck iPhone 15 Pro Case for $49.95 here.
To Conclude
The year 2023 has brought a remarkable selection of MagSafe cases for the iPhone 15 Pro, designed to meet the ever-evolving needs of Apple enthusiasts. As we move forward into the future, these iPhone 15 Pro magnetic charging cases demonstrate the innovation and craftsmanship that continues to define the Apple ecosystem, promising a bright and exciting future for iPhone users worldwide.
From sleek and minimalist designs to rugged and heavy-duty options, these 6.1-inch iPhone 15 Pro MagSafe cases not only enhance the aesthetics of your phone but also ensure its safety and durability. With the convenience of MagSafe technology, these cases make wireless charging and accessory compatibility a breeze.
Disclosure: iOSHacker may receive a commission if you purchase products through our affiliate links. For more visit our privacy policy page.