In this buying guide, you will find mini projectors that allow you to connect your iPhone to it useful regardless of whether you are a movie buff, a gamer, or an employer seeking to impress your boss.
You can share audio-visual content on your smartphone with friends, family, and colleagues using the device.
It is true that the size of a mini projector is smaller than that of a traditional projector. Thus, it can be carried wherever you go without slowing you down or weighing you down.
Many mini projectors are also compatible with Android smartphones and other devices running the platform, in addition to iPhones.
Several can also be connected to desktops, laptops, and gaming consoles. Choosing a mini projector for iPhone that's versatile and capable is a must.
Best Mini Projectors for iPhone
In this article, we'll look at some of the best mini projectors that work with iPhone. So you can find the one that fits your preference and needs. Read on to find out.
1. PVO Portable Projector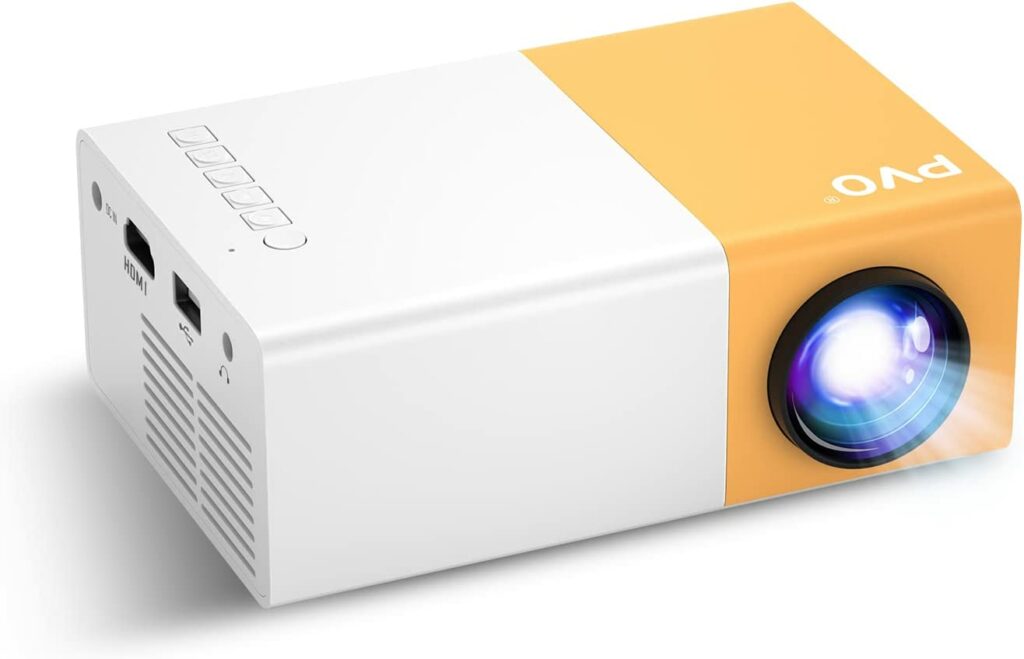 Children love to watch cartoons and videos using mini projectors, which is why these products are so popular with them.
Unlike larger video projectors, mini video projectors are small and portable. Whether you're at home or outdoors in the courtyard, traveling, camping, or anywhere else, you can enjoy movies, videos, and games.
A new version of PVO's YG300Pro was released in 2022, supporting 1080P full HD and with an increased resolution of 800*480.
There are multiple ports on the small projector, including HDMI, USB, audio, and many others. It can easily be connected to numerous media devices, such as TV boxes, laptops, desktop computers, digital cameras, and HDMI-enabled devices for playing video and TV series without wifi or Bluetooth connectivity.
The mini portable projector is powered by a power adapter (it does not have a built-in battery). Alternatively, it can be powered via a battery, car charger, or power pack (needs 5V/2.5A).
Buy PVO Portable Projector for $69.99 here
2. ELEPHAS Portable Projector
This brand of mini projectors for iPhone has been around for quite some time and can be a great option if you're looking for something small and compact.
If you don't want to spend a lot, the Elephas mini projector for iPhone is a great option. As for its image quality, this mini projector for iPhone is only rated at 800 x 480 pixels, which is its only downside. On the other hand, its screen size is much larger than others, up to 200 inches.
Not only that, but you can use the given screen size with a throw distance of just 14.5 feet, which is considerably lower than other options. Additionally, this projector produces 4600 lumens of brightness, which is comparable to other similar models. You can also expect this projector to last for a decently long time due to its 1-year warranty and lamp life rating of 50000 hours.
Buy ELEPHAS Portable Projector for $99.99 here
3. MOOKA FAMILY Portable Projector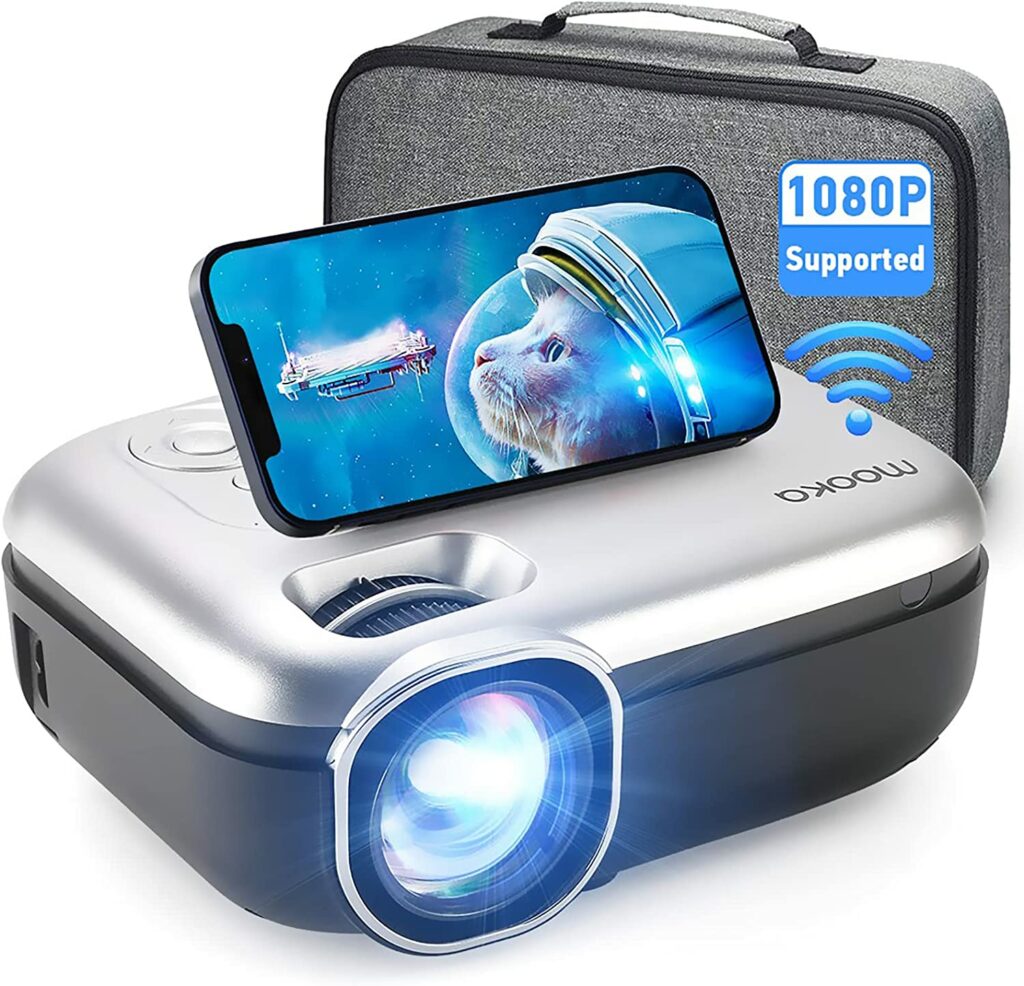 This phone projector with the latest WiFi connection, compatible with iOS and Android operating systems, has a loading speed that is 35% faster than other small projectors on the market and is more stable and faster than others. 
Built with the latest MStar color engine and German-imported 6-layer LCD lens, this new Wifi movie projector supports 1920x1080P and native 720P resolutions. As compared to a similar projector, this one has a 40% increase in color contrast and brightness. Bringing you sharper details and vivid colors. Depending on the distance, you can get a 45"-200" projection size, which ensures an excellent viewing experience.
With dual SRS stereo speakers built into the mini projector for iPhone, you can enjoy surrounding sound like you would at a cinema with its original sound quality. With its efficient cooling system, the projector can dissipate heat quickly, thus extending its lifespan. As opposed to other brands which are rated at 40,000 hours, this will significantly increase the durability to 70,000 hours.
The portable projector comes with a carrying case that makes storing and transporting the projector convenient. Additionally, the projector can be zoomed in 75%-100% without moving. 
Buy MOOKA FAMILY Portable Projector for $138.88 here
4. Xinteprid WiFi Movie Projector
This Wi-Fi projector comes with the outstanding features of 1920×1080 resolution, 16:9/4:3 aspect ratio, 24-bit true-color output, and 200″ screen. It offers an impressive spectating experience like an IMAX projector with a projection area of 200″ with a distance of 14.5 feet!
You can enjoy your movie with this one of the best pocket projectors for iPhone since it uses upgraded noise reduction technology. This could also be used for home and outdoor theaters, wedding parties, teaching, and artistic creation, casting more ultra-smooth images that are flicker-free.
Input portals on the Xinteprid home projector include HDMI/AV/VGA/USB. The device is compatible with iPhone, iPad, Roku Stick, Fire TV, External Speakers, USB Disks, PS4/XBOX, Laptop/PC, and DVD Player. The built-in speakers provide excellent audio quality, or you can connect an external speaker for better sound quality.
Buy Xinteprid WiFi Movie Projector for $99.99 here
5. KODAK Luma 150 Ultra Mini Pocket Pico Projector
A Kodak iPhone mini projector measures just over 3 square inches and comes with a rechargeable battery, making it a great choice if you don't have access to a wall outlet. A single battery charge can power the projector for roughly 2.5 hours, which should be sufficient for most movies. In spite of its 60 ANSI lumens (roughly equivalent to 1,800 standard lumens), its high contrast ratio makes it best suited for darker settings.
This versatile device comes with HDMI and micro USB cables to attach cameras, hard drives, PCs, laptops & other compatible devices. With Airplay & Miracast, you can mirror mobile devices to your projector wirelessly.
You can watch and listen on demand, with a built-in speaker and sleek illuminated onboard controls.
Buy KODAK Luma 150 Ultra Mini Pocket Pico Projector for $219.99 here
6. AKASO WT50 Mini Pocket Pico Projector
There are several practical and versatile mini projectors from Akaso that are suitable for anyone who does not have any budget restrictions.
Thanks to its built-in battery, Akaso's mini projector for iPhone is both the smallest and most portable option here. The Akaso mini projector for iPhone also features a native resolution of 800 x 480, similar to other options. In addition, this mini projector can display up to 150 inches, which is quite impressive.
With a throw distance of 12.8 feet, this projector makes sure to offer as much convenience as possible despite its compact size. Unfortunately, its lamp's brightness output is a bit limited at up to 50 ANSI lumens, which is a bit lower.
Buy AKASO WT50 Mini Pocket Pico Projector for $269.99 here
7. ELEPHAS 1080P Portable Projector
The ELEPHAS pico projector is just the size of a wallet and can easily be carried in a backpack. When you go on vacation or on a short trip, you can take the travel projector with you. It can be used for ad hoc business presentations or to show photos to a couple of people.
Generally, DLP projectors are the best all-around choice because their advanced algorithms produce remarkably bright images at 160 ANSI-L. It produces sharp, high-contrast images that are relatively high in quality. A DLP projector produces a deeper black than an LED projector.
The mini projector has a built-in 7000mAh rechargeable battery that users loved even more because it has an amazing 2.5-hour battery life. You don't have to worry about the pocket projector dying halfway through a long movie. When watching movies outdoors with your family, you don't have to worry about battery life since micro projectors support power bank charging.
Buy ELEPHAS 1080P Portable Projector for $238.99 here
Grab the Popcorns
The iPhone is known for having one of the best displays on smartphones, but its size is still quite limited. Because of this, if you want to watch a video or movie with your family and friends, you'll need a much bigger screen.
An excellent option would be to use one of the top mini projectors for the iPhone included in the above list. Each of these best iPhone mini projectors also has significant specifications and factors detailed. 
So, what movie would you watch on your portable projector? Let us know in the comments section.