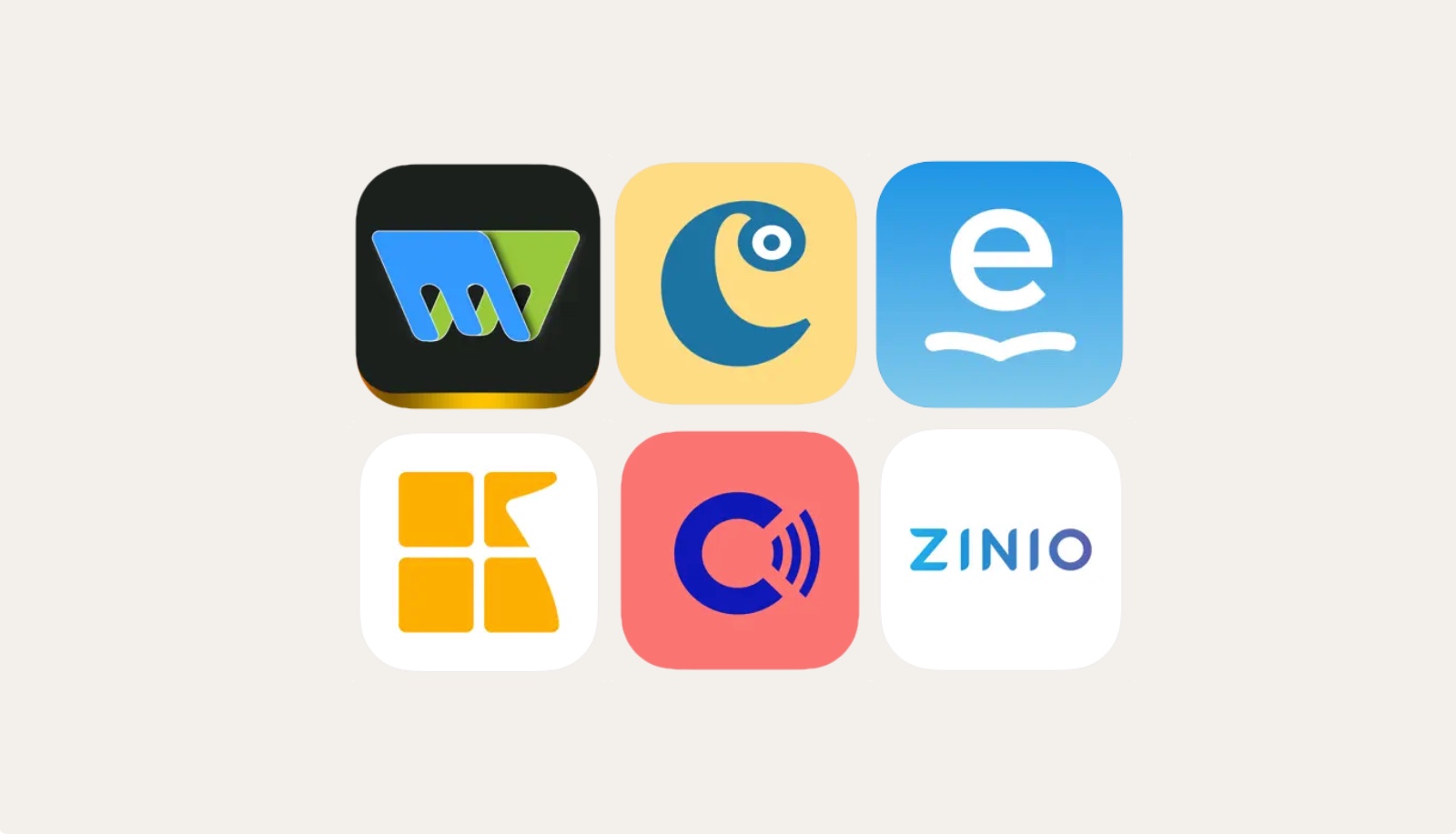 We must stay on top of what is happening in these rapidly changing times. Therefore, you must use the best magazine apps for iPad or iPhone to keep up with the latest news.
There's no way today to live under a rock with the internet and social media integration with important events worldwide. Just one problem: finding a reliable one-stop shop to keep up with your news can be difficult.
It is much easier than ever to stay up-to-date on everything relevant or of interest to you, whether global or local happenings, political updates, or celebrity gossip.
In addition to major news outlets like Fox News and CNN, this article focuses on all-in-one iPhone and iPad magazine apps that allow you to access multiple sources at the same time.
Best News and Magazine Apps for iPhone and iPad
People increasingly use smartphone aggregator apps instead of websites and newspapers to consume news. Despite this, finding the right one still proves to be quite challenging.
Smart algorithms, dark themes, offloading options, and more are all essential features to look for when selecting the best news app. We have compiled a list of the best magazine app for iPhone and iPhone so you can decide which one to use.
1. Curio – The Atlantic, WSJ, FT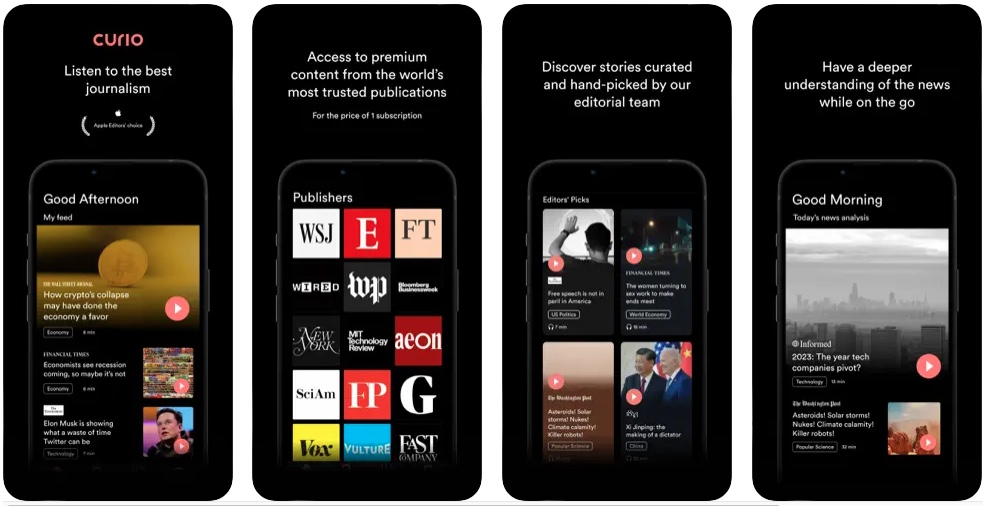 With Curio App, you will experience a new, more user-friendly experience. The app also provides tips and insights to help you get the most out of your content. The home page now has a fresh, new look featuring large, colorful tiles showcasing content.
Discovering new stories and browsing them with the new design is now easier.
A more diverse collection of stories is presented in the app. This new and updated app version offers a greater variety of stories and reports, so you have even more options. There is something for everyone in the app, whether you are looking for a heartwarming tale or a thrilling adventure.
Install Curio – The Atlantic, WSJ, FT from the App Store now
2. ZINIO – Magazine Newsstand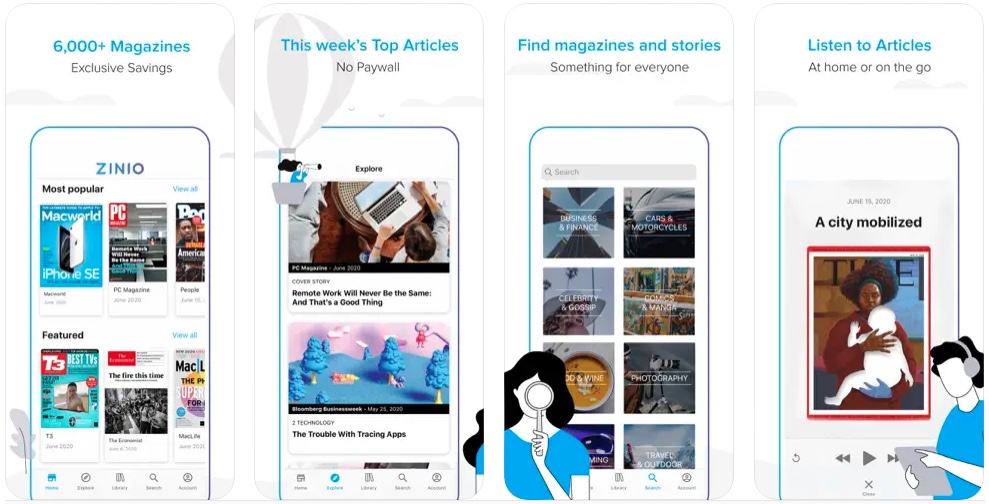 No matter where you are, you can enjoy your favorite magazines online or offline, whether you are at home, on holiday, driving, taking a break, or even working (we won't tell).
ZINIO connects you to the stories that shape the world from the magazines you care about. These magazines include Tech & Science, Fashion & Gossip, Food & Home, News & Business, Art & Photography, Lifestyle & Hobbies.
You can subscribe or buy the most recent issues of your favorite magazines, including Hello!, Time, National Geographic, Outdoor Photographer, PC Magazine, Playboy, The Economist, The New Yorker, Maxim, Sports Illustrated, People, and Popular Mechanics.
Install ZINIO – Magazine Newsstand from the App Store now
3. Cafeyn – News & magazines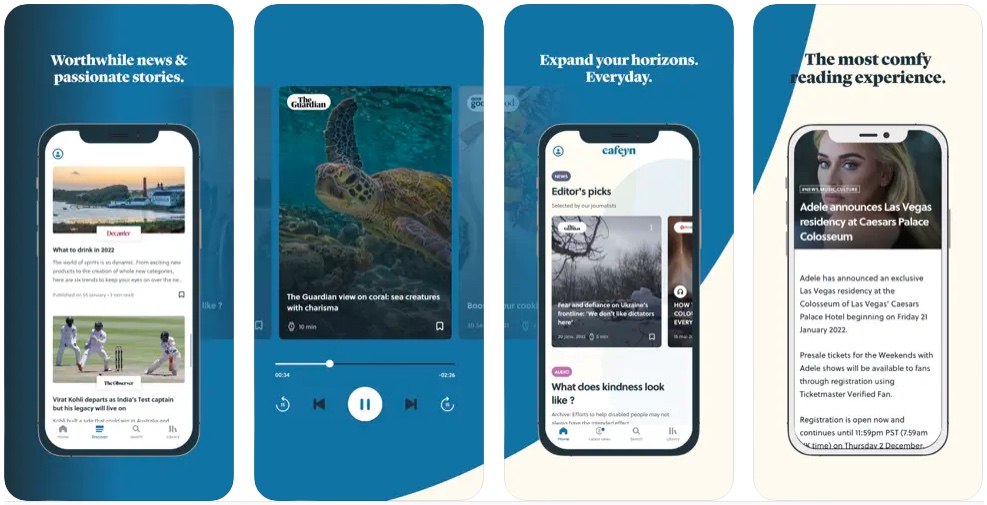 The Cafeyn app allows you to browse thousands of magazines and newspapers simultaneously. Put an end to choosing. Discover the Guardian, Time, Cosmopolitan, and many other UK magazines that will satisfy all your interests.
You can find stories you care about on Cafeyn. You can benefit from personalized recommendations based on your interests and consumption habits. And every day, enjoy a selection of articles about various topics curated by our editorial team. Besides browsing themes, you can find newly released titles in the category lists.
You can browse the catalog, select your favorite titles, add them to your favorites, or download them to read later when you are offline. Additionally, the app lets you read comfortably on any screen size with the Smart Reader, which automatically adapts to your screen size.
Install Cafeyn – News & magazines from the App Store now
4. Readly – Unlimited Magazines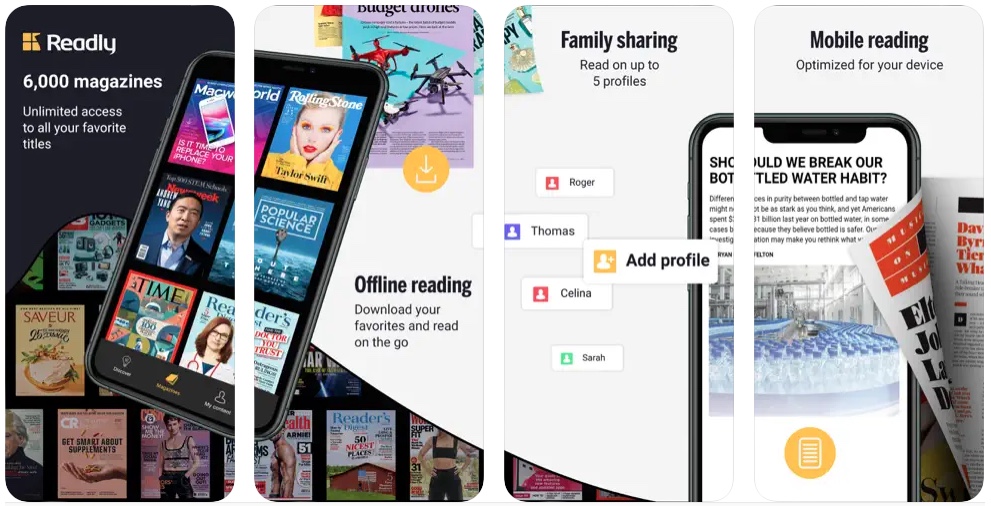 This app makes commutes a lot more bearable. Get your fill of reading and keep boredom at bay! There are now mobile-friendly magazines that can be downloaded without having access to a Wi-Fi connection.
You will never want to stop reading magazines! With no paper cuts, you can bookmark and share articles with friends, play crosswords, and follow external links.
You can take home comforts with you on vacation. You don't have to lug hundreds of glossy magazines to the beach, just your phone or tablet! Stream the latest gossip magazines while enjoying a drink.
One subscription includes all your favorites and over 6,000 magazines. Readly can be shared across up to five devices, AND you can access everything back to issue one.
Join the magazine revolution at the beginning, read magazines on iPhone with app.
Install Readly – Unlimited Magazines from the App Store now
5. Magzter: Magazines, Newspapers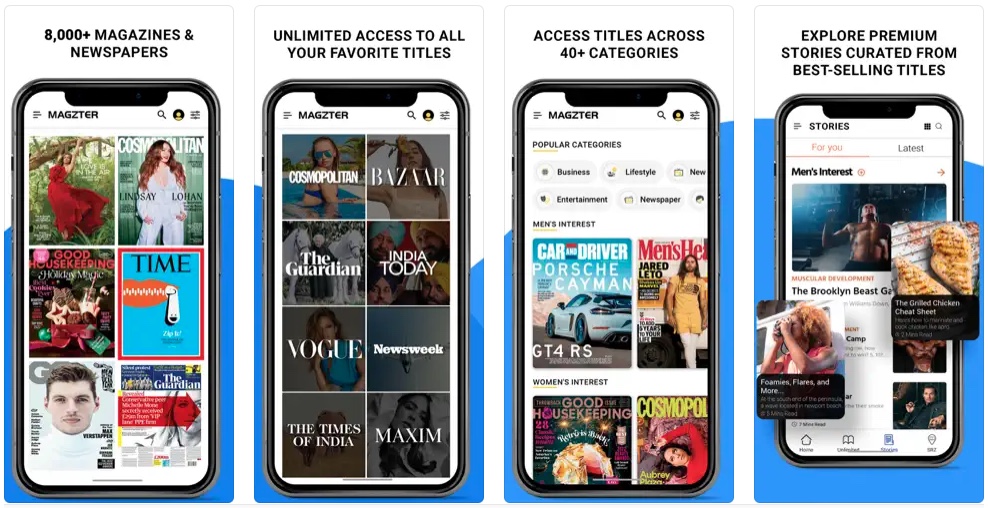 Would you like to know which magazines and newspapers are the most popular worldwide? All of them are available on Magzter, the world's largest and most popular digital newsstand.
You will find everything you need to read on Magzter. With 8,000+ magazines, newspapers, and premium stories on your mobile device, you can stay connected wherever you are. Sign up now for a free 7-day trial!
You will have access to more than 8,000 magazines and newspapers, including Time, Cosmopolitan, Newsweek, ELLE, Harper's Bazaar, Marie Claire, Maxim, Men's Health, Entrepreneur, Popular Mechanics, T3, India Today, The Guardian, Daily Mirror, and The Independent for seven days.
Magzter is reinventing how you read magazines and newspapers. The Magzter app offers all your favorite magazines and newspapers across 40+ exciting categories, such as automotive, business, cooking, entertainment, fashion, news, sports, technology, and travel.
Install Magzter: Magazines, Newspapers from the App Store now
6. eMags – Listen & Read Stories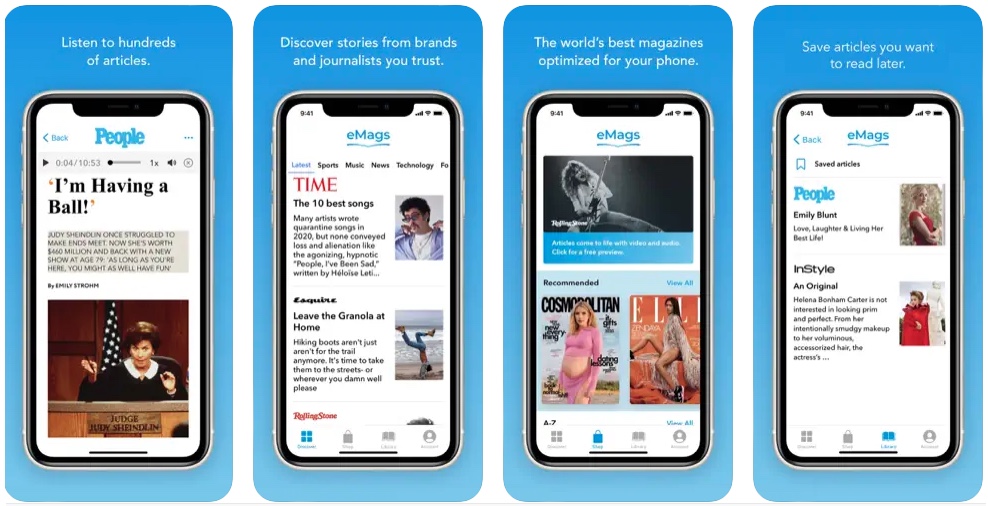 The eMags app lets you listen to individual articles or complete magazines on your mobile device. Magazines such as People, Cosmopolitan, TIME, Fortune, and all the magazine brands you love are available in this app. With a beautiful and enhanced mobile experience, you can read magazines on your iPad with the app or listen to full sample articles. eMags allows you to subscribe to your favorite magazines and keep them with you wherever you go.
To provide you with in-depth insights into topics such as Entertainment, Health, News, and Sports, the content team in the app curates free content for you. With the Discover tab, you will find news and articles updated regularly from experts and authors on the topics you are interested in.
The magazine includes Lifestyle, Business, Home & Garden, Celebrity & Entertainment, Photography, Fashion & Beauty, News, and more. Subscribing to magazines in the Shop section lets you enjoy new issues immediately.
Install eMags – Listen & Read Stories from the App Store now
Stay Updated!
iPad and iPhone magazine apps make keeping up with the latest news and articles easier. With these top news apps, you will never miss an update.
On these apps, you usually find news from trustworthy sources. However, before making an important decision or taking action, you should always fact-check any critical piece of news.
So, which app would you download? Let us know in the comments section.