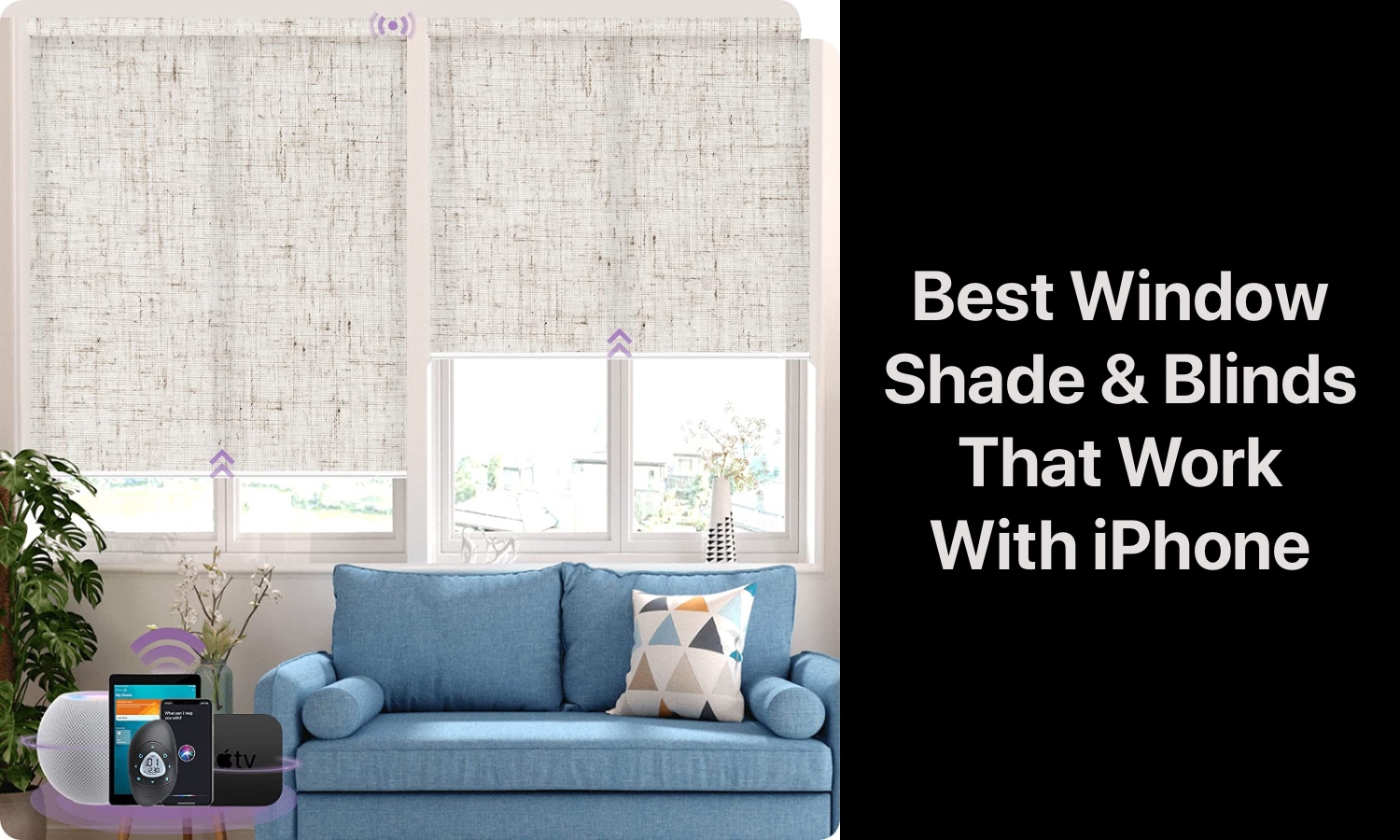 In this article, you will find the best smart window shades for your smart home. You can control these window shades and blinds with your iPhone using the Home app, Siri, or the blind's dedicated iOS application.
Window coverings can dramatically alter the appearance and feel of your home, and smart blinds can make your space more inviting and convenient.
When the light shifts, getting up from your seat to adjust the cord can be inconvenient, especially if your windows face east or west. Previously, smart blinds were a luxury accessory available only to mansions, but today they are much more affordable.
iPhone Compatible Smart Window Blinds
When you add smart home integration into the equation, choosing between blinds and shades can be overwhelming. Aside from choosing your type, color, light filtering level, privacy, style, and control options, you may also have to choose between smart home systems like Alexa or Google Assistant and control options. BUT smart shades are worth the investment, we promise!
We are here to help you pick the iPhone-compatible smart window shades for your smart home.
Here are our top recommendations.
1. SmartWings Motorized Roller Shades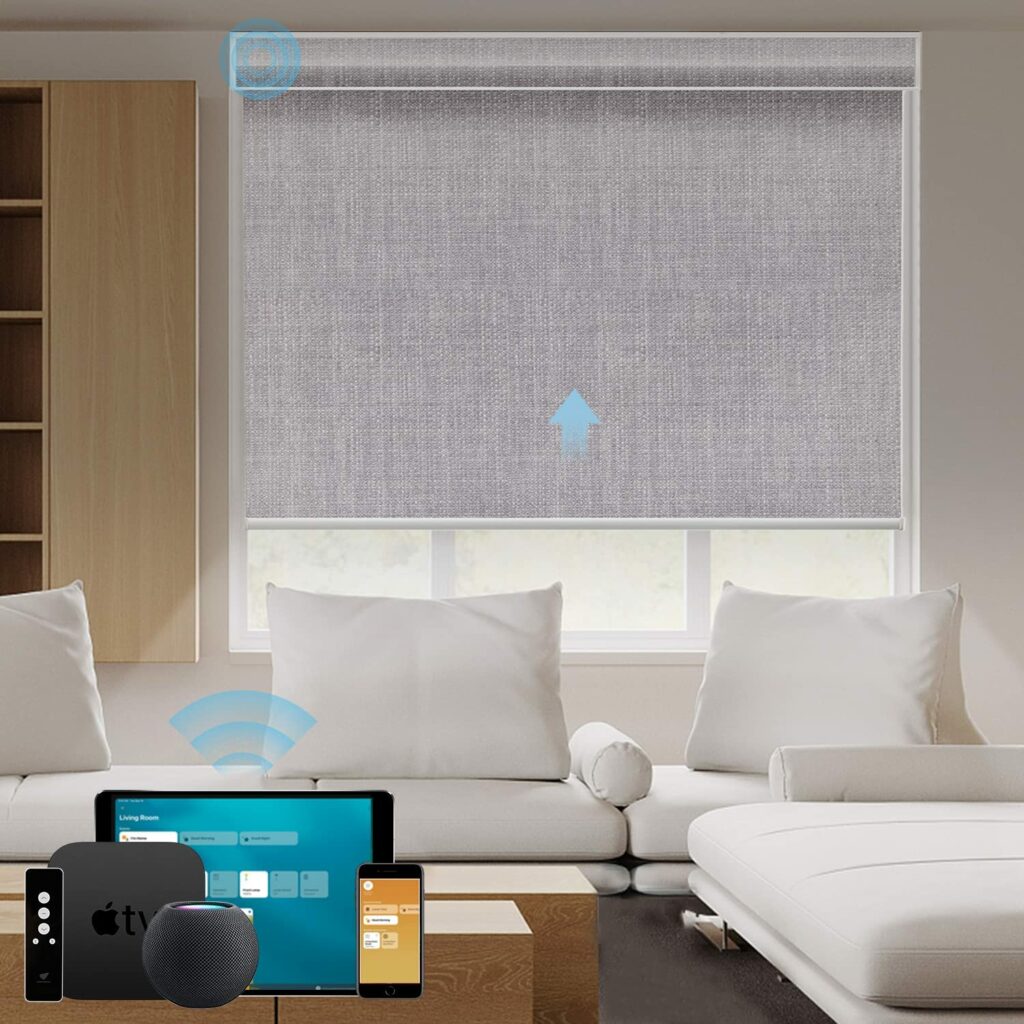 SmartWings shades provide a fashionable look, great privacy, and noise reduction to ensure you sleep peacefully. In addition to being great for day sleepers, these shades are also perfect for media rooms since they dim the room and keep the sun's glare away from the screens. You and your family can enjoy a cordless, safe design for children and pets.
You can access it anywhere with a Homepod or Apple TV (4TH GEN or later). With the Apple Home App or Siri, you can open and close your shades at home. Schedules and timers can be created to open and close the shades automatically based on your routines.
After fully charging the Li-ion rechargeable battery in the motorized roller blind, it can be used for 4-6 months after first charging. The USB-C plug charging cable can be used when there is no electricity, which is much safer and more convenient.
In addition to being super quiet (35dB), the shade motor has ample torque and can carry a maximum load of 5 kilograms.
Buy SmartWings Motorized Roller Shades for $174.99 here.
2. HILADUO Motorized Roller Shades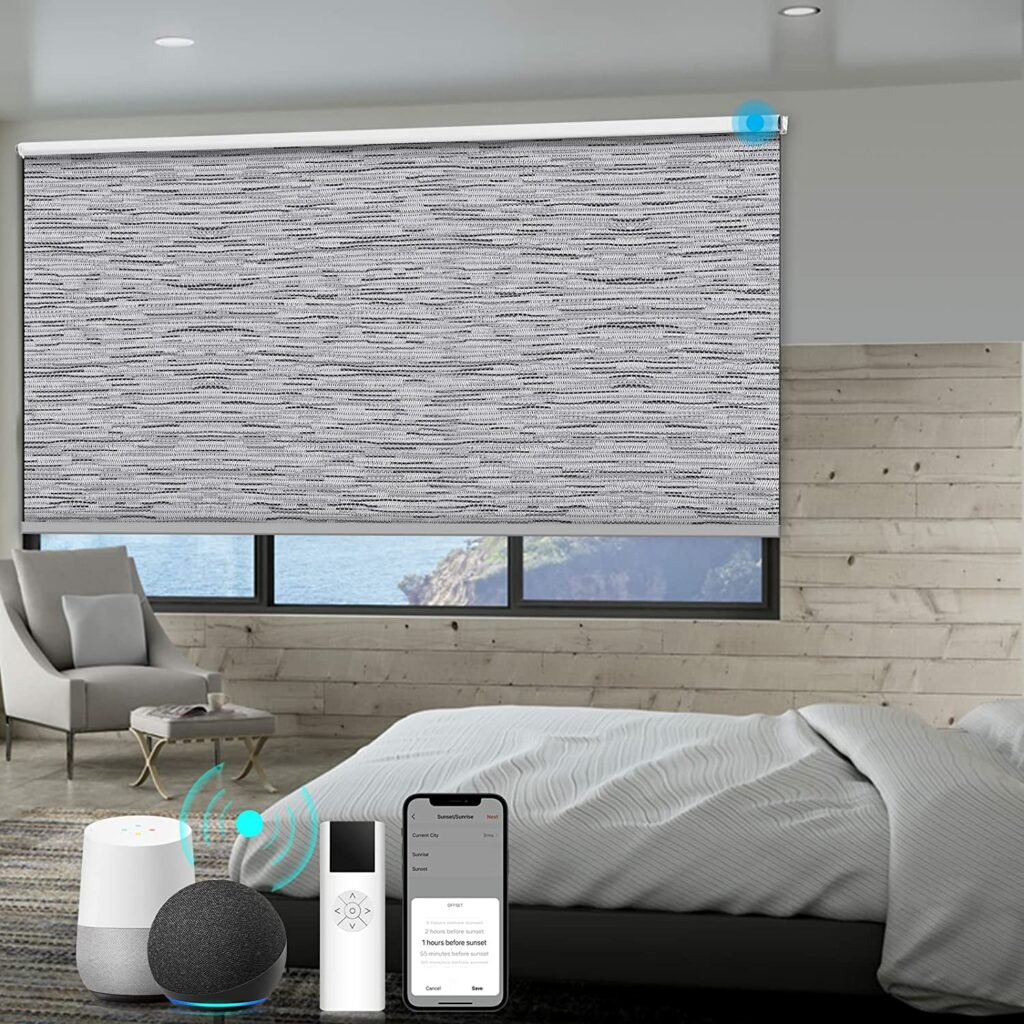 The fabric of these window shades has a textured back layer and a waterproof coating on the back. Plus, its valance style adds a sense of sophistication. Besides providing absolute privacy, it is also energy efficient, fade-resistant, and durable. It is an ideal indoor window treatment for a bedroom, a media room, etc.
Connect Alexa and Google Home versions using a smart bridge (HUB). You can directly control the smart battery motor and switch the shades with your smartphone. However, if you want to control the shades through cloud computing, you need the Zigbee HUB.
Smart roller blinds come in 56 sizes, so you can choose the right one for your windows and save time and money installing it outside instead of inside.
We recommend getting exact measurements before ordering.
Buy HILADUO Motorized Roller Shades for $220.99 here.
3. Graywind Apple HomeKit Smart Blinds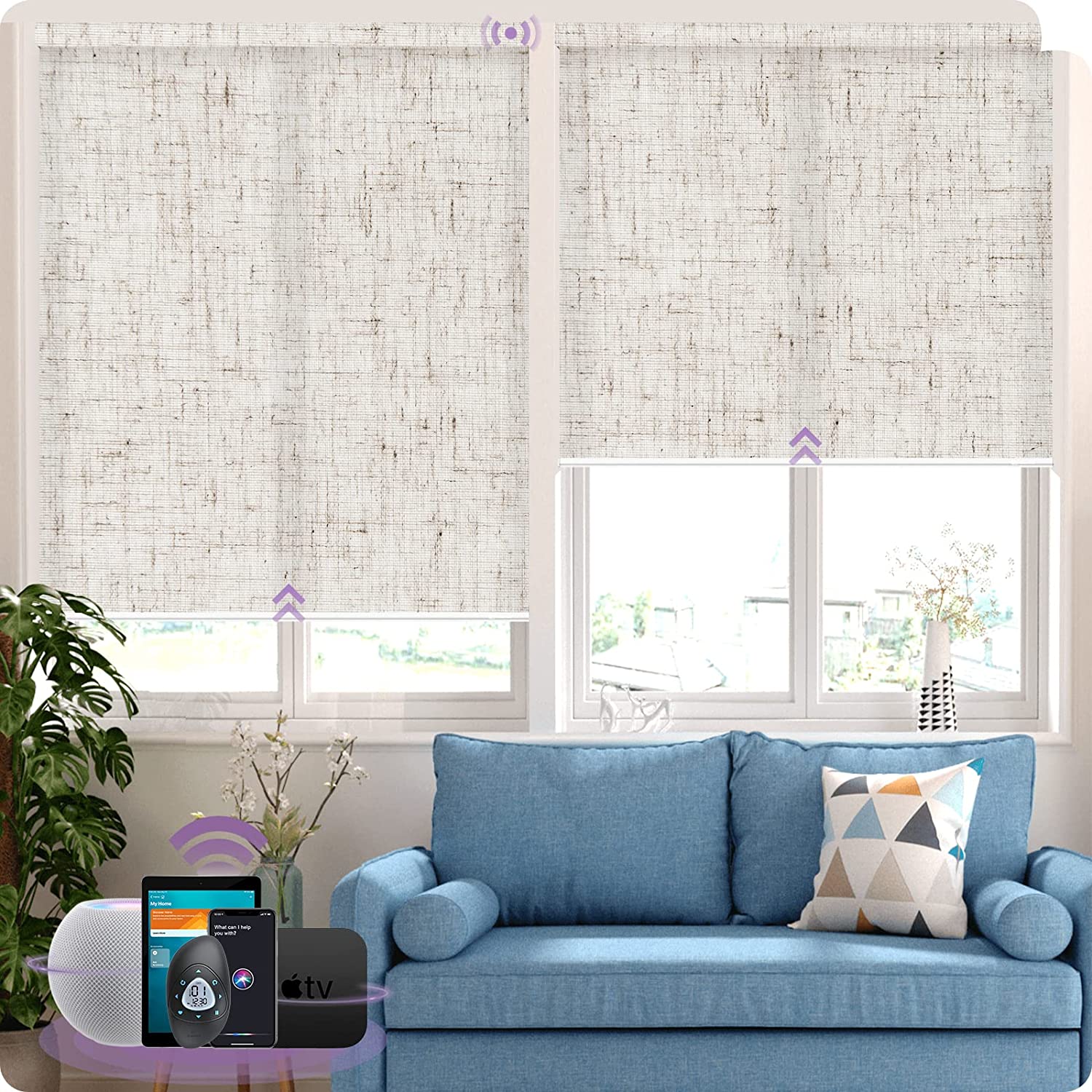 These window shades feature dark textured 60% blackout fabric that diffuses exterior sunlight to reduce glare while adding privacy. It prevents direct light from entering the room and gives it a warm glow. This product is RoHS Certified, eco-friendly, and has an optional valance and bottom bar, so it can be customized.
You can control up to 15 blinds individually or in groups and set your favorite position. You can add smart shades to any schedule to achieve automatic timing control as per your preferences. There are 20 date-time groups available.
Once fully charged, this rechargeable motor for HomeKit can be used for 3-6 months. With the Home app, you can use the QR code to create scenes and automation directly for your smart blinds. In addition, Siri makes voice control universal by supporting multiple languages with local accents. With Homepod or Apple TV (4TH GEN or later), you can manage your smart home anywhere and anytime.
Buy Graywind Apple HomeKit Smart Blinds for $153.99 here.
4. WEFFORT Motorized Roller Shade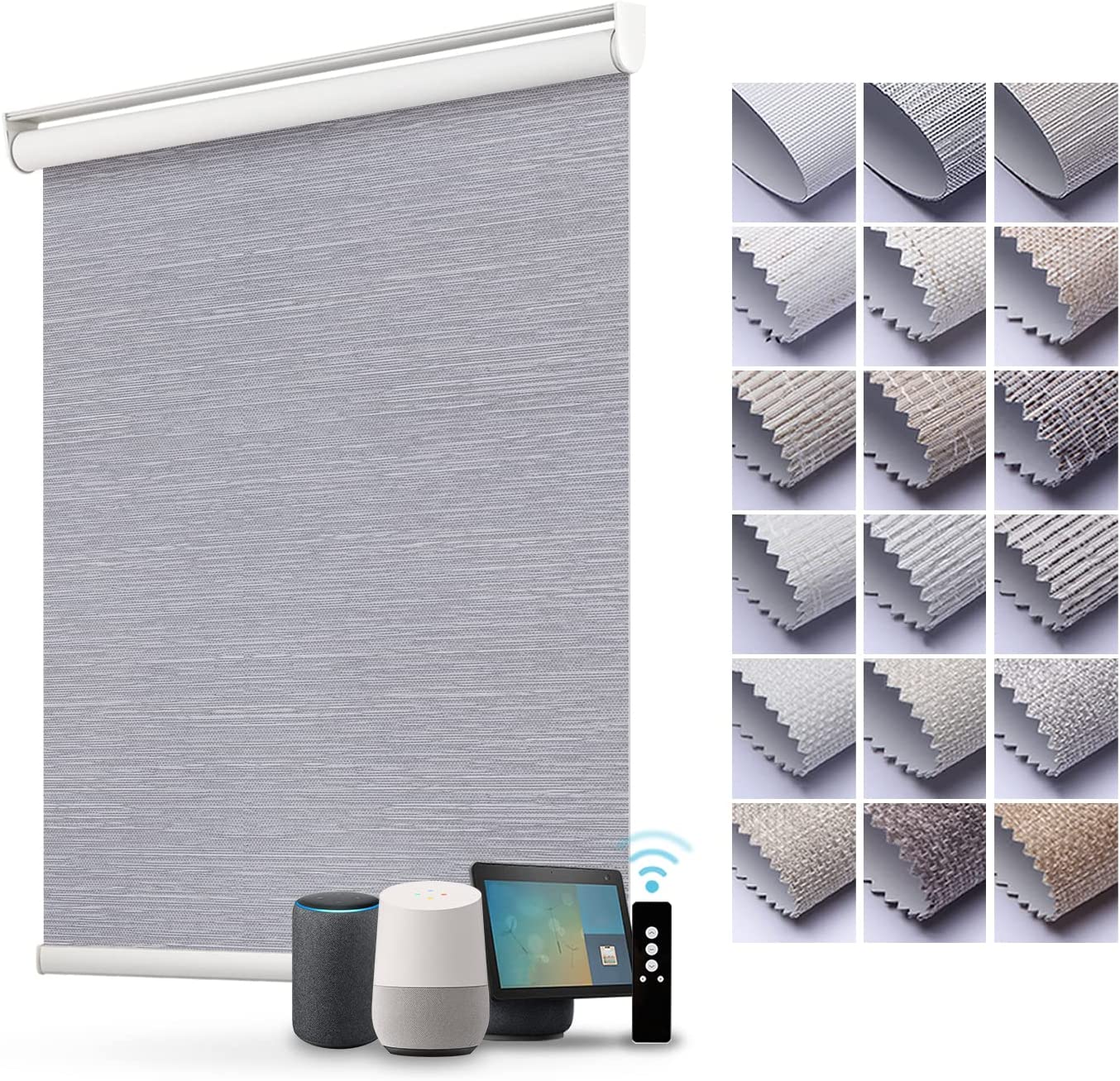 The front of these window shades has CLASSIC BLACKOUT Grey Fabric, while the back has Reinforce Thermal Insulated Coating, which offers shading and heat insulation effects. Besides protecting your privacy, it provides UV protection for you and your family. In addition to the bedroom, this product is also suitable for living rooms, study rooms, etc.
These motorized roller blinds can be used for up to 4-6 months after they are fully charged. You can charge them using three different methods: a solar panel, a USB plug, or a power bank. The remote can be used to meet simple timing requirements.
Buy WEFFORT Motorized Roller Shade for $119.99 here
5. Jogney Remote Control Motorized Roller Shades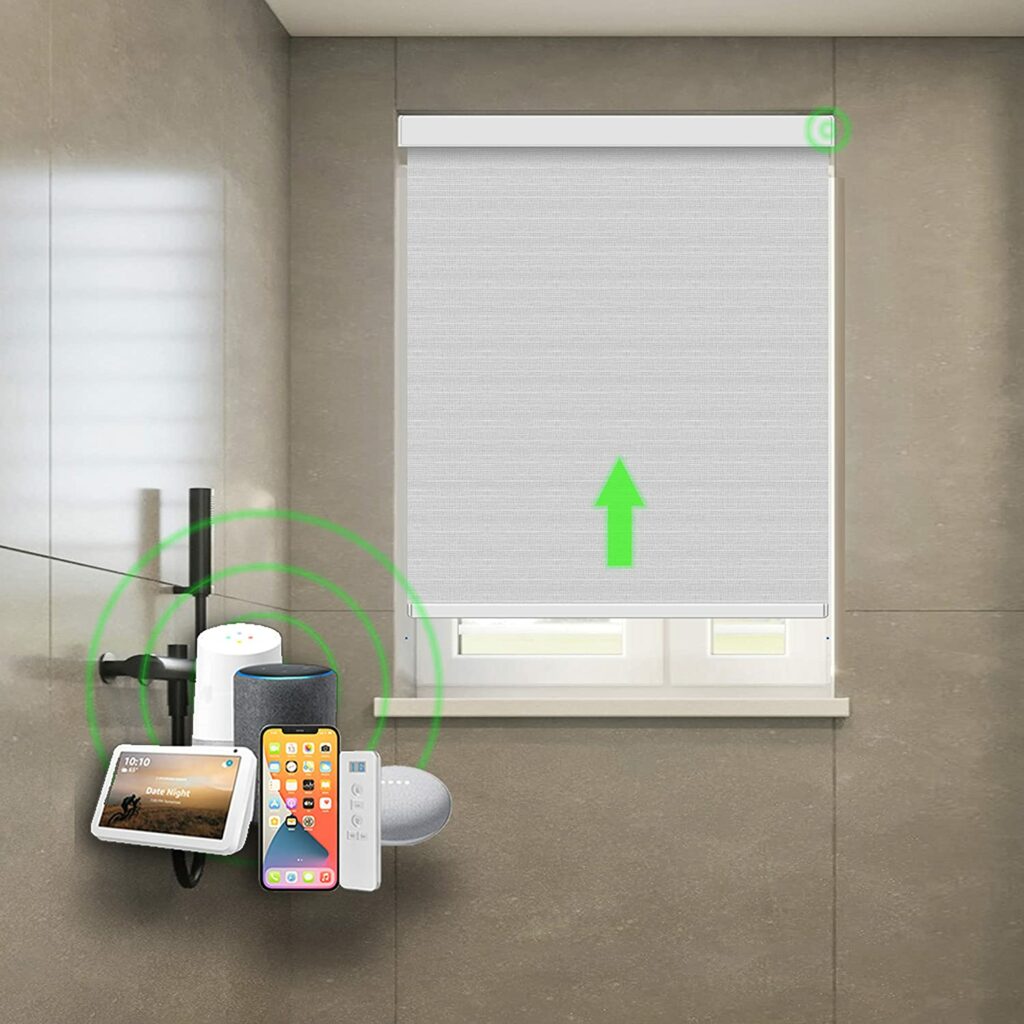 Combining designer mesh and sheer fabrics into a single shade, this modern shade allows you to control the light coming into your room. It also maintains maximum privacy and protects from harmful UV rays.
You can control your shades wirelessly with your smartphone using Alexa, Siri, or Google, wherever you are, with voice commands or the touch of a button. In addition to providing insulation against heat and cold, the all-inclusive shade system also saves you money on energy costs. It is easy to clean and great for bedrooms, nurseries, families, offices, and kitchens.
All in all, the shades are made of durable, dust-proof, anti-static, durable fabric that will last years!
Buy Jogney Remote Control Motorized Roller Shades for $59 here.
Conclusion
The smart blind market has a surprising amount of variance, so planning your setup before you start shopping is essential. As a first step, you must measure the window space you intend to cover, as that will significantly impact the price. Those with non-standard sizes must look for a brand that offers custom sizing, which will be pricier than budget options.
Additionally, if your lease doesn't allow you to change your existing blinds, you'll need to find conversion kits that work with your setup. As a result, you'll have less hassle down the road.
So, choose any of the above-mentioned best smart blinds for iPhone and transform your living standards.
Until next time!
Was this article helpful? Let us know in the comments section.