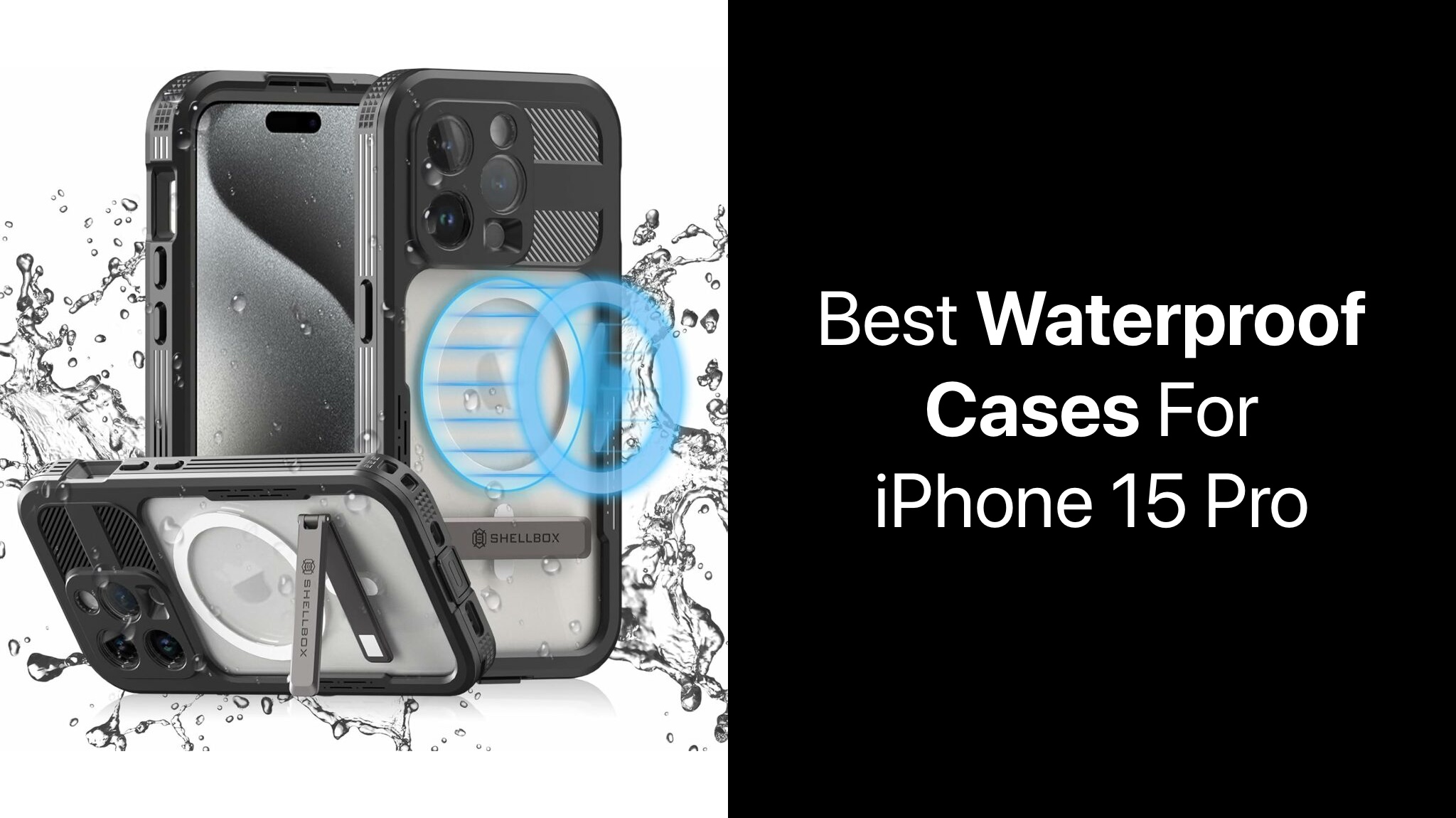 In this list, we have featured the best waterproof cases for iPhone 15 Pro that you can buy right now. These durable waterproof and dustproof cases are perfect for your outdoor adventures.
In today's world where our lives are intertwined with technology, our iPhones have become more than just communication devices; they're our trusted companions on adventures, partners in capturing life's greatest moments, and often, our lifelines to the digital world.
With the arrival of the iPhone 15 Pro, we're now equipped with a powerhouse of innovation and capabilities. But what good is this technological marvel if it can't weather the storm – both literally and figuratively? That's where the unsung heroes of smartphone protection step in –  underwater cases for iPhone 15 Pro.
We've embarked on a mission to find the very best ones for the iPhone 15 Pro, ensuring that your prized possession stays safe and dry, even when life takes you to the wildest frontiers or the deepest ocean depths.
So, if you're ready to make your iPhone 15 Pro invincible against water's relentless onslaught, keep reading as we dive headfirst into the world of the best waterproof cases for iPhone 15 Pro because your device deserves nothing but the finest armor.
Best Waterproof Cases For iPhone 15 Pro
Here are the best iPhone 15 Pro waterproof cases that you should be buying for 2024. These amazing cases protect your iPhone from all sides and even protect them from water and dust.
1. Justcool Waterproof Case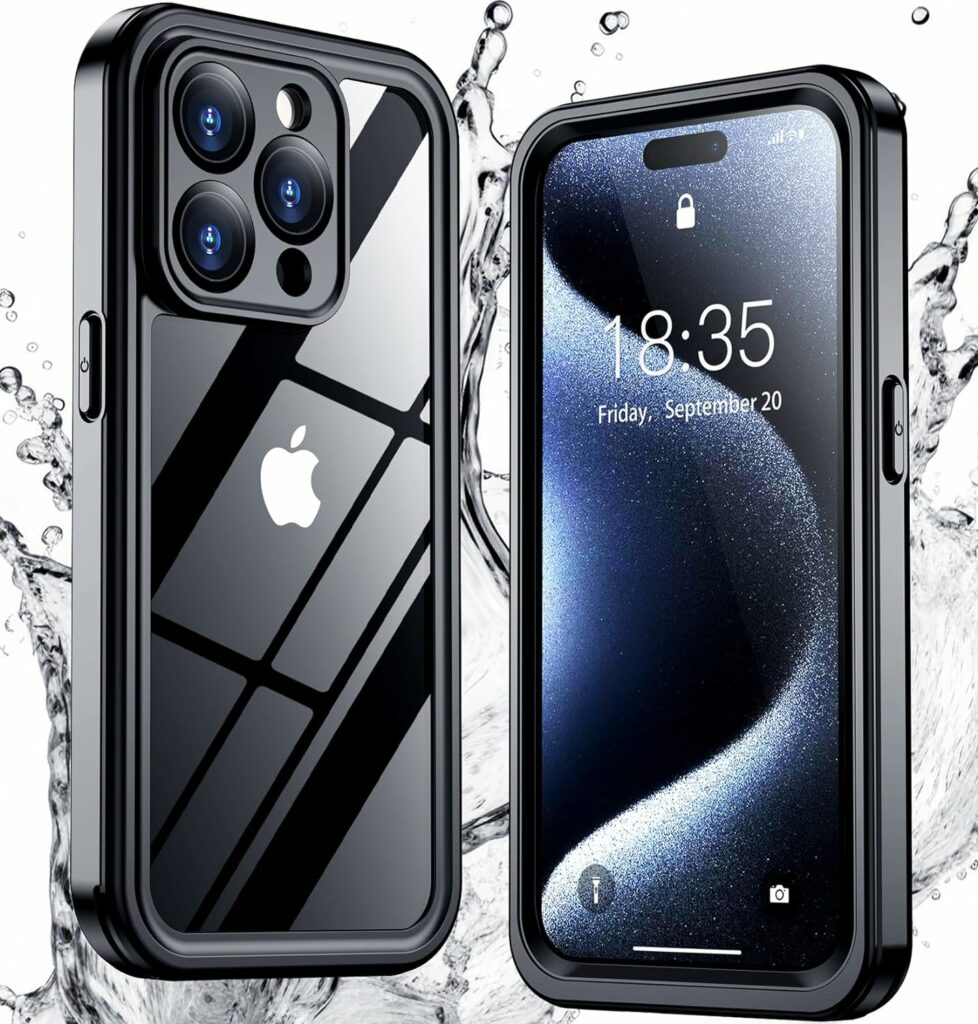 The Justcool Waterproof Case is not your average protector; it's IP68 certified. That means it's been rigorously tested and can handle being submerged in up to 6.6 feet of water for a full hour. Dust, dirt, water, snow, and rain don't stand a chance against it. Whether you're swimming, snorkeling, or surfing, your phone remains safe and dry.
Justcool has put its case through the paces with a certified MIL-STD 14 FT drop test, and it passed with flying colors. The full-body protection means your device is shielded from accidental drops and shocks. Thanks to a unique double-layer shock-absorbing design and four anti-collision corners, 99% of the impact force is effectively absorbed and dispersed to keep your phone looking pristine.
Your camera lens also gets some love with a built-in 9H HD tempered glass protector. This layer preserves the original pixels and ensures your lens stays scratch-free, all while not interfering with flash usage. An oleophobic layer keeps water, oil, and dust at bay, giving you a crystal-clear view at all times.
Buy Justcool Waterproof Case for $39.99 here.
2. Temdan Magnetic Waterproof Case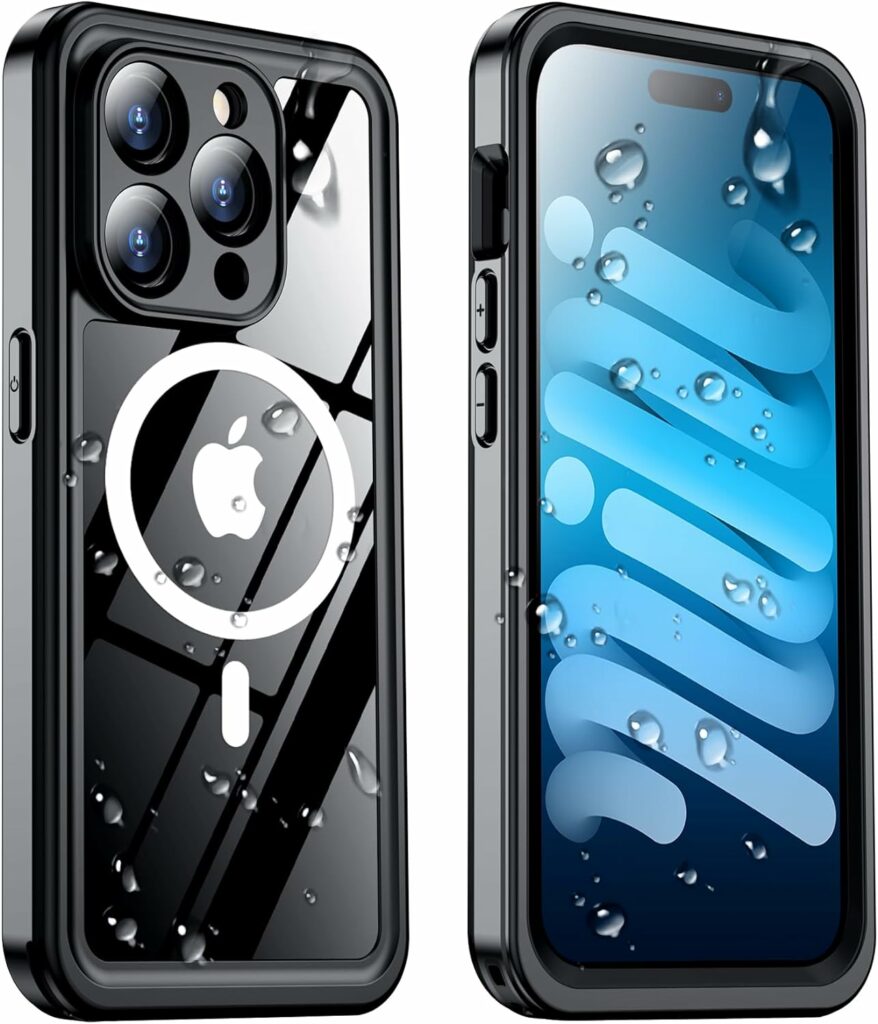 The Temdan Magnetic Waterproof Case with MagSafe is your ultimate solution for full-body protection that doesn't compromise your audio experience. This case is all about ensuring you enjoy crystal-clear sound quality during calls and music playback. Its innovative sound design enhances calling volume and maintains audio clarity, so you can chat or groove without any worries.
When it comes to water adventures, this case is your trusted companion. With an IP68 waterproof certification, it's perfect for diving into in-depth water activities. But for everyday splashes and unplugged calls, it boasts an IPX4 rating.
Of course, protection is paramount, and the Temdan case delivers on this front. It's been tested to exceed Military Grade Drop Test standards, surviving over 8000+ drop tests from up to 15 feet. Thanks to its double-layer shock-absorbing design and four anti-collision corners, it disperses 99% of the impact force, safeguarding your phone while maintaining a sleek aesthetic.
Buy Temdan Magnetic Waterproof Case for $35.85 here.
3. ZWWADR Waterproof Case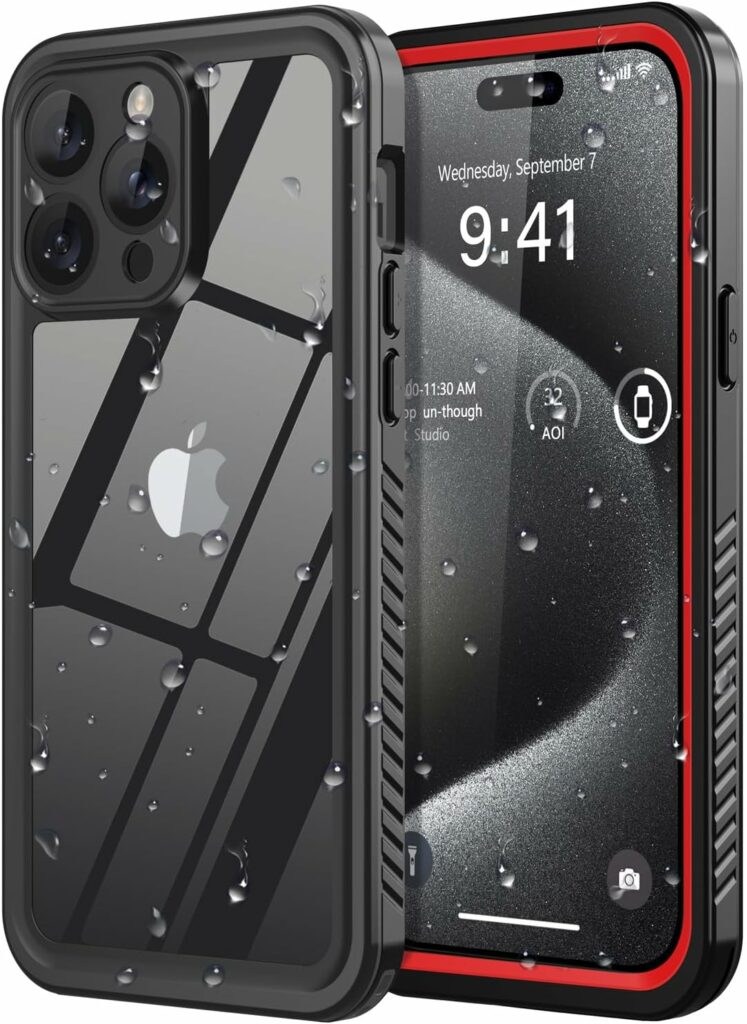 You've got the latest iPhone 15 Pro, and we've got the perfect armor for it. ZWWADR Waterproof Case is designed to fit your iPhone 15 Pro (6.1") like a glove, ensuring easy access to all buttons, the speaker, the camera, and the charging port. No more fussing over functionality.
Now, let's talk about protection. We're talking pro-level waterproofing here with an IP68 Waterproof grade. Your iPhone can swim safely up to 6.6 feet deep for an hour – perfect for underwater escapades or simply braving the great outdoors.
This iPhone 15 Pro waterproof case offers full-body protection with a shock absorption design. Your phone remains intact even after 1000 gravity-defying drops from a height of 6.6 feet (that's about 2 meters). It's built rugged to tackle any harsh environment, ensuring that dirt, dust, and snow are no match for your precious device.
Buy the ZWWADR Waterproof Case for $29.99 here.
4. AICase Waterproof Case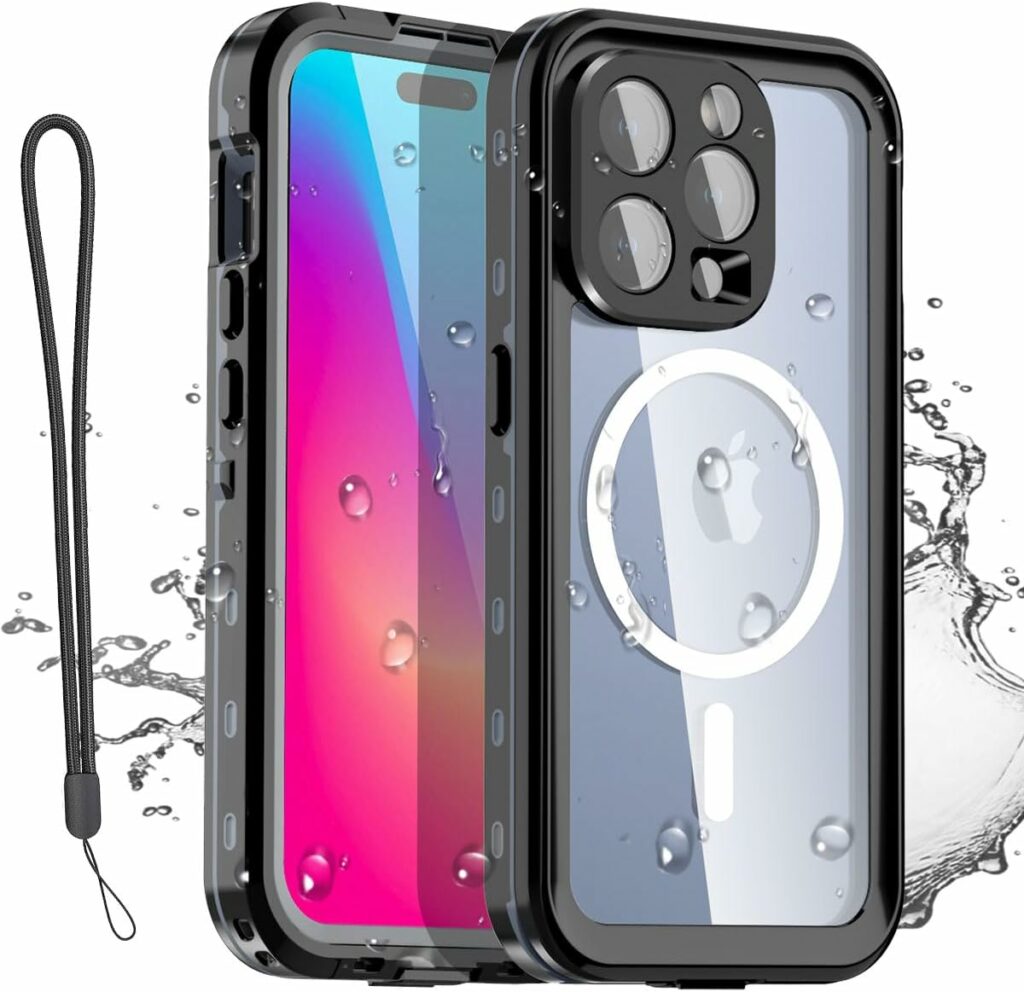 Get ready to take your iPhone 15 Pro on some serious adventures with the AICase Waterproof SERIES Case! Designed specifically for the 2023 model, this case is not just your average phone cover. It's a powerhouse of protection and functionality.
Ever dreamt of capturing stunning underwater shots with your iPhone? Now you can, thanks to the IP68 Certified Waterproof feature of this case. Dive into depths of 6.6-10ft/2-3m for up to 30 minutes and snap away with confidence. Your phone stays bone-dry while you unleash your inner photographer beneath the surface.
But it's not just about underwater escapades; the AICase goes beyond with 360 Full Body Protection. Military Grade Drop Test standards are not just met but exceeded, surviving falls of up to 6 feet (3.6m). The 2.5mm raised screen edge and 0.5mm raised camera edge add an extra layer of defense, ensuring your iPhone screen and camera stay flawless.
Buy AICase Waterproof Case for $25.99 here.
5. FXXXLTF Waterproof Case with Stand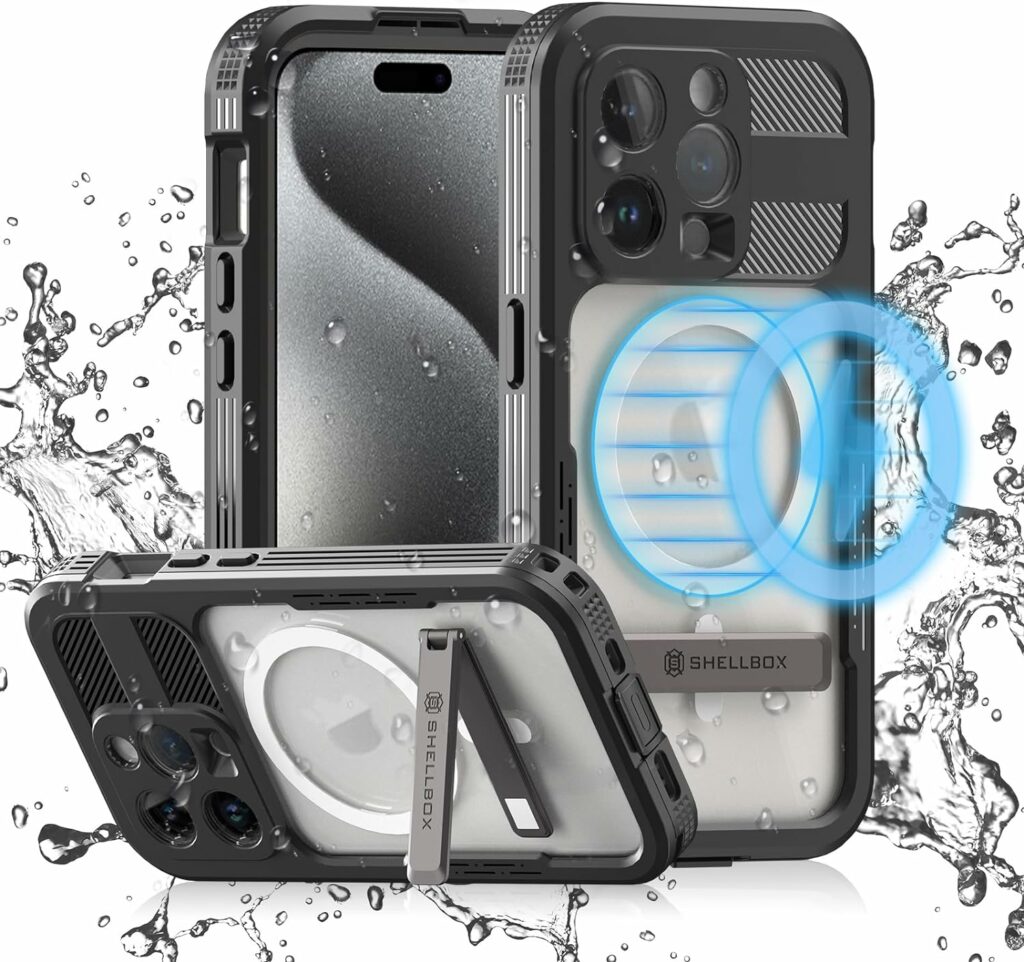 The FXXXLTF Waterproof Case with Stand is all about precision and protection without the bulk. It's like a second skin for your precious phone, offering precise cutouts for easy access to all ports, and it won't mess with your microphone. And guess what? There's a handy lanyard thrown in for free, so you won't drop your prized possession.
This case has an ace up its sleeve. It comes with a built-in stand that lets you switch between portrait and landscape mode effortlessly. So whether you're Face-Timing with friends or binge-watching your favorite show, your hands are free to do as they please.
Now, let's talk about its superhero feature: the IP68-certified waterproof seal. It can handle depths of up to 6.6 feet underwater for an hour without breaking a sweat. Perfect for underwater adventures, outdoor sports, or simply surviving the occasional splash. And, it's not just waterproof; it's slim and light, so it suits both men and women alike.
Buy FXXXLTF Waterproof Case with Stand for $26.99 here.
6. Lanhiem Magnetic Waterproof Case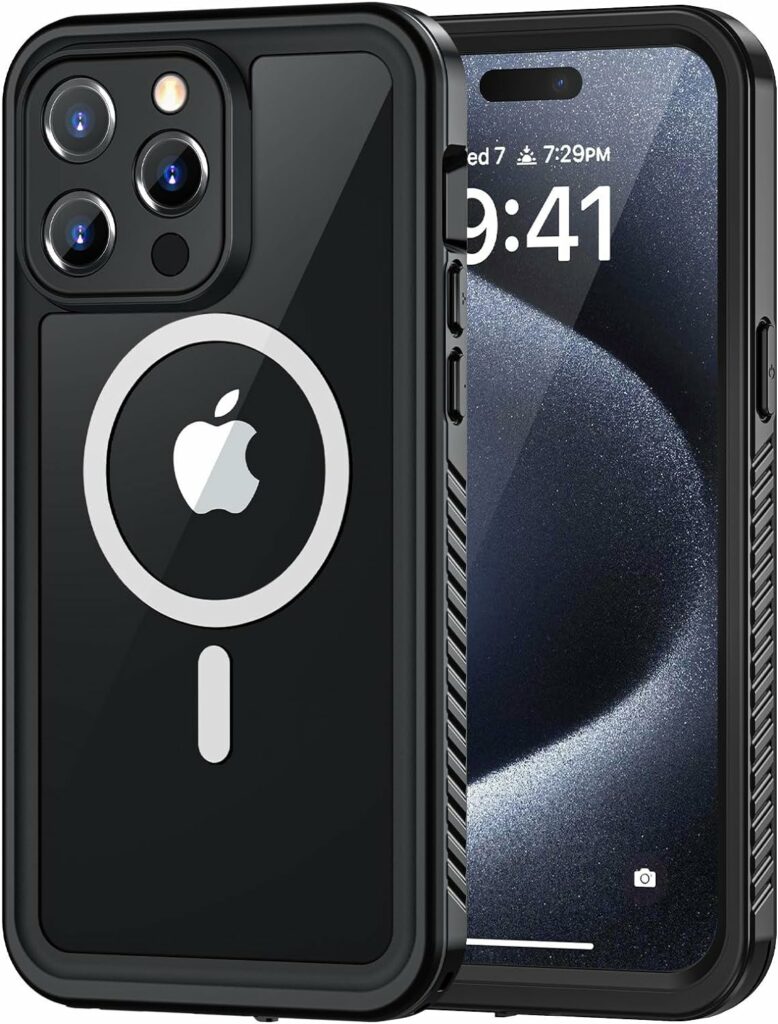 The Lanhiem Magnetic Waterproof case is your trusty companion, offering superior waterproof quality that keeps your iPhone dry even when submerged over 6.6 feet deep for up to an hour.
When it comes to protection, Lanhiem has got you covered from all angles. The Lanhiem Magnetic Waterproof Cover boasts a two-piece design, with front and back covers that combine a soft, shock-absorbing contour with a rigid back. This dynamic duo safeguards your iPhone from everyday scratches and bumps, offering non-slip textures on both sides for added grip.
Moreover, the integrated screen protector is clear, environmentally friendly, and boasts an impressive 99% touch sensitivity. It fits perfectly, ensuring the full functionality of your touchscreen remains intact while providing an additional layer of security for your screen.
Buy Lanhiem Magnetic Waterproof Case for $36.99 here.
7. Diverbox 10 Feet Waterproof Case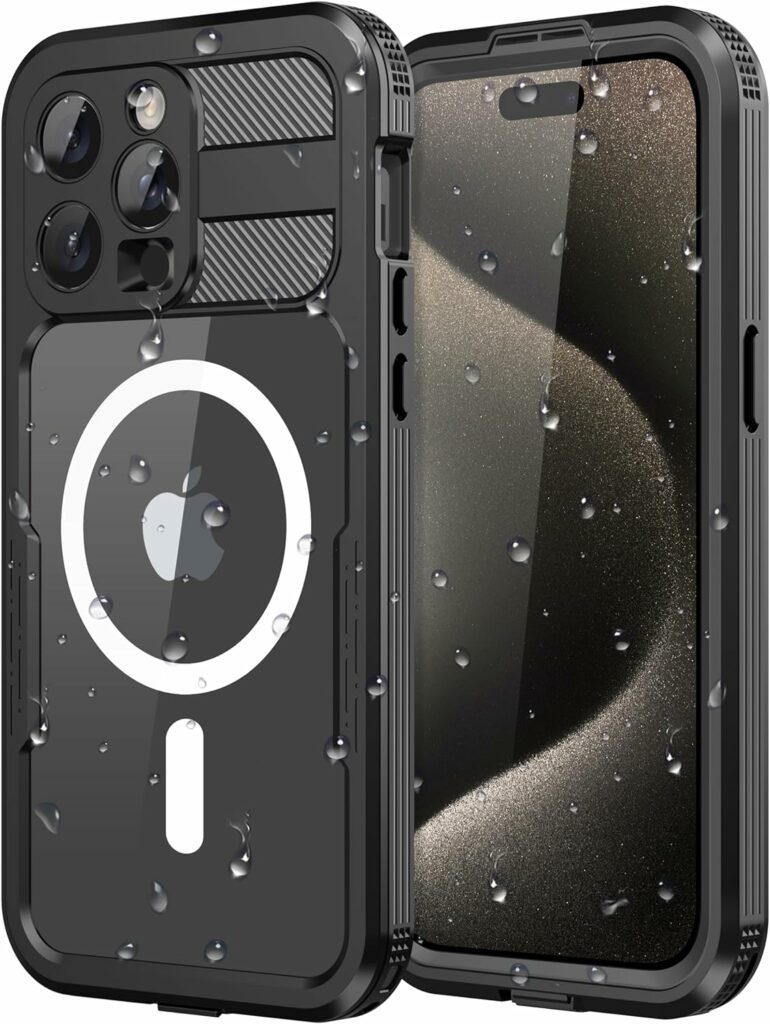 The Diverbox Waterproof Case for the iPhone 15 Pro is the ultimate protection for your precious device in 2023. This case is a game-changer, designed to keep your iPhone 15 Pro (6.1 inch) safe from dust, water, and rain.
This dustproof case for iPhone 15 Pro is a certified MIL-STD drop test champ, ensuring your phone is shielded from accidental drops and shocks. It's like wrapping your phone in a suit of armor, with a flexible rubber back cover and a hard polycarbonate inner cover that provides excellent shockproof and anti-drop protection.
You won't lose out on functionality, either. This case comes with a built-in screen protector that offers maximum protection against scratches, scrapes, and bumps while maintaining your phone's touch sensitivity. Quick app launches, smooth gaming, and video playback are all part of the package, ensuring you have a fantastic touch experience every time.
Buy Diverbox 10 Feet Waterproof Case for $39.99 here.
To Conclude
Even the most advanced technology can benefit from a little extra protection, especially when it comes to the unpredictable forces of water. As we've navigated through the sea of waterproof cases available for the iPhone 15 Pro, we've discovered not just shields for our devices, but guardians that seamlessly blend functionality with style.
So, as you dive into the world of IP68 cases for iPhone 15 Pro, remember that the best one isn't just about keeping water out, but about ensuring your iPhone remains a reliable companion, ready to weather any storm by your side.
Cheers to a future where our devices fearlessly go where we go, encased in the armor of innovation!
Disclosure: iOSHacker may receive a commission if you purchase products through our affiliate links. For more visit our privacy policy page.