In this blog, we'll explore the two ultimate questions: what is a VPN, and why it's a great idea to use one on your iPhone? 
With the increasing reliance on digital technologies and the internet, concerns about online safety and privacy have become more significant than ever. For all of us, it's become crucial to understand how to protect our personal information and maintain our privacy while navigating the digital landscape.
You might have heard the term "VPN," but what exactly is it, and why should you consider using it on your iPhone? In simple words, a VPN protects your personal information, hides your identity, and lets you access content from around the world.
Need more details on VPN for iPhone? Let's start by answering the most sought-after question: what is a VPN? 
What is a VPN?
So, you've probably heard the term "VPN" tossed around a lot lately, but what is it, really? Well, it's a nifty cybersecurity tool that does some pretty cool stuff to keep you safe out there in the digital wilderness.
At its core, a VPN is all about privacy and security. It encrypts your internet connection, which is a fancy way of saying it wraps your online activity in an unbreakable code. This code is so rigid that even the most skilled digital spies can't crack it. 
Now, VPNs come in different types to suit various needs. Let's check them out:
Remote Access VPN (Client-to-Site VPN): This is the go-to choice for remote workers who want to browse the web securely and access to company resources while working from the comfort of their home or a coffee shop.
Site-to-Site VPN: Think of this one as the choice for the big players in the corporate world. Large organizations use site-to-site VPNs to securely connect multiple internal networks scattered across different locations. It's like building a digital bridge between offices, ensuring that sensitive data stays locked down.
Mobile VPN: Mobile VPNs are designed especially for those of us who can't stay put. They're great when you're on the go, hopping between mobile data and Wi-Fi.
How Does a VPN Work?
VPN operates by directing your device's internet connection through a specially configured remote server network managed by the VPN service. This process involves encrypting all the data that passes through the VPN connection and masking your identity behind a virtual IP address, ensuring your privacy and security.
To comprehend how a VPN works, envision a VPN as a secure, digital pathway between your iPhone and a remote server maintained by the VPN provider. This pathway acts like a protective tunnel as it encases your data in layers of encryption, conceals your IP address, and allows you to navigate through online obstacles and firewalls. Essentially, it creates a secret passage on the internet.
The security of VPN encryption relies on the chosen protocol. Some of these common protocols include OpenVPN, known for its security and adaptability, SSTP compatible with Windows, IKEv2/IPSec suitable for mobile use, L2TP/IPSec, which is less common due to newer alternatives, the obsolete PPTP, and WireGuard, a modern and mobile-friendly protocol.
In essence, a VPN acts as a protective shield for your online activities. By encrypting your data and concealing your real IP address, it ensures that your online experience is private, secure, and free from unwanted prying eyes.
Why Should I Use a VPN on an iPhone?
Using an iPhone VPN service offers several compelling advantages while improving your online experiences and safeguarding your privacy. Here's the thing. In this digital era, where data is constantly in transit, maintaining your confidentiality has never been more crucial.
On that note, here are a few reasons why we recommend using an iPhone VPN app:
VPN encrypts your sensitive data, like work emails, payment details, and location information, protecting it from hackers, especially on public Wi-Fi networks. It conceals your online activities.
VPN lets you access content that is either blocked or not available in your region. With a VPN you can watch a Netflix show that is not available in your country, listen to region-locked music, and access other types of blocked content.
VPN makes it possible for you to access websites and services that are blocked in your country.
VPN allows you to browse the internet anonymously and prevents websites and snoopers from tracking your browsing.
VPN enables secure remote work, allowing access to company resources from anywhere, and maintaining flexibility for employees while protecting company data on public Wi-Fi.
VPN disguises your location, making it appear as if you're browsing from another country, granting access to region-restricted content.
VPN helps bypass government restrictions, censorship, and surveillance by allowing access to blocked websites and ensuring online freedom.
VPN masks your IP address, preventing ISPs from tracking your online activities, which could be exploited or sold to third parties, ensuring your online privacy and security.
With the ever-present need to keep your data confidential, using a VPN service is a wise choice for anyone seeking a safer and more secure online journey. It provides a vital shield for your sensitive data, granting you the confidence to surf securely, even on public networks.
How Do I Get a VPN on an iPhone?
Setting up a VPN on your iPhone is a smart move to ensure your online activities remain private and secure. But with the multitude of VPN options available, how do you choose the right one for your needs?
To make the right choice, start by picking a VPN provider compatible with your devices and consider your specific needs, such as traveling family size, or streaming requirements. Once you've got that down, ensure your chosen VPN prioritizes privacy and uses secure protocols. 
Remember to opt for user-friendly services with features like a free trial and reliable support. To set up your VPN, install your provider's app from the App Store, create an account, and configure your settings. That's all.
The Best VPN for iPhone Users: Expert Recommendation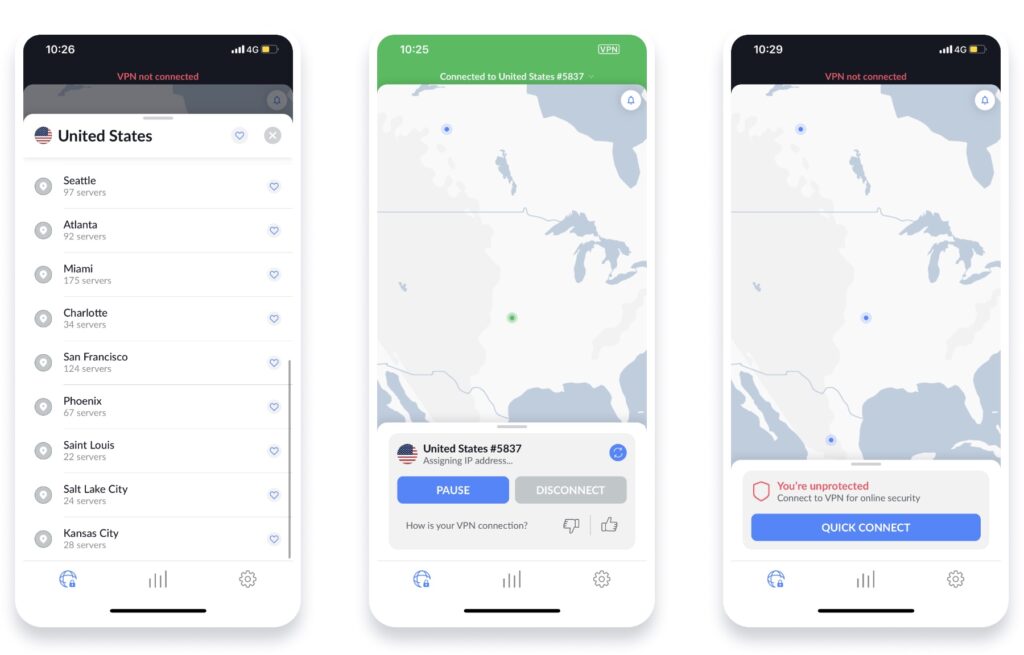 Before we get started, it's essential to recognize that the best VPN varies depending on your specific requirements. For example, it may vary based on the devices you utilize, your geographic location, and whether it's prioritizing speed, security, streaming capabilities, or other factors.
With that said, in the sea of VPN choices, NordVPN for iPhone stands out as the top-tier choice to secure your devices. It offers comprehensive coverage for Windows, MacOS, Linux, Android, iOS, Chrome, Firefox, Edge, and Android TV. But what sets it apart is its seamless setup process for iPhone and iPad users, thanks to its dedicated iOS app, ensuring a hassle-free way to enhance your online security and privacy.
But don't just take our word for it. Let's discuss how the NordVPN app on iPhone presents a compelling case for being the top choice:
1. Enhanced Online Security and Performance
To begin, NordVPN offers the fastest VPN on iPhone, powered by the groundbreaking NordLynx protocol. The best part? It ensures that your browsing, working, and entertainment experiences on your iPhone or iPad are uninterrupted by lag.
2. Unrivaled Data Security with Strong Encryption
NordVPN addresses security concerns with robust 256-bit AES encryption. In simple words, this iPhone VPN uses cutting-edge encryption technology to safeguard your data from potential threats posed by Internet Service Providers, hackers, and even government entities.
3. Seamless Online Access
One of NordVPN's standout advantages is its extensive global server coverage. With a network of over 5800 servers spread across 60 countries, you can enjoy a swift and unrestricted online experience, accessing content and services from virtually anywhere on the globe.
4. Safe and Secure Browsing
For added privacy and protection, NordVPN offers Threat Protection Lite, allowing you to block intrusive and potentially harmful ads on your iOS devices. This feature helps create a cleaner and safer browsing environment, making it the most secure iPhone VPN.
5. Advanced Features & Tools
NordVPN app on iPhone goes beyond the basics with advanced features like the Kill Switch, Onion Over VPN, and the Dark Web Monitor. These tools take your online security to the next level, offering comprehensive protection.
6. Seamless and User-Friendly Protection
The user-friendly iPhone VPN app for iOS is designed for simplicity. With just a few taps and swipes, you can secure your internet connection, even when using public Wi-Fi.
Moreover, for a hands-free experience, the NordVPN iOS app is fully compatible with Apple's Voice Control. Thus enabling you to set up Siri shortcuts and enjoy seamless VPN protection.
7. Protect Multiple Devices Simultaneously
NordVPN's versatility extends to multi-device security. It allows you to secure up to six devices with a single NordVPN account. Plus, it offers highly rated apps for a variety of popular smart devices, including Mac computers and smart TVs.
You can sign up for NordVPN here and take advantage of a 30-day money-back guarantee offer.
Final Thoughts
With countless iPhone VPN options available, finding the right one might seem daunting. Remember to consider compatibility, your specific needs, privacy concerns, and user-friendliness when making your choice.
It's important to remember that not all VPNs are created equal, so research and choose wisely.
But if you're looking for a top-notch VPN that's compatible with all your devices, offers robust privacy features, and comes with a user-friendly interface, the NordVPN app on iPhone is the perfect choice.
So, don't wait. Take the step to safeguard your online activities and enjoy the internet with peace of mind.