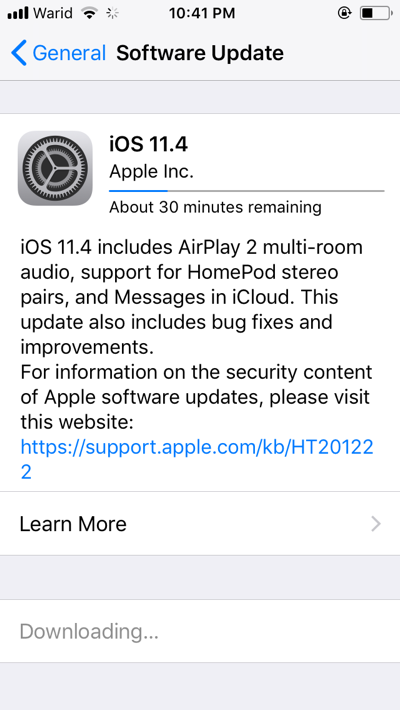 Following weeks of beta testing, Apple has released iOS 11.4 software update for all iOS devices and the update is now available for download. iOS 11.4 is available for all iOS 11 compatible models of iPhone, iPad and iPod touch.
iOS 11.4 software update finally brings AirPlay 2 multi-room audio along with support for HomePod Stereo pairs.  HomePod will also gain Calendar support.
In addition to that Apple has added Messages in iCloud feature that will allow users to access their messages across different devices. Benefits of Messages in iCloud also include the ability for users to delete message from one device and have it automatically removed from all others. It will also make your messages appear in Messages app even if you set up your device as new.
As with almost all iOS releases this particular release also brings bug fixes and performance improvements.
iOS 11.4 is the last major iOS 11 release as the company is expected to announce and release beta for iOS 12 on June 4th.
You can download iOS 11.4 by opening Settings app and going to General > Software Update on your iOS device. You can also update automatically through iTunes or manually downloading IPSW from direct download links below.
Direct Download Links for iOS 11.4
iPhone
iPad
iPod touch