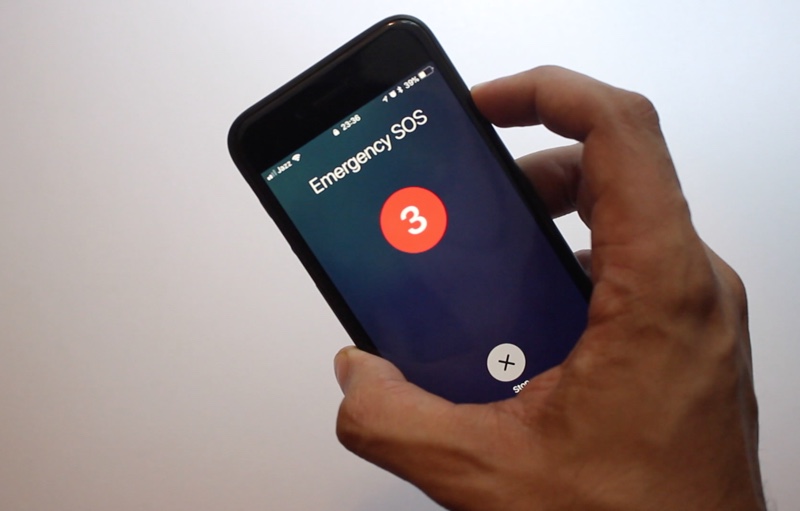 Touch ID is pretty secure until you are either unconscious or are forced by either police or criminals to unlock your iPhone. In that case anyone can take your finger and unlock your device against your will. A new iOS 11 feature makes it possible for users to temporarily disable Touch ID based unlocks, requiring passcode to unlock the device.
The iOS 11 feature we are talking about is Emergency SOS, which we have discussed in detail in our other posts. When you press the lock button five times an Emergency SOS screen appears, after which depending on your preferred Settings, iPhone will either show you a button to call emergency services or it will auto call them while also informing your loved ones that you might be in trouble.
It has now been discovered that invoking the Emergency SOS feature will also disable Touch ID based unlock. This means the device won't be unlocked with a simple fingerprint scan and will require the user to enter his or her passcode. This change has been discovered in iOS 11 beta 6.
This is a huge deal since it will give users control to disable Touch ID and get rid of its vulnerabilities if they are ever in a situation when someone can try to get access to their iPhone and data stored on it without their permission. In 2014 a judge in Virginia Circuit Court ruled that police can force a user to unlock his or her phone with a fingerprint scan even without their consent. However passwords and passcode alike fall under fifth amendment so user can choose to keep them to themselves and avoid self-incrimination.
The above mentioned scenarios are just added implications of this new iOS 11 feature. Perhaps the main goal of this feature still is to make sure no one can unlock a user's iPhone if he or she goes unconscious after invoking Emergency SOS, like after an accident.
In addition to disabling Touch ID when Emergency SOS is used, iOS 11 beta 6 also temporarily disables Touch ID based unlocking when Medical ID of the user is accessed. So if someone accessed the Medical ID of the user from the lockscreen while the user is unconscious, iOS will automatically disable Touch ID and ask for passcode on next unlock attempt.
Disclosure: iOSHacker may receive a commission if you purchase products through our affiliate links. For more visit our privacy policy page.