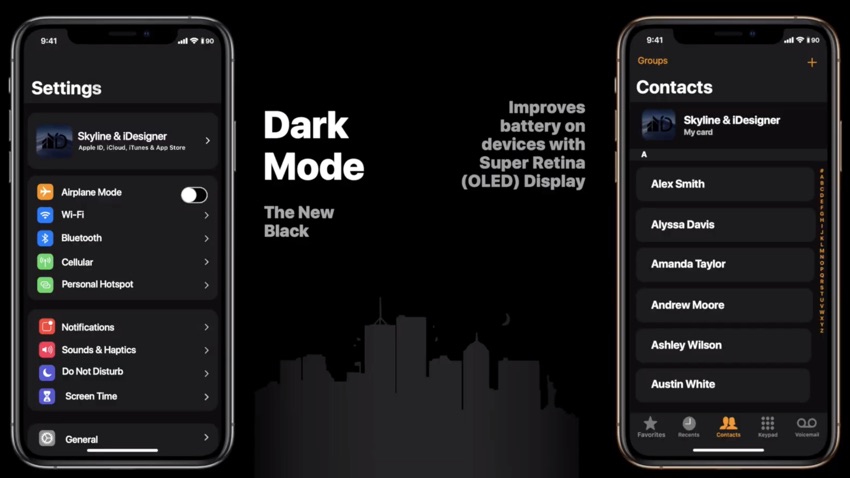 iOS 13's release is a few months away, and generally this is the time when 'people familiar with the matter' start sharing details about what Apple has been working on. This year is no different as 9to5Mac has shared interesting details of what they believe reveal some major iOS 13 features.
Dark Mode
Let's get the usual suspects out of the way first…yes the report claims iOS 13 will finally bring a system wide dark mode to iPhones and iPads. The new dark mode will allow users to have a high contrast version of iOS on their device, which they will be able to enable or disable via Settings app. Apple will also allow iPad apps to run on the Mac using its Marzipan system, and those apps will be able to take advantage of the dark mode feature of both iOS 13 and macOS.
Better multitasking
With iOS 13 Apple is also said to beef up the multitasking capabilities of the iPad and allow apps to have multiple windows. Apps will also have 'sheets' that can move around the screen with a drag gesture or be attached to a part of the screen. Users will also be able to place these cards on top of each other and dismiss them with a swipe up gesture.
Undo Gestures
iOS 13 changes are not limited to big features only as Apple is also said to include improvements to enhance the user experience. This includes adding a standard undo system that will enable users to undo specific tasks. This system is said to be more sophisticated than the 'Shake to Undo' gesture and will be widely available. Users will be able to undo text by swiping left and right on the keyboard area. Multi-finger swipe left gesture will undo the edit while the right swipe will redo it. A new gesture for selection of multiple items in table and collection views will also be added in iOS 13. Users will be able to select multiple tables by dragging multiple fingers on a list or draw a selection box, thus selecting all the files inside it. This will be similar to how you can select multiple files by clicking and dragging on macOS Finder.
Font management
Font management system will also be a part of iOS 13, making it easier for users to install new fonts to their iPhone or iPad. Currently iOS makes installing new fonts quite difficult by requriing users to install a profile to get new fonts on their device.
Other improvements: Mail, Safari, Volume HUD…
In the next major iOS release Apple is also bringing much needed improvements to Safari, which will now be able to automatically request desktop versions of a website without requiring users to manually do so. With the new changes Safari will open the desktop version by default.
Similarly Mail app is also getting new features such as the ability to organize messages into searchable categories like purchases, marketing, travel, not important etc. It will also enable users to put email messages in a 'Read Later' queue.
With iOS 13 Apple is looking to make it easier for users to collaborate on third-party document apps. These collaboration feature will be similar to what is already available on Apple's own iWork suite.
Other changes that we can expect from iOS 13 include a redesigned Volume HUD, redesigned Reminders app, better performance for Hey Siri command, better multilingual support for dictation and keyboards as well as better printing options within apps.
Apple will announce iOS 13 at its June 3rd WWDC 2019 keynote and will release a developer beta on the same day. Few weeks after that a public beta will be released that will allow general users to install the new OS on their devices. Finally iOS 13 will be released for everyone in the fall.
Disclosure: iOSHacker may receive a commission if you purchase products through our affiliate links. For more visit our privacy policy page.