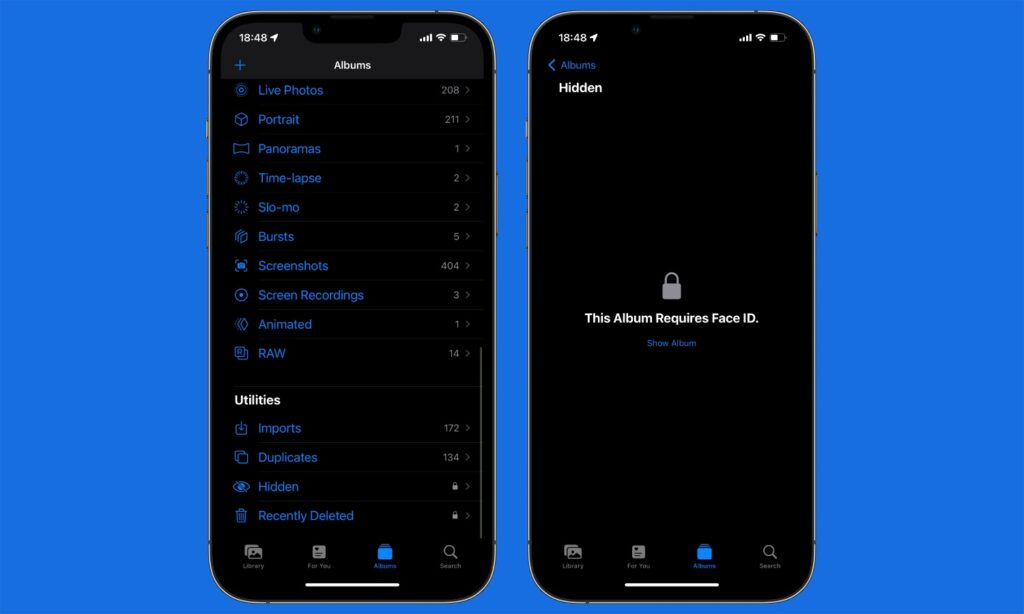 One of the most useful and personal favorite features of iOS 16 and iPadOS 16 enables users to protect their Hidden Photos and Recently Deleted photos with biometric authentication.
Previously anyone could access the Hidden album of the Photos app and see images and videos stored in it, essentially defeating the purpose of hiding them for the most part.
Now with iOS 16 iPhone and iPad will ask the user to authenticate with Face ID, Touch ID or passcode before they can access the Hidden album.
The biometric protection is not limited to the Hidden Album either, as authentication is also required when someone tries to access the Recently Deleted albums folder.
The biometric protection is enabled by default, which means you do not have to enable the feature for it to work.
You can still disable Face ID or Touch Id protection for the Hidden and Recently Deleted albums by going to Settings -> Photos and turning off the toggle for Use Face ID/Touch ID.
This will remove the requirement of authenticating with Face ID before access to Hidden Album is given.
Our Thoughts…
Ability to lock Hidden Albums was noticeably missing from iOS and it is a good thing that Apple has finally added this feature to iPhones and iPads.
With this new feature users will be able to protect their private photos and videos from unauthorized access.
It is also good that Apple has extended the biometric protection to Recently Deleted album as most users wouldn't want photos and videos they have deleted to be viewed by other people.