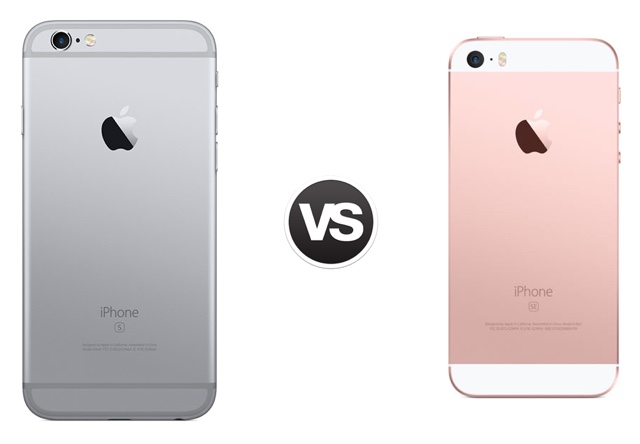 Apple has just launched the new iPhone SE, which essentially replaces the iPhone 5s and provides iOS users with a viable 4-inch option. While SE features the good old iPhone 5s-like design it is a completely new beast when it comes to specifications and features. Apple has upgraded iPhone SE's specs to such an extent that it competes with iPhone 6s in many areas. In this post we have compared the technical specifications of iPhone SE, iPhone 6s and iPhone 5s to see what makes these devices similar as well as different from each other. Read on for an iPhone SE vs. iPhone 5s and iPhone SE vs. iPhone 6s comparison.
iPhone SE vs iPhone 5s specs comparison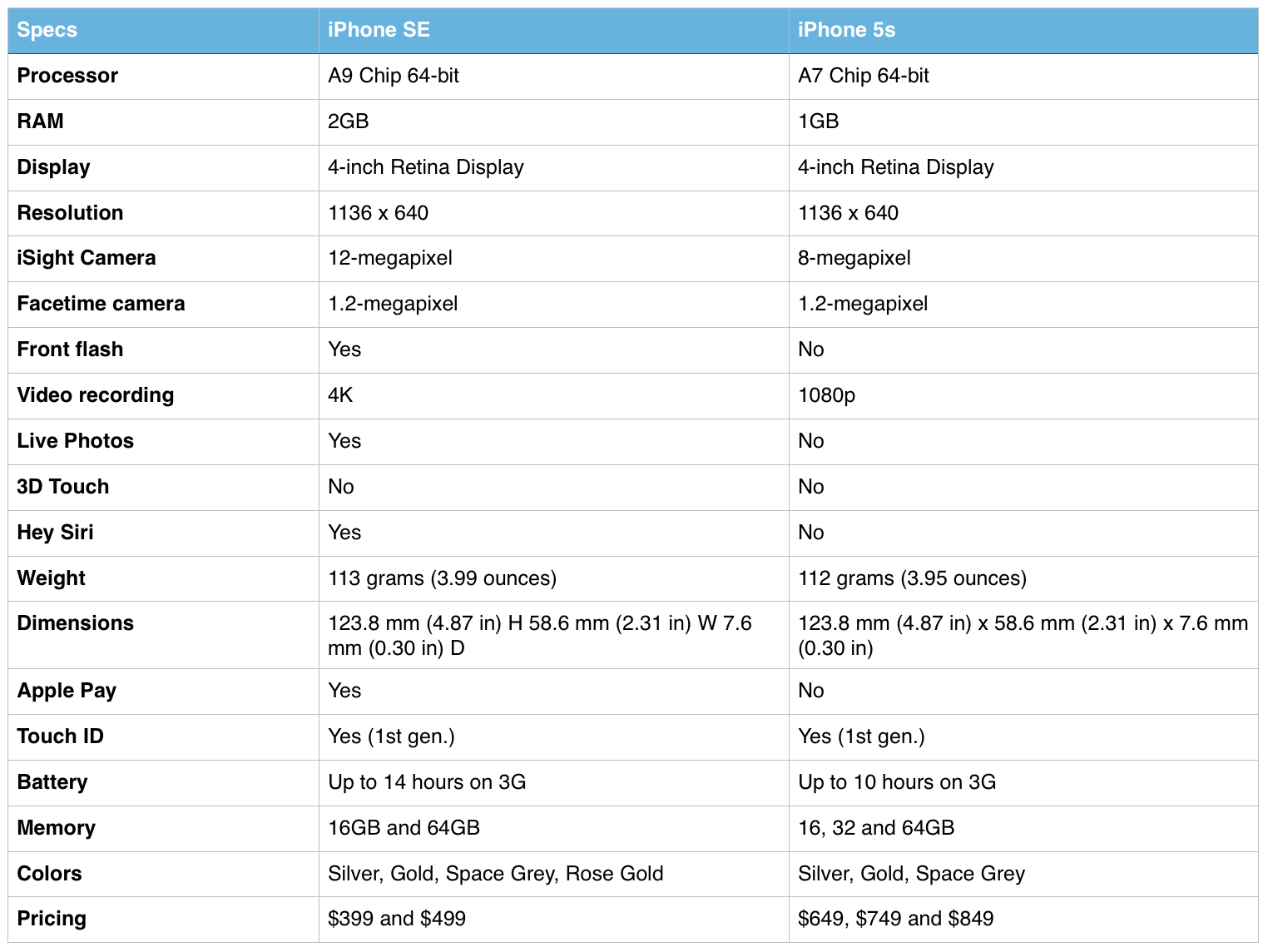 In the graphic above, we have compared different technical aspects of the new iPhone SE and iPhone 5s. This includes the processor, RAM, display, cameras, features, dimensions, pricing and memory options. As you can see iPhone SE features an A9 chip whereas 5s is powered by an A7 chip. The difference between the two generations is huge, with A9 providing twice the speed and GPU performance of the A7 processor. iPhone SE also comes with 2GB of RAM, which is 2x when compared with 1GB of iPhone 5s. SE has 12-megapixel camera with support for 4K video recording and Live Photos. iPhone 5s on the other hand only has an 8-megapixel camera while it can only record video at a maximum resolution of 1080p. It also lacks Live Photos feature. Front Flash feature is also only found on SE.
There are some iPhone 6s features that are missing from both iPhone SE and iPhone 5s, such as 3D Touch, faster 2nd Generation Touch ID, 5-megapixel front camera etc. When it comes to hardware there's no difference between the two models, the only exception being the iPhone SE comes in Rose Gold color. Thanks to the new chip iPhone SE offers more battery life than 5s, as it gives up to 14 hours of talktime on 3G.
iPhone SE vs iPhone 6s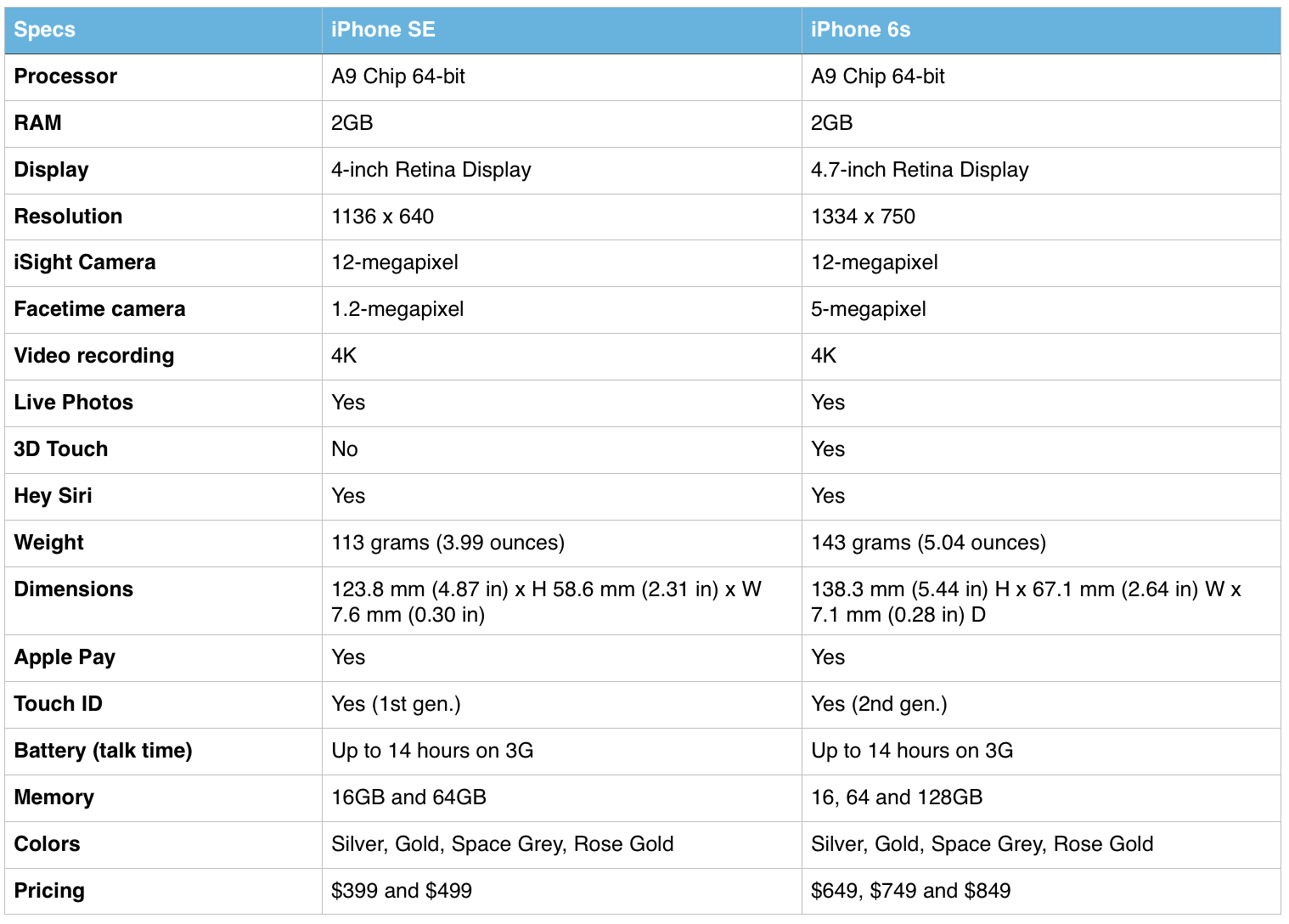 iPhone 6s may be the flagship Apple smartphone with a new design, larger screen and fancy new features however there are many areas where iPhone SE gives 6s a run for its money. Both devices sport the same 64-bit A9 processor, 2GB of RAM, 12-megapixel front camera, 4K video recording, Live Photos, Hey Siri feature, Apple Pay, and variety of colors. There are other areas where iPhone 6s understandably outshines the SE including the better 5-megapixel front camera, 3D Touch, faster 2nd Generation Touch ID, 128GB memory option, a new design and more.
Disclosure: iOSHacker may receive a commission if you purchase products through our affiliate links. For more visit our privacy policy page.