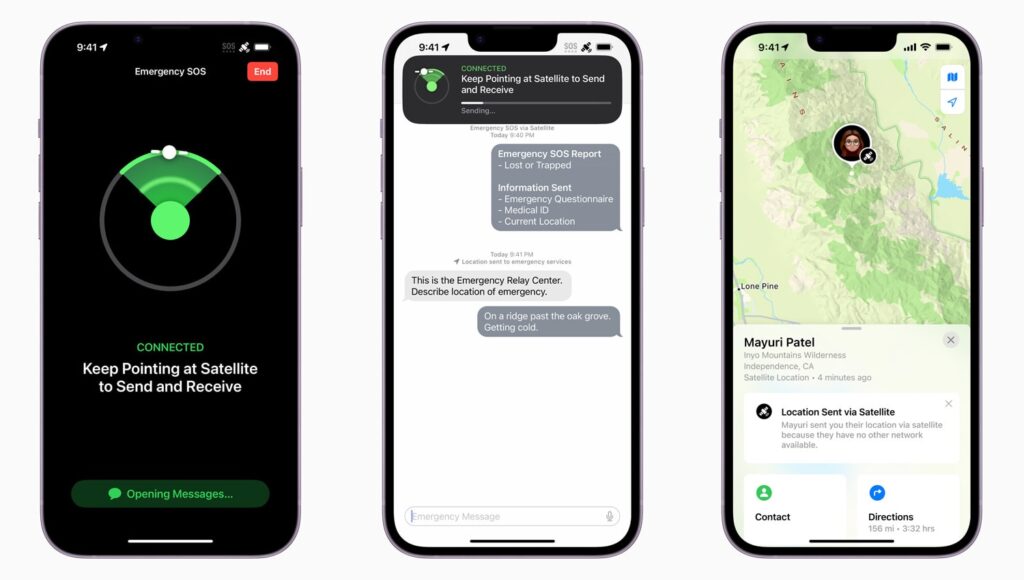 Emergency SOS via satellite on iPhone 14 is now available in the US and Canada, and the feature will be introduced in more countries soon. In case you ever need to rely on iPhone Emergency SOS messages, read on to find out how to try emergency SOS via Satellite without calling 911.
Are you wondering how this feature works?
Well, users can send texts to emergency services when outside the range of cellular and Wi-Fi coverage by connecting their iPhone 14 directly to a satellite.
The feature was designed to work in open spaces with a clear line of sight to the sky, so performance may be affected by trees or buildings nearby.
A standalone satellite messaging device or phone can cost up to $1,000, which makes this feature an impressive addition to the iPhone 14 lineup.
The feature is currently available on iPhone 14, iPhone 14 Plus, iPhone 14 Pro and iPhone 14 Pro Max.
How to Test Emergency SOS via Satellite
The following steps will guide you through the process of activating the SOS feature in a genuine emergency if there is no cellular coverage and the SOS icon is visible in the top corner of your ‌iPhone 14‌: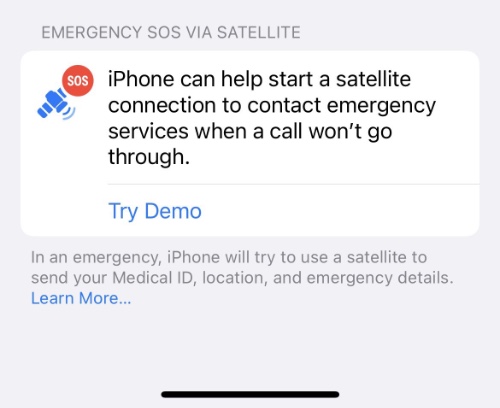 Step 1: Go to the Settings app on your iPhone 14
Step 2: Swipe down and tap Emergency SOS
Step 3: Swipe to the bottom, under Emergency SOS via Satellite, and select Try Demo
Step 4: Simply follow the instructions
You may try responding to the demo's emergency messages after connecting to the satellite.
After you're finished, tap the End button in the top right corner, then click End Demo.
Using Emergency SOS via Satellite when you are in a real emergency
In a real emergency, you should call 911 (or your local emergency number) as noted in the demo.
You will be offered to start the satellite connection if the call does not go through – proceed as you did before in the test.
What Else You Should Know?
It is worth mentioning here that the Emergency SOS via Satellite feature does not allow you to make phone calls, but it does allow you to send short text messages. 
It will ask you vital questions during the connection process, and as soon as you're connected, the iPhone will forward that information to emergency personnel.
Text messages will be sent directly to emergency services if you are in an area where messages can be received. Otherwise, they will be forwarded to a relay center with Apple-trained specialists who can make an emergency call on your behalf.
All in all, satellite functionality requires your iPhone to be connected to a satellite so it can guide you on how to point at the satellite closest to you.
If you have further queries, let us know in the comments below. We will get back to you as soon as possible.