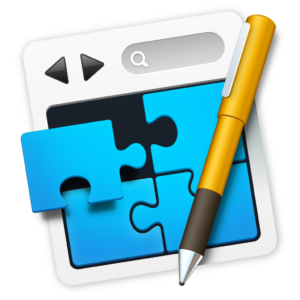 I think one of the main reasons why people don't have websites is because it can be overwhelming and sometimes complicated to create them. Lots of people don't want to learn HTML just to make a good looking website for themselves. So most people go with "What You See Is What You Get" website builders (otherwise known as "WYSIWYG," and will be referred to as that for the rest of the article). But even then, that can be complicated. Finding a website builder that is easy to use can be difficult, and some are quite expensive and some even require subscriptions. And others are used in a web browser, which if you are on the road a lot, or have an unreliable internet connection, this can be a real problem. RealMac Software, however, has a program that fills all these needs, and it's called RapidWeaver.
RapidWeaver 7, made by RealMac Software, is a WYSIWYG website editor especially designed with the Mac in mind. Before we look into it more however, I highly suggest you look at their official website here. Looks pretty nice, right? The entire website, including the store, was made with RapidWeaver. Pretty impressive hey?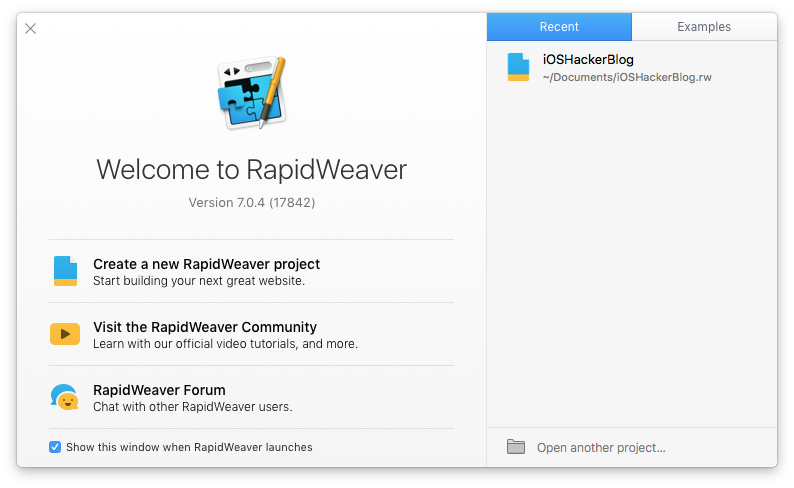 When you first open RapidWeaver, you will get a window that I think looks pretty close to the Xcode splash window. By simply pushing a button, you can get right in and start creating your own website. While the UI may look a little overwhelming at first, it starts to become really easy to work with. To help you get used to it, RealMac Software has tutorial videos that clearly and easily explain and show how to use different parts of the RapidWeaver app.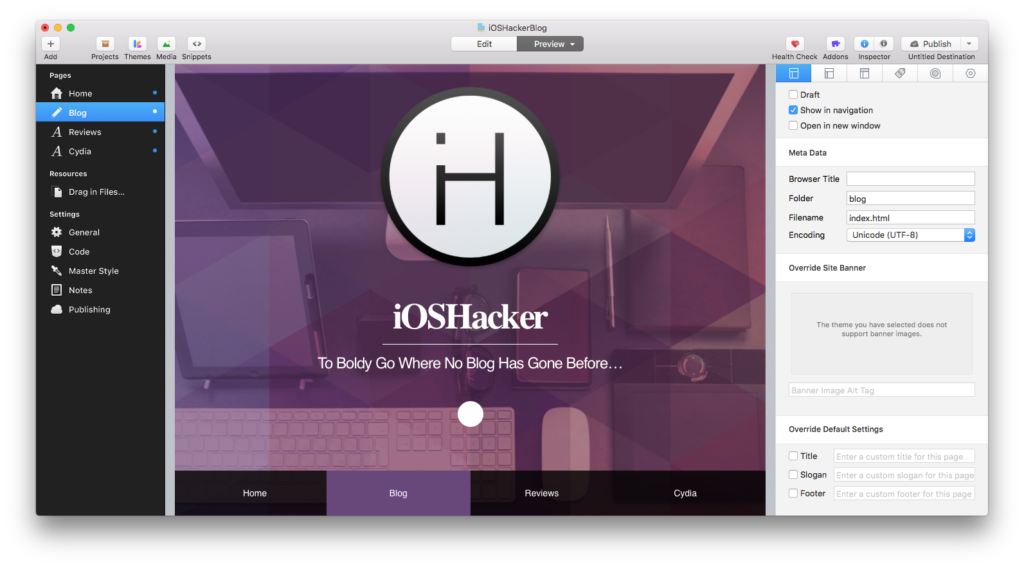 Within minutes of using it, I was able to make a professional looking website and blog. With over 50 themes included, you are bound to find one to you're liking. Also, if you like a certain theme, but don't like certain elements of it, you can even customize different parts of that specific theme, such as the colours. It even lets you edit the HTML!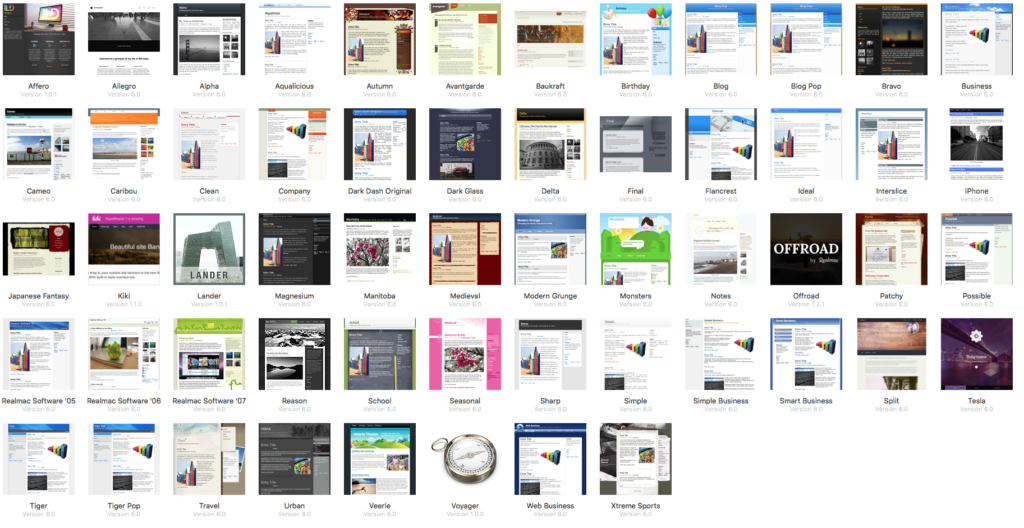 And if you still aren't satisfied with the included selection of themes, you can even download more online, as well as plugins for your website! It's this amount of customization that makes RapidWeaver a good buy.
RapidWeaver has some other tricks up it's sleeve as well, such as a note pad for keeping notes for yourself, and a feature called "Health Check," which can give you recommendations to make your website even better. And once you have finished building the website, you can even publish it straight from the app, or export it to your computer.
The only thing I didn't really like about it is that you can't edit the text content while in "Preview" mode. You have to switch back to "Edit" mode to change it, so you can see your changes live. And I found depending on the theme, sometimes it could take a little while to generate the preview. Of course, your mileage will vary, as it depends on the speed of your computer and some other factor. However, I did like that you could view your website in a browser without having to publish it. I found it was great for truly seeing how my website looked.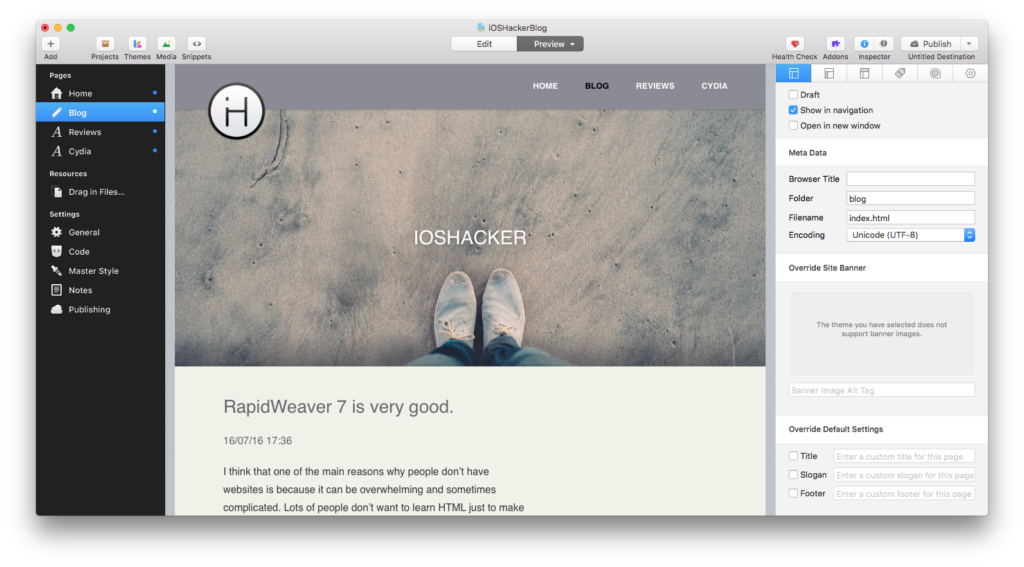 The last thing to mention about RapidWeaver 7 is the price. For $99.99, you get a licence that is good for two computers. For $149.99, you get one that works with 5 computers. Now, if you only have one computer, that's great; you could even let your friend have a copy. But if you have lots, such as both laptops and desktops, you are limited to how many computers you can do the work on. If you want to try RapidWeaver 7 before laying down 100 bucks (which I think it a fair price), you can also get a free trial, to see if the program is for you. And if you do decide that, you can buy a licence and continue working on the website you were making with the trial!
Overall, if your looking for a great and easy to use website builder, this is it! Do you own RapidWeaver 7? Let us know in the comments how you enjoy it, and by all means, please post links to any websites that you may have built with it!
Disclosure: iOSHacker may receive a commission if you purchase products through our affiliate links. For more visit our privacy policy page.