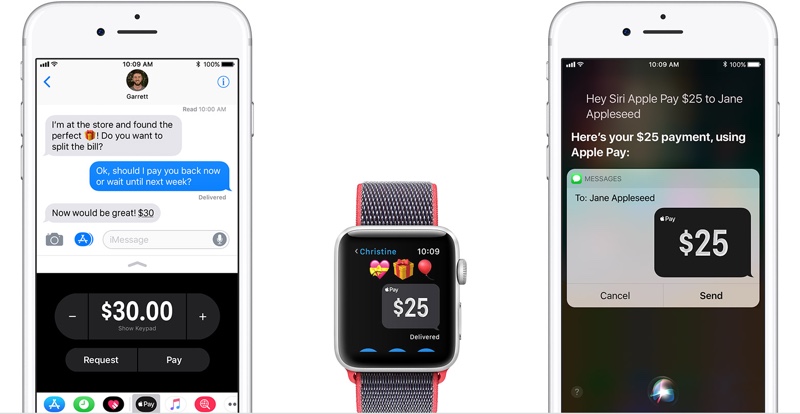 Apple has launched the highly anticipated Apple Pay Cash service in the US, and it is now available in beta to iPhone, iPad and Apple Watch users who are running iOS 11.2 and watchOS 4.2. With Apple Pay Cash users will be able to send and receive payments from their friends on iMessage. They will also get access to a virtual debit card called Apple Pay Cash, that can be used to make in-store payments.
Apple Pay Cash is an easy and quick way to make payments to your contacts. You can send payments to your friends when splitting bills on a night out, pay someone for their service, pay pocket money to kids and much more.
While Apple Pay Cash is currently in beta and only available to those beta testing iOS 11.2 and watchOS 4.2, it will be available US wide once the software updates are released publicly in the coming weeks. If you are already running the iOS 11.2 beta, then you can use Apple Pay Cash in the US provided Apple Pay is set up on your device and the person you are sending payment to is also running iOS 11.2 beta 2 or later. You don't need to perform any extra steps to get the feature activated, as it will appear automatically when you launch the Messages app on a device that is already running Apple Pay.
Two-factor authentication is also required for an Apple ID that is being used with Apple Pay Cash, so keep this in mind when trying to use this feature. Transferring payments from debit cards to Apple Pay Cash is free, however if you are using a Credit Card, then you might have to pay 3% fee. You can add credit to your Apple Pay Cash card using the Wallet app. Maximum transfer amount you can currently use is $3000.
Apple Pay Cash is currently only supported on limited models of iPhone including iPhon SE, iPhone 6 or later, iPad Air 2, iPad 5th generation, iPad Pro lineup, iPad mini 3 or later and any model of Apple Pay.