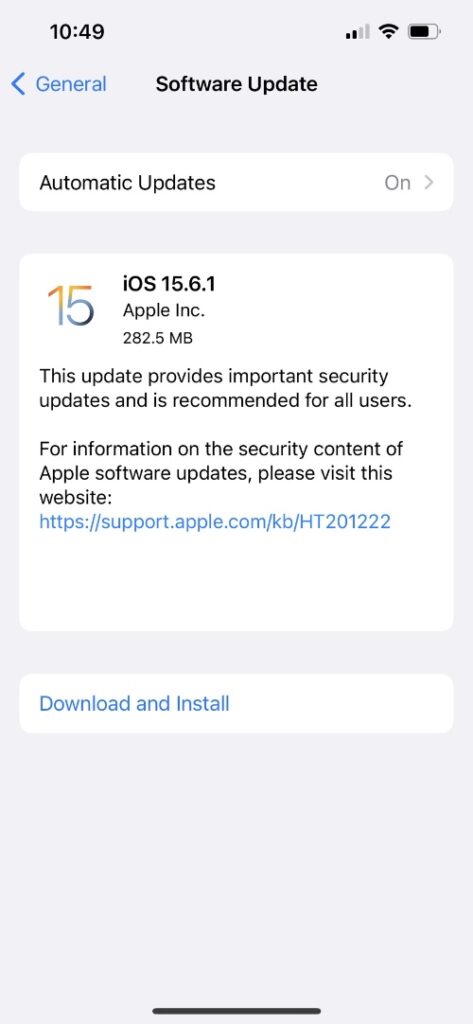 Apple has released iOS 15.6.1 and iPadOS 15.6.1 software update and it is now available for download over-the-air. The update comes with two important security fixes along with bug fixes and performance improvements. iOS 15.6.1 has been released a little less than a month later of iOS 15.6's release.
You can now head over to the software update section of your iPhone or iPad in order to download and install the update. The build number for today's release is 19G82.
Along with over-the-air release Apple has also released iOS 15.6.1 through iTunes and Finder. You also have the option to download iOS 15.6.1 IPSW directly and use iTunes/Finder to manually install it.
As you would expect from a security focused release from Apple, this update is recommended for all users.
macOS Monterey 12.5.1 is also available for download and brings the same security fixes as iOS 15.6.1.
Kernel and WebKit Vulnerabilities Fixed
Apple has detailed the security vulnerabilities that have been fixed in iOS 15.6.1 and notes that these vulnerabilities were actively exploited in the wild. These vulnerabilities impacted all models of iPhone and iPad that were running iOS 15.
The first vulnerability detailed in Apple's security updates page is related to WebKit. According to its description it would be used to process maliciously crafted web content. This could lead to arbitrary code execution. This vulnerability was being actively exploited in the wild.
The second vulnerability that iOS 15.6.1 fixes was related to Kernel and could be used to execute arbitrary code with kernel privileges. By the description it looks like this particular vulnerability along with the WebKit vulnerability could prove useful to jailbreak developers. Now whether jailbreak developers are aware of them is something only time will tell.
Download iOS 15.6.1 IPSW for iPhone
Download iPadOS 15.6.1 IPSW for iPad