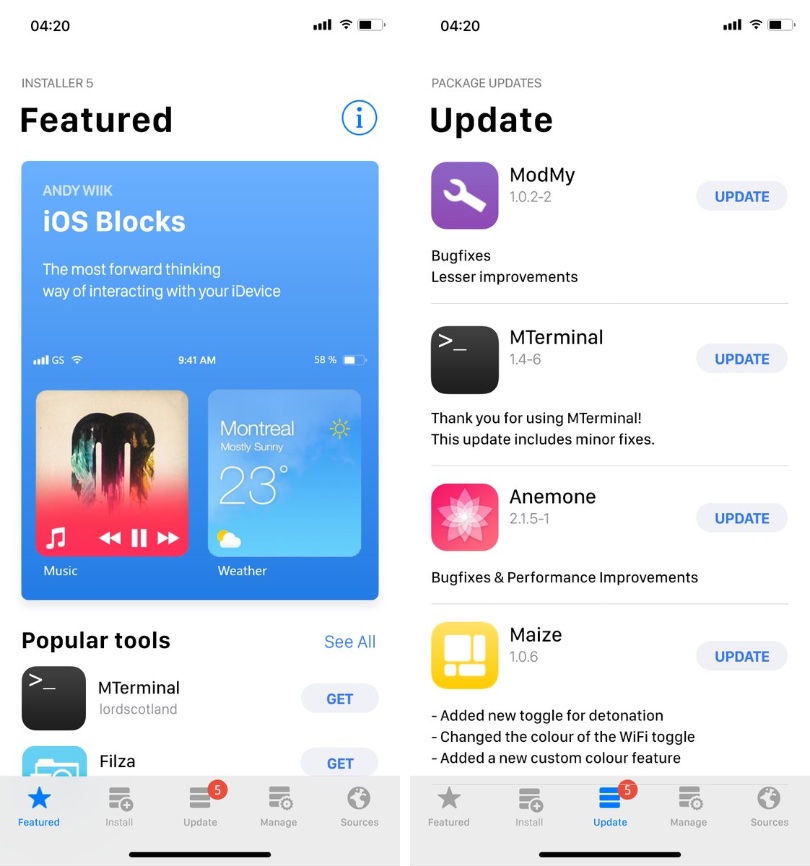 Cydia has always been synonymous with the concept of iOS jailbreaking. The store has been around ever since people have been jailbreaking their iPhones and iPads, and has been instrumental in making jailbreaks useful for common users. While Cydia is expected to get updated for iOS 11 jailbreak, a new Cydia alternative is also getting released with full compatibility for iOS 11 and iOS 10 powered devices.
Installer 5 is an open-source Cydia alternative that is being developed by a team of developers that includes Sam Guichelaar, Cristian Tabuyo and Dennis Bednar. These folks are working on making Installer available in time for iOS 11 jailbreak. In fact they seem to have already finalized its design, which is quiet modern and seem to be heavily inspired by App Store's UI.
Installer is not a new thing, and it has been around since summer of 2007. It was originally developed by Nullriver and was later maintained by RipDev. None of its original creators are involved in Installer 5's development, however it is reported that they have given their blessing to the project.
The original Installer.app allowed jailbreak users to install third-party apps to their iPhone's Application directory, at a time when App Store wasn't available and there was no way of installing third-party applications on an iPhone. Installer was later developed by RipDev however it wasn't a big success since Cydia had become the go to place for people to install packages and apps that were not available through the App Store.
PS… pic.twitter.com/RfVSMWj1FI

— AppTapp (@AppTappTeam) December 30, 2017
Installer 5's development is a good news for jailbreak fans, as it features a modern design and positions itself as a viable Cydia alternative. With jailbreak becoming more and more irrelevant for many users with every iOS release, such developments will help in keeping the concept alive.