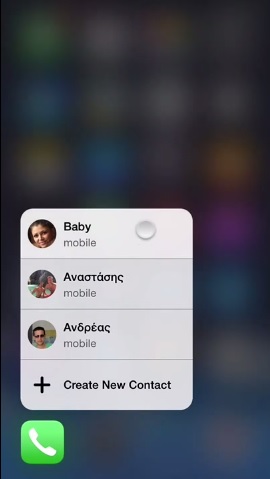 During the iPhone 6s announcement Apple demoed an exciting new feature called 3D Touch. 3D Touch as we have explained in our iPhone article, gives users ability to perform different tasks by applying pressure on the new pressure sensitive display. This includes homescreen features that let you access menus related to different apps by deep pressing on their icons. For example, you can deep press on Phone app's icon to access your favorite contacts or do the same on the Camera app icon to get a menu with options for accessing front camera, back camera, taking a photo or jumping directly to video recording mode.
An iOS tweak developer named Elias Limneos has announced a new Cydia tweak that he is developing called Touch 3D. Touch 3D as you may have already guessed aims to bring some of 3D Touch's functionality to older iOS devices. Since older devices do not have 3D Touch capable screens, Limneos will be using the long press technique, allowing users to reveal a similar menu by long holding on the app's icon.
Limneos has already gotten a working version of the Touch 3D tweak, and although it is not ready you can already see how it is going to work. Surprisingly his tweak looks and works very much like the real deal.
Not much about tweak's release date has been revealed yet, however we can say that it would be released soon, as it took Limneos less than 24 hours to come up with the demo version.
We will update you as soon as this tweak is released in Cydia, so stay tuned. [Reddit]
Disclosure: iOSHacker may receive a commission if you purchase products through our affiliate links. For more visit our privacy policy page.