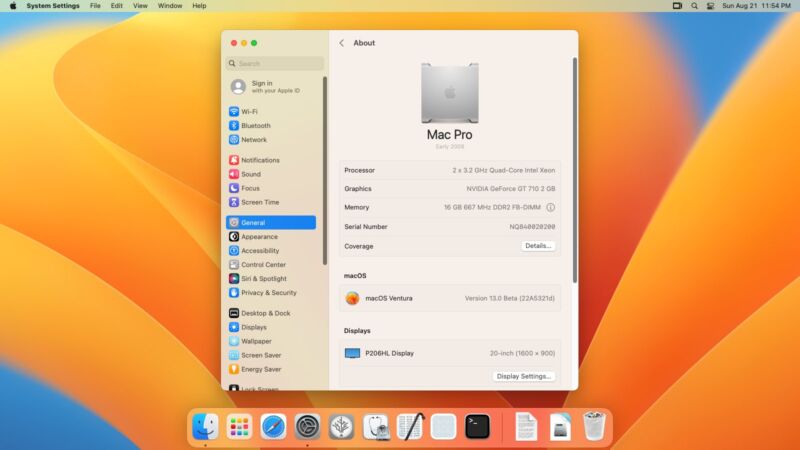 After its launch macOS Ventura is going to make many Mac models obsolete. This includes the first MacBook Pro with Touch Bar from 2016 and the popular 'Trash Can' Mac Pro among other machines from the past.
While Apple may have decided to leave out many popular Mac models from its official compatibility list for macOS Ventura, a group of developers are working on a tool called OpenCore Legacy Patcher or OCLP, which will allow older Mac models to run macOS Ventura on unsupported Macs.
OCLP, which is based on OpenCore bootloader used for Hackintosh is not a new tool and has been around for some time. It already allows unsupported Macs to run macOS Big Sur and macOS Monterey, and now it is going to add macOS Ventura to its support list.
According to the developers working on the OCLP tool supporting macOS Ventura won't be an easy task however they have already "made progress in some crucial areas".
Developer Mykola Grymalyuk, who is the project lead for OCLP has shared macOS Ventura running on legacy Metal GPUs. He has shown the beta version of the new operating system running on his early 2008 Mac Pro, 2012 Mac mini, 2014 Mac mini and 2014 5K iMac.
What is making things difficult for the developers behind OCLP tool is the fact that macOS Ventura does not support Macs older than the 7th generation of Intel processors. Due to this Apple has removed drivers used by these older Macs.
This includes drivers for trackpads that do not feature Force Touch, NVIDIA GPUs, Intel Ethernet Controllers and more. Now developers will need to find ways to make these components work so that the Macs work as expected while running macOS Ventura.
Other components such as CPUs with AVX2 instruction set are also missing on older Macs and are required by macOS Ventura. Similarly Ventura needs a new version of Metal that does not work with older GPUs. However developers of OCLP have made some progress and have been able to run macOS Ventura without AVX2 instruction support. They have also been able to port older drivers to run on Ventura.
(ArsTechnica via 9to5Mac)