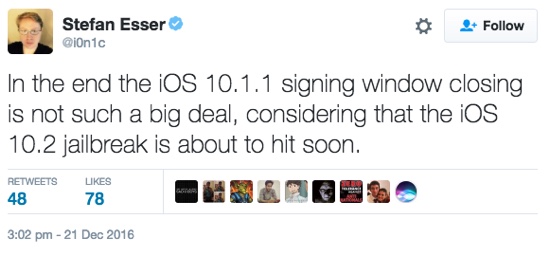 In case you didn't know Apple has stopped signing iOS 10.1.1, meaning anyone on an earlier or later version of the operating system will not be able to install it. This also means he or she won't be able to jailbreak when Luca Todesco releases his jailbreak for iOS 10.1.1. However it seems like there's an even better jailbreak that is in the works, which will allow iOS users to jailbreak iOS 10.2. This information was revealed by famed iOS hacker Stefen Esser also known by his Twitter handle @i0n1c.
The hacker notes in his tweet that iOS 10.1.1 signing window closing is not a big deal, as an iOS 10.2 jailbreak will be releasing soon. Although when asked who is working on the jailbreak, the hacker refused to reveal that information noting "because they don't want to be harassed". That seems like a plausible excuse for not revealing who is going to release an iOS 10.2 jailbreak as users in the jailbreak community often tend to harass developers working on jailbreaks on Twitter until they release them. Just read the tweets sent by @qwertyoruiopz, who is currently working on iOS 10.1.1 jailbreak regarding the harassment he is experiencing from some users.
I still do not understand: did anyone ever die because their phone was not jailbroken? No? Then why is everyone obsessed to this point?

— qwertyoruiop (@qwertyoruiopz) December 20, 2016
@i0n1c also explicitly announced that he is not involved in any upcoming iOS jailbreak.
And no! i am not involved in any public iOS 10.1.1 or 10.2 jailbreak.

— Stefan Esser (@i0n1c) December 21, 2016
If @i0n1c is to be believed, then the upcoming release of iOS 10.2 is a huge deal for the jailbreak community. Apple has closed the exploit discovered by Google's Project Zero, which is being used in the development of iOS 10.1.1 jailbreak, so the person or team working on iOS 10.2 jailbreak must have found another exploit in the operating system that can allow them to release a public jailbreak. Perhaps Apple has already closed that particular exploit in iOS 10.2 developer beta prompting hackers to finally use and burn the exploit for a public jailbreak release. Now it would be interesting to see when the jailbreak is released and who releases it. Not to mention if the jailbreak is tethered or untethered is also a big question.
Since no ETA is given for an iOS 10.2 jailbreak it is a good idea to stay on iOS 10.1.1 if you were able to downgrade in time as it is very likely Luca's jailbreak will be available before the iOS 10.2.
We will be posting more updates as information about both iOS 10.1.1 and iOS 10.2 is available to share, so stay tuned.