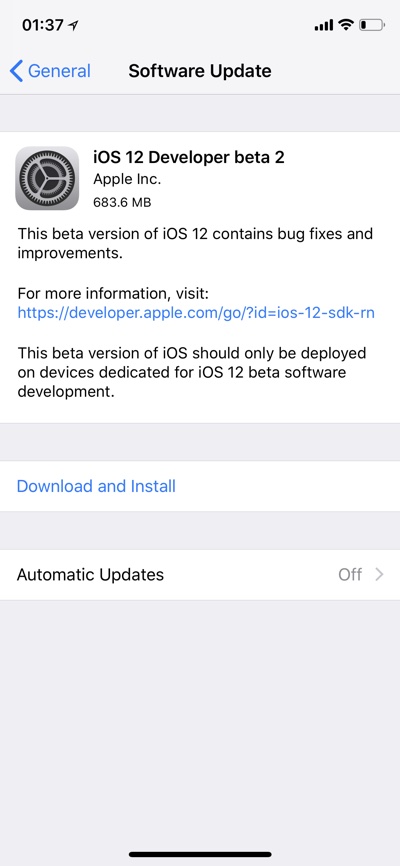 As expected Apple has today pushed iOS 12 developer beta 2 to devices that have been running the beta. The update has been released for all models of iPhone, iPad and iPod touch and is available both over-the-air through the software update section and through developer center.
iOS 12, which is a major iOS release brings a bunch of new features to iOS devices such as Screen Time, improved Do Not Disturb mode, Siri Shortcuts, ARKit 2.0, intelligent features for Photos app, updated Stocks, news and Apple Books apps, group FaceTime video calls, Memoji and new Animoji for iPhone X, Better notification management and more.
The second developer beta brings a number of noticeable changes from the original beta release. In this update Apple has added new splash screens for several apps including one for Voice Memos app, in Settings for Screen Time feature, a new Down Time walkthrough has been added for parents, change in Podcasts app to show Now Playing indicator on currently playing chapters and more.
One particular thing that iPad users will notice is that when running iPhone-only apps on the tablet, users will still get the 1x and 2x button however the app will run in native iPhone 6 resolution and not iPhone 4 resolution. This gives users more in-app real estate to show content. This is great for apps that still don't support iPad natively, such as Instagram.
According to 9to5Mac iOS 12 beta 2 also has references to unreleased Apple Watch models. In addition to current and older models the new iOS version has identifiers for Watch4,1, Watch 4,2, Watch 4,3 and Watch 4,4. This is not unexpected as Apple is going to release new Apple Watch models in the fall alongside next generation iPhone.