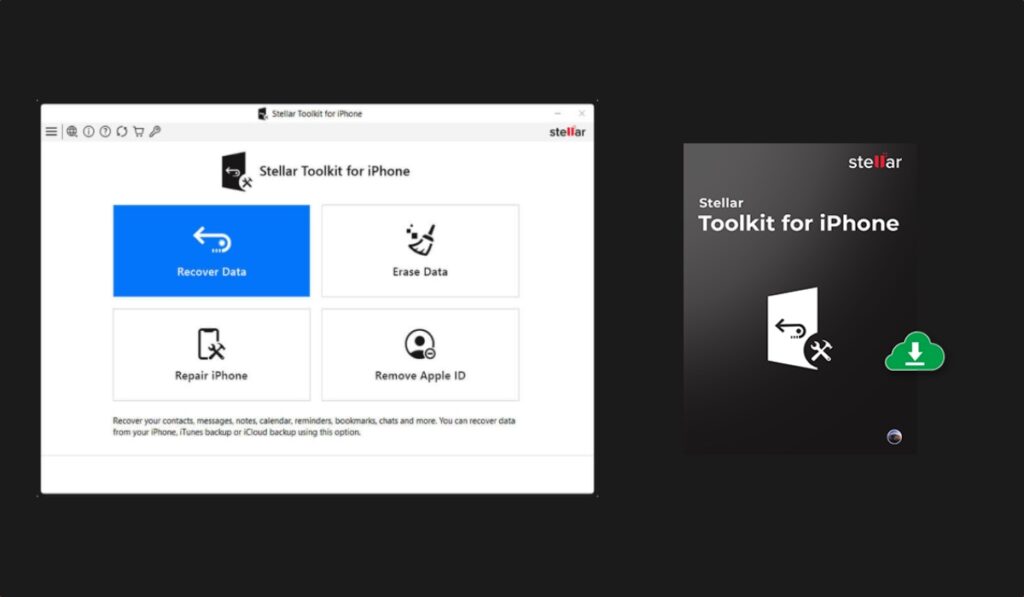 If you have run into problems while updating your iPhone or iPad to iOS 17, then you are certainly not alone. The Internet is full of stories in which users have encountered annoying issues with their devices, many of whom have even ended up losing their precious data.
We all know how frustrating it can be to encounter issues like the Apple logo, the black screen of death, the boot loop, and iOS system crashes. When such issues occur the only solution appears to be restoring your device and running the risk of losing all your data. However, that's not the only way.
Thankfully you don't have to suffer the same fate, as we are here to help. There are third-party tools that enable users to fix their iPhones and repair iOS issues. The best thing about these tools is that anyone (even your parents) can use them and fix their iPhones in just a few clicks. One such tool is Stellar iPhone Data Toolkit software.
In this detailed tutorial, we will show you how you can use the handy Stellar Toolkit for iPhone software to fix all your iOS-related woes and update your device without any data loss.
Here are some of the issues that you can fix with this tool on an iPhone and iPad running iOS 17 and iPadOS 17 respectively or later.
Repair the iOS system without a full restore.
Fix iOS problems without loss of data.
Fix the iPhone stuck at the Apple logo.
Solve the black screen of death issue.
Take an iOS device out of the boot loop issue without loss of data.
How to fix iOS issues with Stellar Toolkit for iPhone
Using Stellar Toolkit for iOS is very easy. You can fix your iPhone issues and repair iOS on it by following the simple steps below. By the end of this tutorial, you should have an iOS 17-powered iPhone that no longer has issues like being stuck at the Apple logo, boot loop, a black screen of death, etc.
Step 1. First of all download the Stellar Toolkit for iPhone tool from the official website. The tool is available for both Windows and Mac.
Step 2. After downloading the tool launch it and select the 'Repair iPhone' option.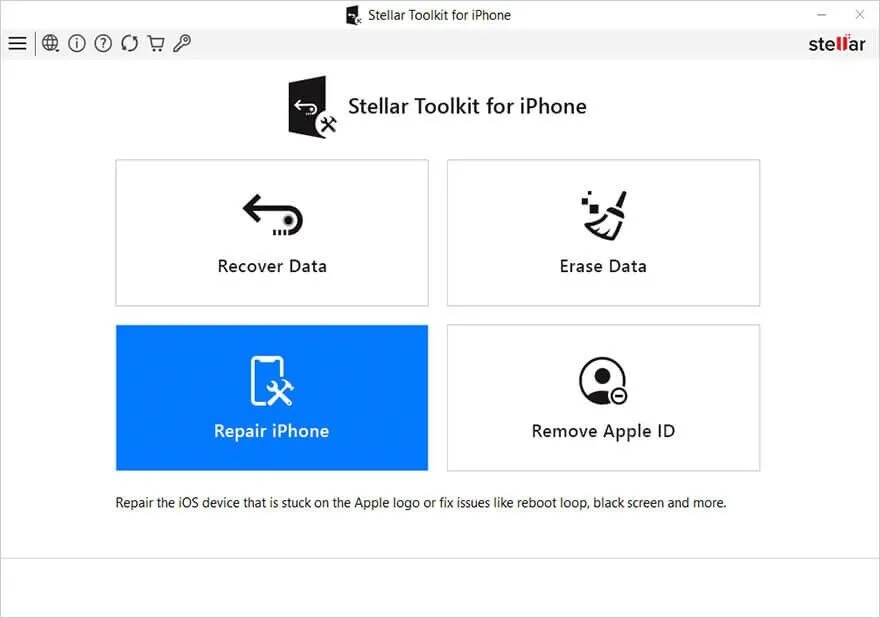 Step 3. Now click on the 'Next' button to proceed to the next steps.
Step 4. Click on your iPhone and then click on the 'Download' button. Now Stellar Toolkit for iPhone will proceed to download the latest available iOS firmware for your device. Alternatively, you can download iOS IPSW from this page, and click on the 'Import' button to manually import it into the tool.
Step 5. Once the iOS file has been downloaded or imported, proceed to click on the Repair button in order to start the iOS repair process.
Step 6. Let Stellar Toolkit for iOS devices software work its magic and wait for the Repair Complete notification. Once you get it click on the OK button to proceed.
Finally, restart your iPhone. Any iOS issue that you were facing with your device should now be resolved and you will be able to use your device without any data loss.
In addition to fixing iOS-related issues, you can also take advantage of the Stellar Toolkit for iPhone for a number of other tasks.
With this tool, you can also do the following:
Retrieve deleted data: With the help of this tool, you can retrieve accidentally deleted data from an iPhone or iPad.
Recover data from backups: If you no longer have access to your iPhone or iPad, then you can use Stellar Toolkit for iPhone software in order to recover data such as photos, videos, music, contacts, and more through iCloud backups, iTunes backups, and even encrypted iTunes backups. In addition to the previously mentioned items, you can also recover your lost chats from popular messaging apps like WhatsApp, WeChat, Kik, and more.
Complete data wipe: This tool lets you easily wipe data from your device when you are about to sell it. It can also be used to permanently erase iPhone data that has been deleted from the device but may remain on the storage drive.
Remove forgotten Apple ID: Is your iPhone locked to an Apple ID that you no longer remember password for? You can use Stellar Toolkit software to remove the configured Apple ID from your device.
You can download the Stellar Toolkit for iPhone from the official website for free. However in order to take advantage of all of its features you will have to purchase a one-year license for $49.99 (down from $79.99) with support for 5 iOS devices.Y ou can also opt for the 50 iOS device support license for Stellar Toolkit for iPhone, which will set you back $149.99 for a limited time offer