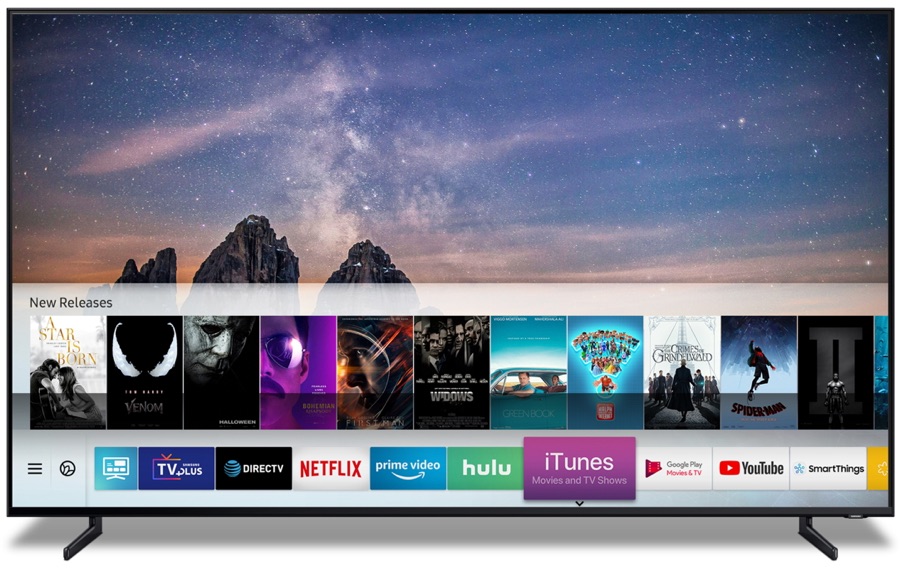 In a rather surprising move, Apple has announced a new partnership with Samsung that will allow the company to bring the iTunes TV Shows to Samsung Smart TVs. The iTunes video content will be available on Samsung's Smart Televisions through a dedicate iTunes Movies and TV Shows app, which will be available in Spring 2019.
The app will be available alongside other video content providers like YouTube, Netflix, Prime Video, Hulu and more. With the iTunes Movies and TV Shows app Samsung Smart TV users will be able to watch, buy and rent 4K iTunes movies and TV shows.
Apple is not only bringing iTunes TV Shows to Samsung Smart TVs but it will also be adding AirPlay 2 functionality to them that will allow the TVs to become AirPlay 2 receivers. This is the same functionality that comes with Apple TV. In fact this is the first time ever that Apple is offering AirPlay integration for third-party products. With AirPlay 2 integration Mac, iPhone and iPad users will be able to stream their music, photos, videos, podcasts and more on their Televisions, something that previously required Apple TV.

Both iTunes app and the AirPlay 2 features will be added to 2019 Smart TVs and will also be available on 2018 models via a firmware update.
(Source)