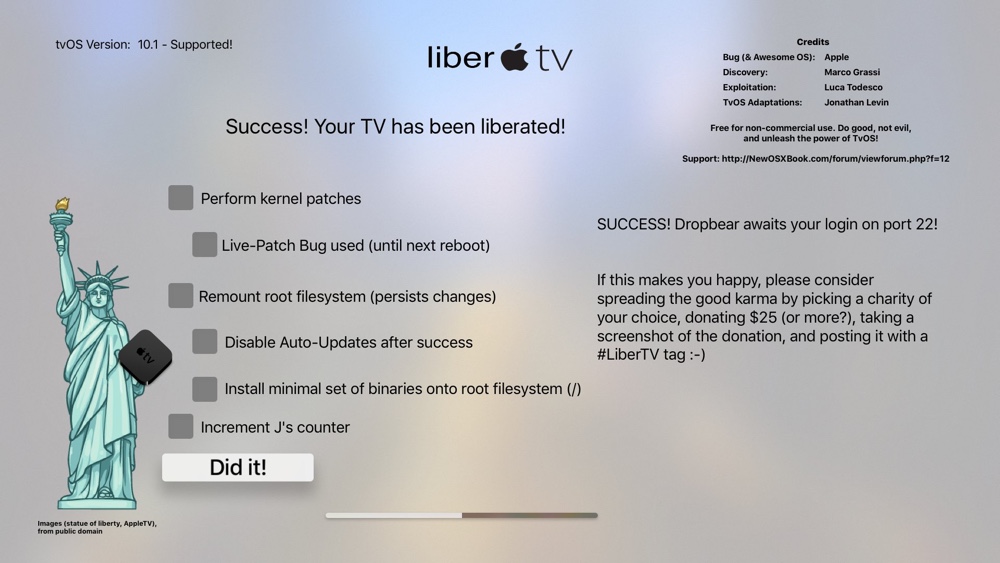 The new LiberTV jailbreak for tvOS has been released with support for tvOS 10.0 up to tvOS 10.1. This means Apple TV users who are running these versions can now download the tool and jailbreak their fourth generation Apple TVs. After installing the LiberTV jailbreak users will be able to unlock new features and perhaps install apps that are not available through Apple's App Store.
While the jailbreak on tvOS is not as robust as it is on iOS, with this release things are expected to change significantly.
The developer Jonathan Levin who has developed the LiberTV jailbreak for Apple TV has confirmed through his beta testers that it works on tvOS 10.0.1 and other versions. While tvOS 10.1 can be jailbroken with this tool, tvOS 10.1.1 that was released back in January is still not supported.
So if you have an Apple TV running pre tvOS 10.1.1 versions and you are interested in jailbreaking your Apple TV, then it is a good idea not to update.
All Done! #LiberTV – #tvOS #jailbreak for 10.0-10.1: Free at last! https://t.co/QwhkZzmHBc But please RTFM @ https://t.co/4LTT6VIWPV first! pic.twitter.com/yxebOKZbCp

— J has evolved past Darwin. And Past Tw itt er. (@Morpheus______) March 3, 2017
You can download LiberTV.ipa from the link below.