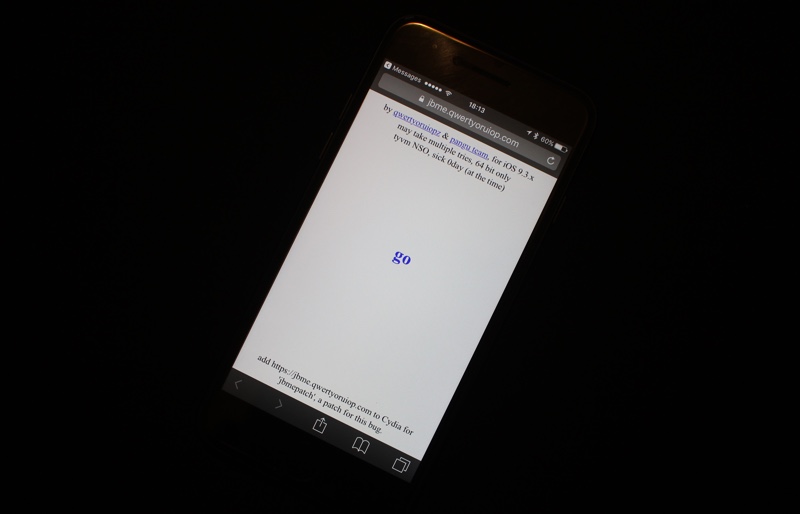 iOS hacker Luca Todesco is a well known figure within the jailbreaking community. Not because he releases a lot of jailbreaks but because he is usually the first to jailbreak a new iOS version and ends up not releasing it for public. This time however Todesco has released a Safari based web tool that allows users of Pangu iOS 9.3.3 jailbreak to re-activate the Semi-Untethered jailbreak on their devices. So with this web app you can reactivate the semi-untethered jailbreak without the dedicated Pangu app. Users can just start using it after visiting the website.
For those of you who don't know what semi-untethered jailbreak means, here's a short explanation. Traditionally the 'tethered' jailbreaks stopped working after every reboot and required users to connect their iPhone or iPad to their computer and launch a dedicated tool before they became functional again. The semi-untethered jailbreak of iOS 9 that was released by Chinese jailbreak team PanGu made things easier for users as their solution did not require users to connect their device to a computer every time they had to reboot it. Instead they could just launch a native iOS application, wait for a few seconds and have their jailbreak working again. This solution was not tethered nor was it untethered as it still required users to perform an action after reboot, so hackers called it semi-tethered.
Do note that the web tool only works for iOS 9.3.x Pangu Jailbreak and is not capable of jailbreaking a device from scratch. So if you have an iOS 9.3.3 powered device that is not jailbroken already, you cannot use this tool to jailbreak it. However what you can do with this tool is reactivate the jailbreak on a semi-untethered jailbroken device after the reboot. This tool is useful as it eliminates the need of having Pangu's Semi-untethered app installed that users need to launch after every time they reboot their device. Now they can simply access the web tool and get the jailbreak working again. Another benefit of Todesco's tool is that it can work without any certificate restrictions, something that has been a problem with other solutions. The tool only works on 64-bit devices.
So if you are jailbroken on iOS 9.3.3 using the Pangu tool, you can open this page on your iOS device and tap on the 'go' button to semi-untether it when your jailbreak stops working after a reboot. Todesco notes that the tool might take multiple tries to work so try again if it doesn't work for you the first time.
Disclosure: iOSHacker may receive a commission if you purchase products through our affiliate links. For more visit our privacy policy page.