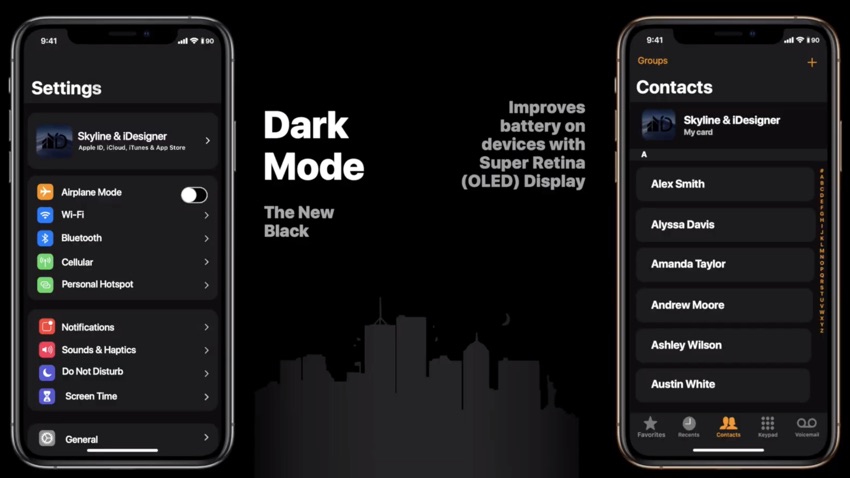 With less than one month remaining until Apple's June 3rd WWDC Keynote, we are getting new reports that claim to reveal the features that we can expect from the upcoming operating systems. The most recent report comes from Bloomberg's credible Mark Gurman who has information about new features that we can expect in iOS 13, watchOS 6 and macOS 10.15.
Let's start with the iOS 13 update, which according to Bloomberg will bring a significant number of new features and performance improvements to iPhones and iPads. iOS 13, which is reportedly codenamed Yukon internally will bring many tweaks and features across the stock apps. With iOS 13 Apple will finally be adding a dark mode to iOS that will make it easier for users to use their devices at night with a black and grey-heavy user interface. Users will be able to toggle the dark mode in Control Control.
The stock keyboard is reportedly going to get new features on iOS and will gain the swipe to type functionality, which will allow users to swipe across letters on the keyboard without lifting finger in order to type out words. This implementation will be similar to third-party keyboards like SwifyKey.
The Health App will receive a new homepage that will display user's daily activity in a better way. The app will also have a new 'Hearing Health' section that will enable users to see how loud they are listening to music with their headphones and how loud is the environment around them. Other improvements for the Health app will include a comprehensive menstrual cycle tracking feature that will work with third-party period tracking apps like Ovia, Flo and Clue.
This report also talks about the screen extension feature for the iPad, which will enable users to use their iPad as a secondary display with their Macs. Currently third-party apps like Duet Display and Luna Display offer similar functionality however Apple is said to offer the functionality by default. iPad is also said to get an updated app switcher screen and a tweaked home screen. iPad users will also be able to cycle through different versions of the same app.
Screen Time feature will also receive improvements and gain a new feature that will allow parents to add restrictions for when their kids can and cannot contact others. Parents will be able to add restrictions to their child's iPhone or iPad that will prevent them from sending message or call a number other than their parent's. Apple Books app will gain new features that will encourage reading, such as a better progress tracker and rewards system for book reading.
With iOS 13 the iMessage app will finally catch up with apps like WhatsApp and allow users to set a display picture with privacy settings. Users will be able to control who sees their display picture and who doesn't.
Apple Maps app in iOS 13 will allow users to easily set frequent locations and navigate to those places. In addition to that you will be able to create groups for frequently visited places and add their desired photo to them.
The report also mentions the merger of Find My iPhone and Find My Friends apps into a single service along with the introduction of a physical device that would allow users to track items through the new app, such as their backpacks, pets etc. This will be similar to the Tile device that allow users to attach a physical device to items and track them through the Tile app.
Mail app will gain features like ability to mute threads, block incoming mail from contacts and a simpler folder management.
A new Sleep mode will be introduced in the upcoming software update that will be an improvement over the current Bedtime feature found within the Clock app. The new feature could go beyond simply sleep pattern tracking and could integrate with future Apple sleep tracking devices.
With iOS 13 the Home app will offer more integration for security cameras and allow users to view past recordings. HomePod will also allow users to set up multiple users for their smart speaker.
The iOS sharesheet menu will become more intelligent with iOS 13 and will suggest people to send the content to based on how frequently you interact with them.
The Safari browser is reportedly going to get a downloads manager like a desktop browser, allowing users to manage web downloads on a single screen.
Accessibility screen will become more accessible with Apple moving the Accessibility menu to the main section of the Settings app. iOS 13 will also bring better hearing aid support.
New features in watchOS 6
We will also see the announcement of watchOS 6 at WWDC. watchOS 6 will be the first major iOS update since Apple introduced a newly designed Apple Watch Series 4 with a larger display.
With watchOS 6 Apple is reportedly going to add the App Store right on the Apple Watch that will make it possible for users to download apps directly to the Watch. Speaking of apps a new Voice Memos app will be added in this update along with an Apple Books app that will allow users to easily listen to audio books on their Watch. Apple Watch will finally get the Calculator app, eliminating the need to download third-party Calculator apps on Apple Watch. New Apple developed Dose and Cycles app will also be debuting on the Watch, that will allow users to set up pill reminders and track menstrual cycles respectively.
watchOS 6 will add support for Animoji and Memoji stickers.  It will also be bringing more default Complications that will allow users to see information about audio books, battery life of hearing aids and measure external noise and rain data.
New Watch faces are also coming to Apple Watch with watchOS 6 including a Gradient watch face, two new variants for X-Large watch face with different fonts and colors, a California dial that looks like a classic watch and features Roman and Arabic numerals. Apple is also adding a new Infograph Subdial as well as Solar Analog watch will be also be redesigned.
New features in macOS 10.15
Bloomberg's report reiterates its report in which it was revealed that Apple will allow developers to easily port their iPad apps to macOS. This report goes further and claims that by next year developers will also be able to bring their iPhone apps to the Mac, and eventually merge the Mac App Store and iOS App Store.
With macOS 10.15 Apple will bring more iOS apps to the Mac and will offer Podcasts app and the newly combined Find My iPhone and Find My Friends app on the Mac.
iPhone like Screen Time feature, iMessage effects and Stickers, Siri Shortcuts support for iPad apps running on macOS, Reminders app and upgrades to Apple Books are also expected.
Apple Music will also be available on the Mac with a standalone app. Currently users have to rely on iTunes to be able to use the Apple Music on their desktop and laptops.
You can read Bloomberg's full report here.
Disclosure: iOSHacker may receive a commission if you purchase products through our affiliate links. For more visit our privacy policy page.