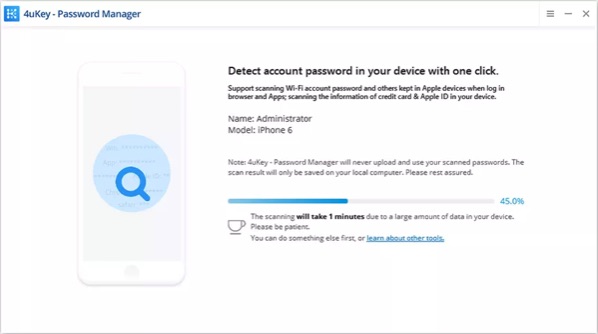 Isn't it pretty annoying when you forget the password of a Wi-Fi network you previously had access to. Now that there's more awareness about how complex passwords need to be, we often encounter hard to remember passwords that are very less likely to stay in our memories. I personally have been guilty of forgetting the password of my own home Wi-Fi network.
In the event of forgetting the Wi-Fi password there's very little help you get from your iPhone, iPad or Mac. Those with more than one iOS devices can bring another iOS device that is connected to the same Wi-Fi next to their device in order to connect it to the network, but even in this case the password is not revealed to the user. These devices will not easily reveal the password of your Wi-Fi network. Sure you can go and look under your Wi-Fi router, but that also wouldn't help if you had at some point changed its password from default to something else.
That is where the super useful 4uKey – Password Manager can save the day. With this password manager tool you can instantly find the saved Wi-Fi passwords from your iPhone, iPad, Mac and Windows PC. The best thing about this tool is that it is very easy to use and offers one-click solution. To use it you can just launch the tool on your Mac or PC and connect your iPhone to your computer with a cable. The tool will detect your device and after scanning it present you with a list of recovered passwords.
4uKey – Password Manager's usefulness does not stop at extracting the Wi-Fi passwords, as it is also capable of recovering website passwords and app login passwords from your iOS device.    This can be very helpful as users tend to forget the passwords that are stored in their iPhone's memory and when they have to sign in to an online account on another device not knowing the password can create problems. You can also use this tool to show Apple ID and passwords kept on your iOS device.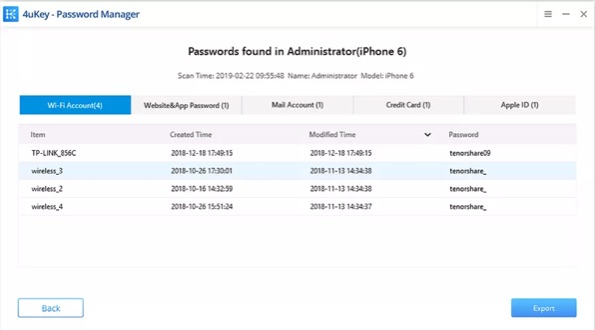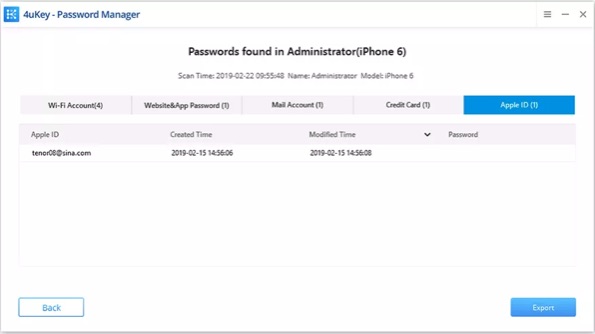 With 4uKey tool you even get the ability to scan and view mail accounts and look at credit card information from your devices.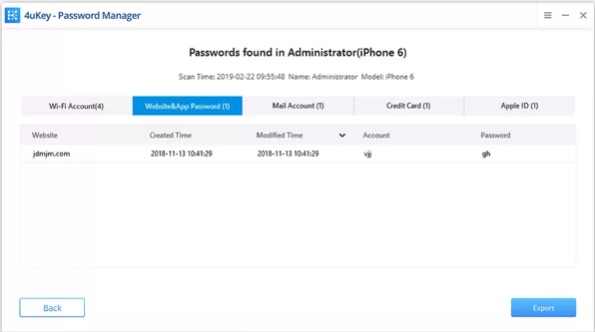 Once the password has been extracted from the iPhone or iPad you can transfer it to your favorite iOS password manager like 1Password. 4uKey supports a wide range of export extensions including 1Password, Keeper, LastPassword, Chrome and more. If you don't use any of these apps you can simply extract the password as a .csv file and then store it in a note for future reference.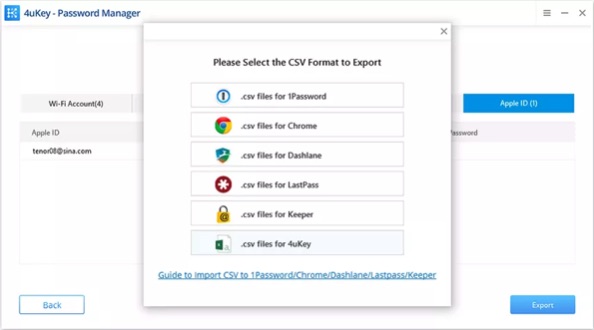 4uKey – Password Manager is available on both Windows and Mac. It supports all iOS devices including iPhone XS, iPhone XS Max, iPhone XR and older iPhones. It will also work with all models of iPad and iPod touch.
You can download it as a free trial for Windows and Mac using the link below. A 1-year license for 4uKey – Password Manager is available for $29.95 where as a lifetime license can be bought for $39.95. 1 license can be used with up to 5 iOS devices and on 1 Mac.