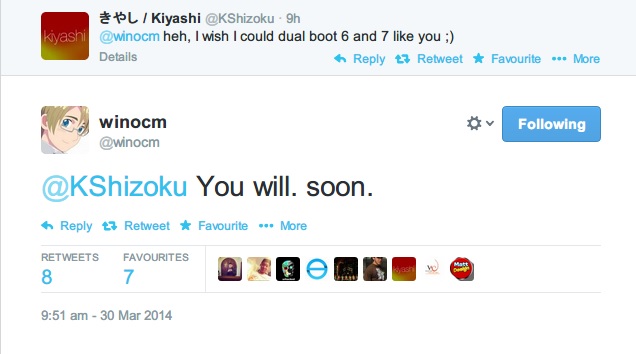 A few days ago we told you about Winocm's video in which the infamous iOS hacker demonstrated triple boot on his iPad. In the video the hacker booted iOS 5, iOS 6 as well iOS 7 on the same device without using iTunes or evasi0n7. Right after watching the amazing video iOS users started speculating whether Winocm would release a tool allowing general users to perform triple boot, and use all three separate versions of the operating system on their devices or not.
Everyone was expecting that there are no chances of such a tool getting released publicly but not Winocm has revealed that he does plans to release the bootstrap tool for everyone. While it is an exciting news for anyone who is running iOS 5 or 6 as they will be able to dual or triple boot with iOS 7 on their devices, those of us with iOS 7 are out of luck. The method requires iOS 5 or iOS 6 installed on a device in order to boot iOS 7 and does not feature the capability to install older version of iOS on it..
No ETA has been given for the bootstrap tool. Winocm has also said that the first revision of the tool will not be user friendly but this would change very soon. Also, he has specifically noted that evasi0n tool will not be used for purpose.
The whole dual and triple boot stuff is super exciting and could make life of iOS 6 users easier, who cannot decide whether they want to upgrade to iOS 7 or not. As always we will keep you posted with all the developments in this regard, stay tuned and follow us on Twitter to stay in the loop.
Disclosure: iOSHacker may receive a commission if you purchase products through our affiliate links. For more visit our privacy policy page.