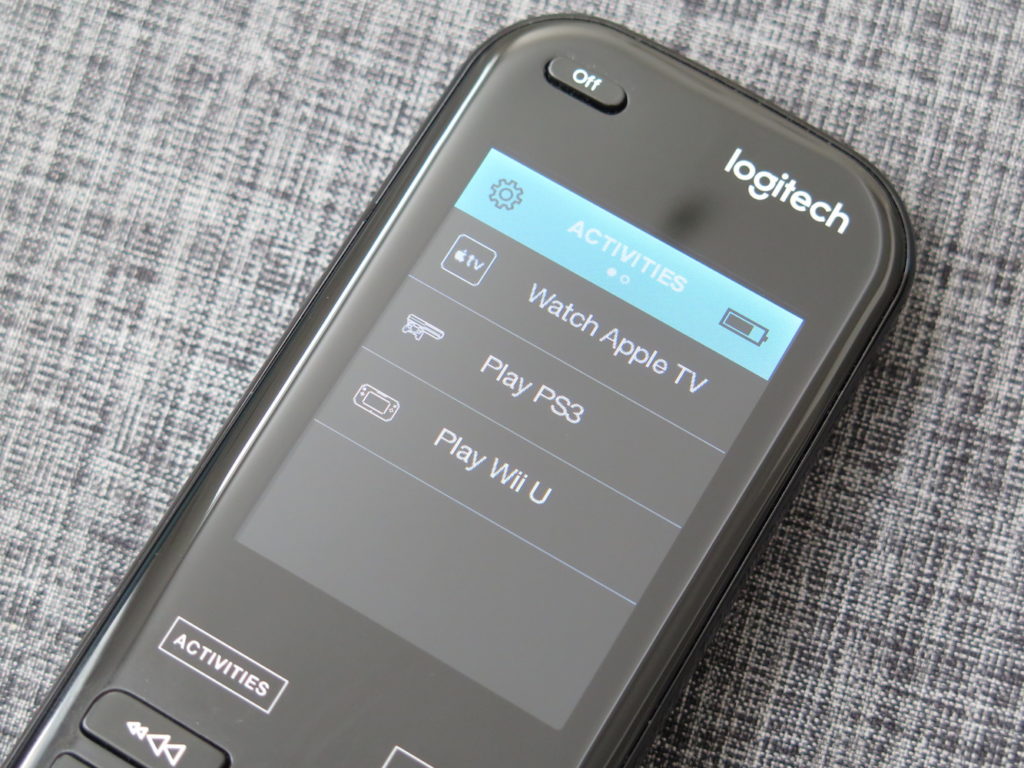 While watching TV is really dead simple, setting up everything in preparation isn't as easy. You often have to fiddle with several remotes to turn on each device and set the correct inputs. Along with that, you often need to get up to turn off the lights and set the thermostat to the correct temperature. And if you misplaced one of those remotes, it can be even more of a hassle just to try to watch your favorite movie or TV show. The Harmony Elite by Logitech is a universal remote that aims to solve all your TV remote woes, as well as helping you gain control over your smart home devices.
The Logitech Harmony ecosystem is comprised of two main components. There's the hub, which is the brains of the operation, and then there's the optional remote. There's a few you can pick from, but for this review, we'll be looking at the Harmony Elite, which features a touchscreen.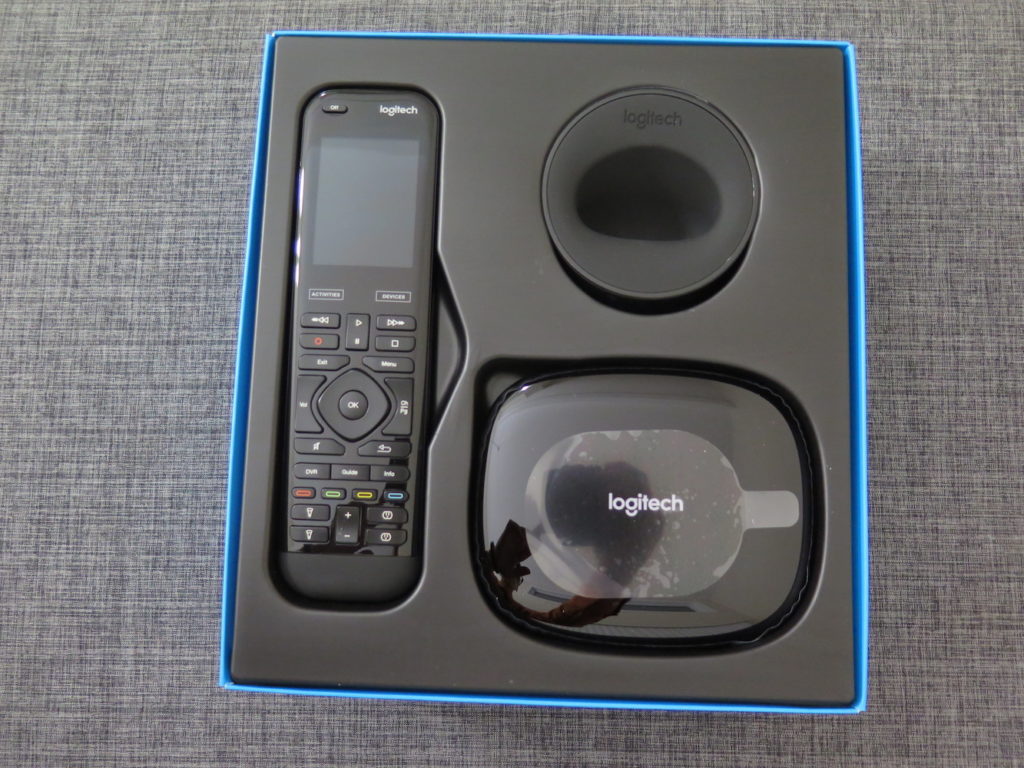 Inside the box, you'll find the Logitech Harmony Hub, the Elite Remote, a pair of optional IR Mini-blasters, and the charging cradle for the remote, as well as some cords and paper inserts. To get started, you plug in the hub near your TV and then connect it to your Wi-Fi network with your phone (or computer if you prefer). Once it's connected to Wi-Fi and your Logi account, you can start to add your entertainment devices. Harmony supports over 270,000 entertainment and smart home products, so you should have no problems when it comes to compatibility. Within minutes, I was able to add my Vizio TV, Apple TV, PlayStation 3, and Wii U. Unlike some universal remotes, which require you to have the original remote and point it at the universal remote, the Harmony Hub simply requires you to enter the manufacturer and model number of the device you want to add. It will then download all of the commands from their database. Some devices, such as my PlayStation 3 and Wii U, are controlled over Bluetooth, while others, such as my Vizio TV and Apple TV, are controlled by IR.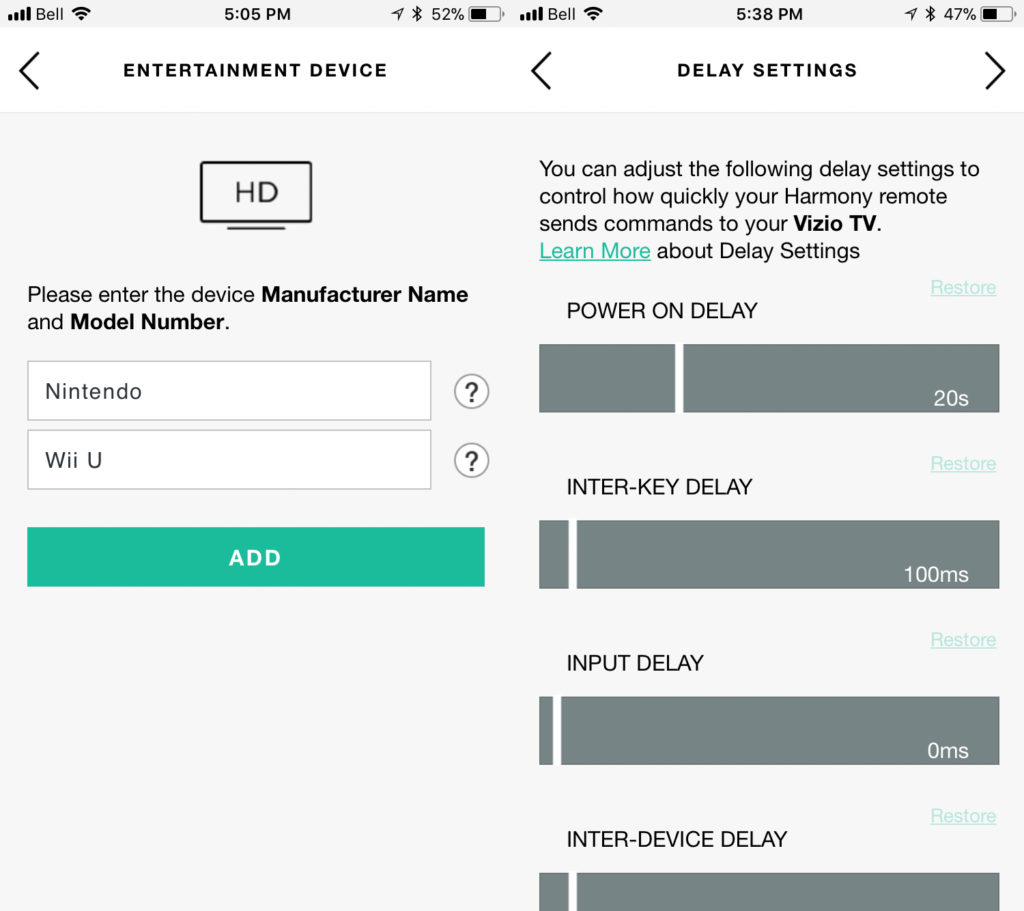 Now, you can just end there and have all of your devices controllable from one remote, but the real magic happens with Activities. Activities let you control several devices and actions in a sequence. For example, you can have an activity called "Play PS3," where your TV turns on, switches to the correct input for your PlayStation, turns off your lights, turns down the thermostat, and then turns on your PlayStation 3. Hit the "Watch Apple TV" activity, and it'll power down the PlayStation, turn on the Apple TV, and make your television switch to the corresponding input. Once you're done using your Apple TV, you can turn off the scene to power down your TV and turn on your lights. It works amazingly well, and once you get used to it, you'll wonder how you ever lived having several remotes for different devices and setting them all up. There's a lot of customization options, such as setting the Power On and Input delays for the TV, making the activity run smoothly. Along with being able to control it from the remote, you can also control your devices and activities using the iOS app, or with your voice with Alexa. I gave it a go with my UE MEGABLAST speaker, and I was able to start and end activities as well as change the volume just by speaking.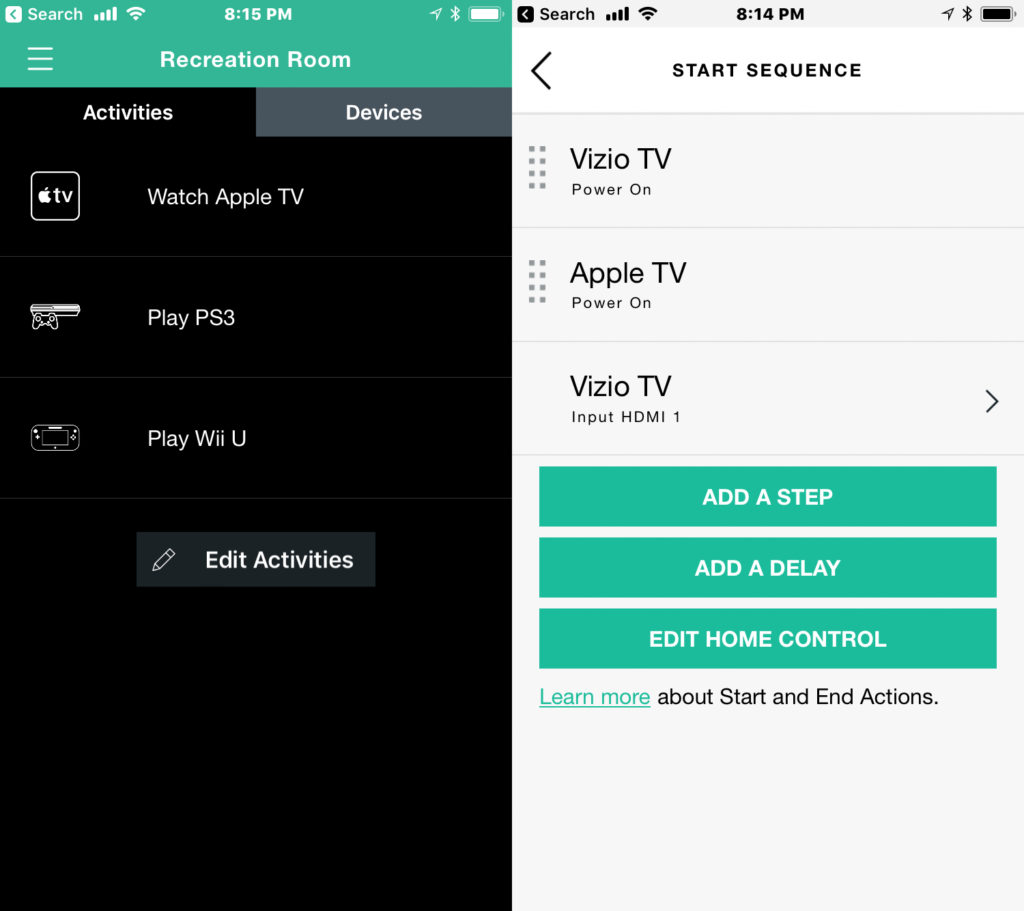 It's not always practical to just rely on your phone though. While it's convenient, physical buttons are much easier and nicer to use while watching TV. The Harmony Elite remote is the ultimate universal remote. At the top of the remote is a 1.5" touchscreen. Here you can start and end activities, or use a device, such as your smart home devices or if you just want to switch inputs on your TV. Underneath the touchscreen, you have standard media control buttons, such as a directional pad, volume control, fast forward and rewind, pause and play, stop, record, back, etc. It's organized nicely that after a little bit of use it's easy to tell which button is which just by feeling it. Not that you'll need too though, as the buttons and touchscreen are backlit. After a small amount of inactivity, the lights turn off, reducing distractions while you watch your favorite show. This is actually one of my favorite features of the remote. It makes it really easy to identify each button, which is great for when you forget where a certain button is. I found the touchscreen to be good for people unfamiliar with the setup, with the custom icon and clear description for each activity, compared to three text-less buttons on some of Logitech's other remotes.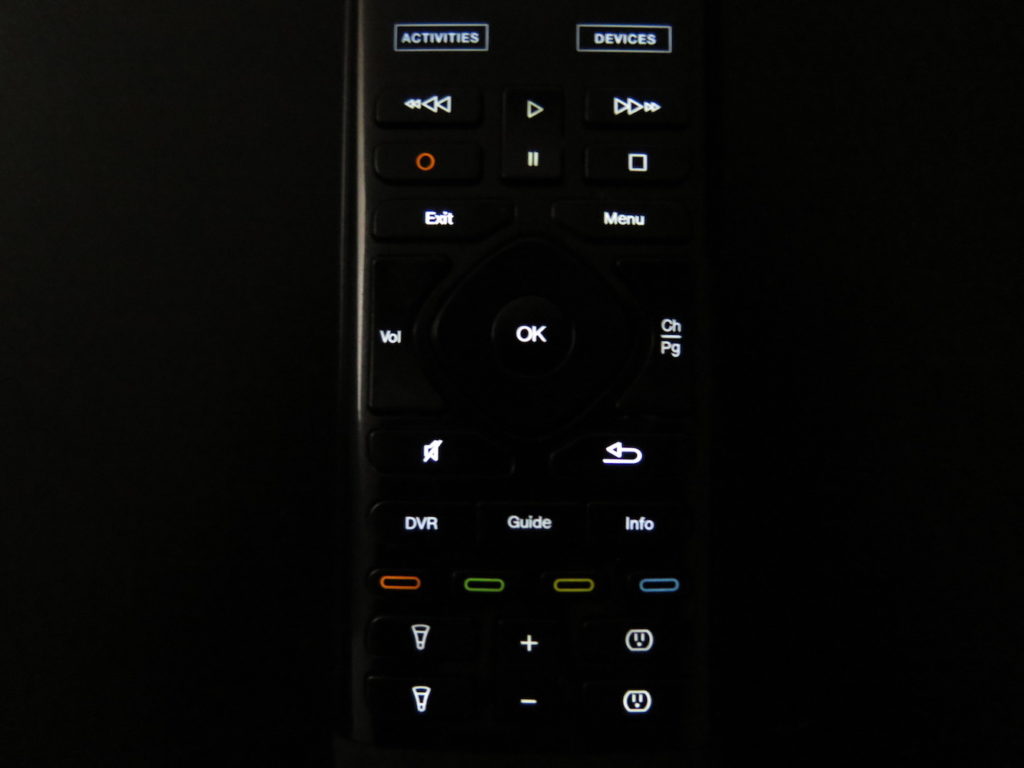 Unlike some of Logitech's other remotes however, you won't be getting a year's worth of battery life. The touchscreen and backlight take their toll on the remote, and while it can go through a few days without being charged, you'll need to be charging it fairly regularly. Logitech has a charging cradle for that task, which makes it effortless.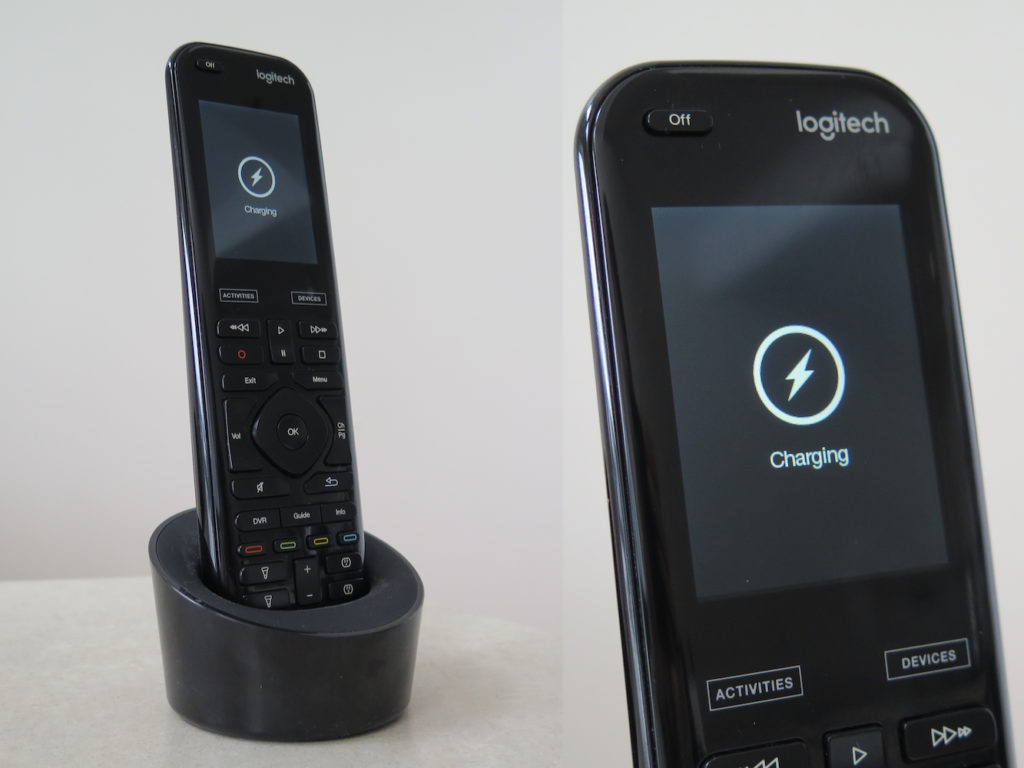 At the bottom of the remote are some buttons that let you control your smart devices. There are two on the left side designed for smart lights, with two on the right side designed for smart outlets. Fortunately, you can map these buttons to any devices, which was great in my case because I didn't have any smart outlets. I had the top light button toggle the lights in the recreation room, with the bottom one toggling all of my smart lights. It worked great with both my Philips Hue and LIFX bulbs. The only smart lights that weren't compatible that I owned were the Nanoleaf Light Panels. There is also a brightness rocker in-between the two buttons, which will either increase or decrease the brightness in increments of 10%.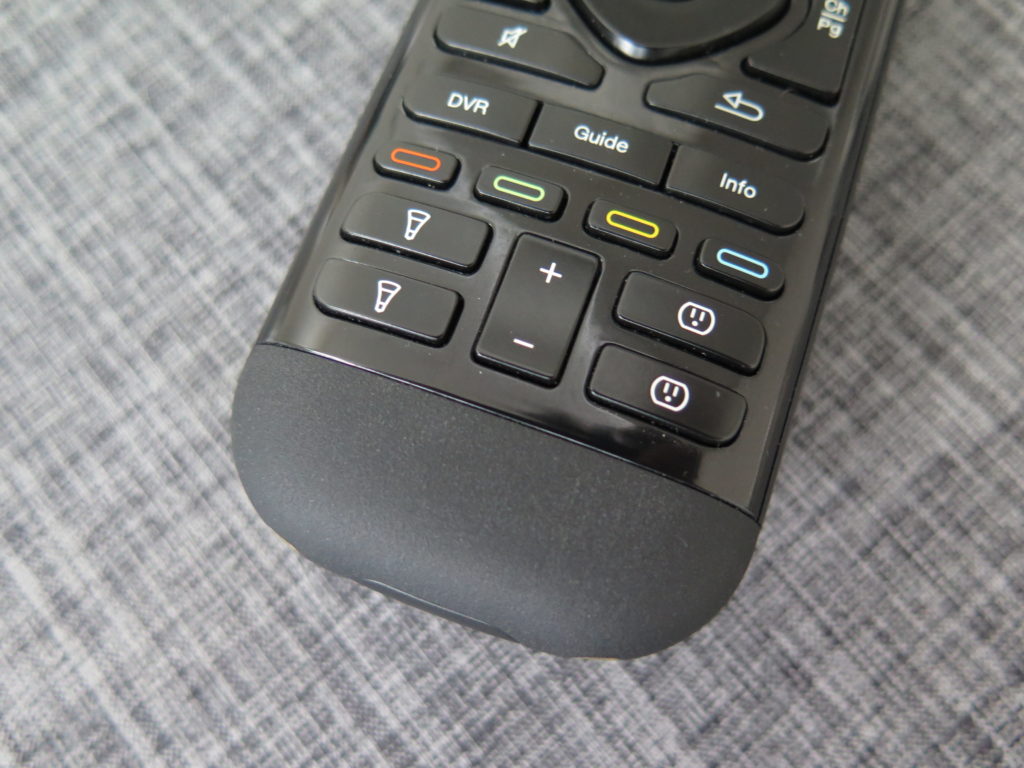 While the Harmony Elite device is great, it isn't perfect. Sometimes it would take a while for an activity to start, while sometimes there is a slight delay between when you push a button to when the action takes place, for things like pausing or fast forwarding. One major downside is that it can't entirely replace your Apple TV remote, since it works over IR and not Bluetooth, so you can't use Siri or play games on it with the trackpad. Imagine using your 4th or 5th Generation Apple TV with the older, 3rd Generation Apple TV remote. That's what it's like using the Harmony Elite remote with the Apple TV. The touchscreen does work very well with the Wii U however, as you can use the touchscreen as a replacement for pointing a Wiimote at the TV.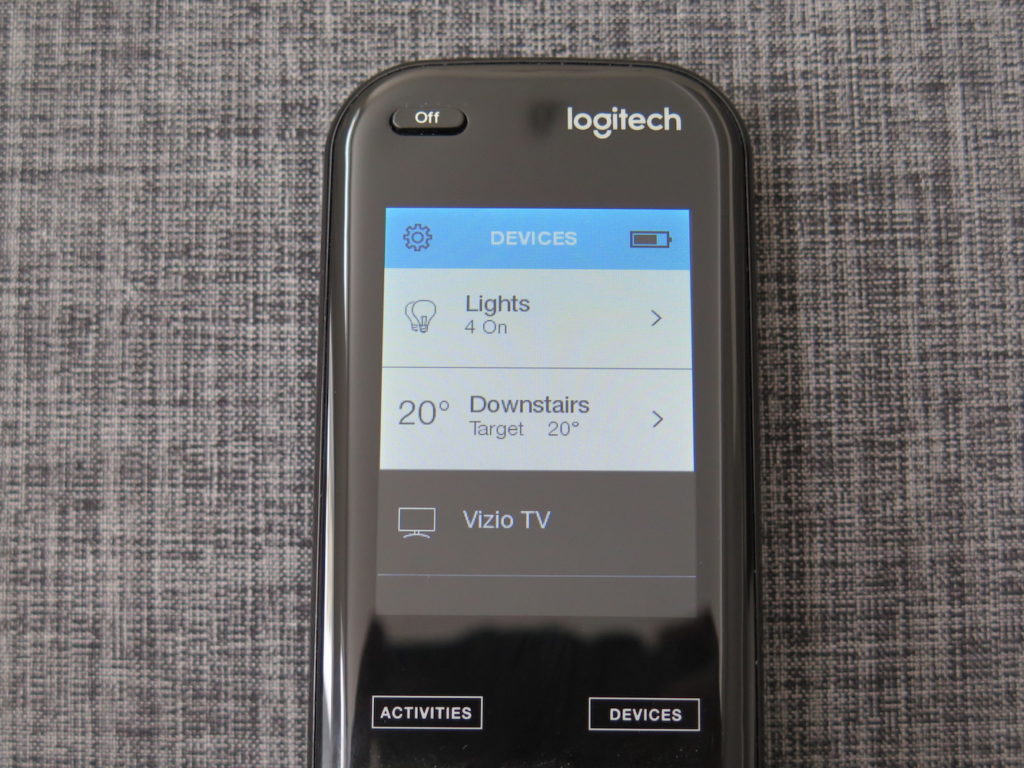 The biggest downside of the Elite though has to be the price. At $350, it certainly is not cheap. At that price, it makes it rather hard to recommend to the average consumer looking to replace a couple of remotes. If you don't want to spend so much money, you can buy the Harmony Hub for just $100, which allows you to use your phone as the remote. You'll still get the ability to controls your devices, create activities, and control your devices away from home. For just $30 more, you can buy the Harmony Companion, which includes a hub and physical remote. It doesn't have a touchscreen, but it's suitable for most people's needs. Unless you can get a good deal on it, the Harmony Elite is more reserved for people who are serious about their home entertainment and have a large setup. That being said, if money is no problem for you, or you're looking for one of the finest universal remotes on the market, go ahead and buy the Harmony Elite. You won't be disappointed. You may buy it from Logitech's official website.
What do you think of the Logitech Harmony Elite remote? Would you consider paying $350 for it? Let us know in the comments down below!
Disclosure: iOSHacker may receive a commission if you purchase products through our affiliate links. For more visit our privacy policy page.